EAT AND DRINK AT TNW CONFERENCE 2022
Food trucks and drink options
Our approach
TIME FOR A MEATLESS MENU
Thanks to our proud partnership with The Food Line Up, Europe's first B-Corp certified caterer, we offer our attendees a completely sustainable and delicious food experience.
All food stalls across our premises will serve locally-sourced, vegetarian-only options. By removing meat from our catering venues, we are contributing to drastically reducing our CO2- emissions, and help save large amounts of fresh water and land.
Below you can find the complete list of food trucks that will be present at TNW Conference.


Pizza Amici
Passion for pizza
Thursday: 10:00 - 17:30

Let's be real, who doesn't think starting a pizza food truck with friends is a dream come true? It surely is for the friends of Pizza-Amici.
In their super-fast and high-quality oven, they bake delicious traditional Neapolitan pizzas with a thick crust and full of flavour. Let's have a slice!

Karma Kebab
YOUR PORTION OF GOOD KARMA
Thursday 10:00 - 18:30
Friday 10:00 - 20:30
What is the ultimate future proof snack? That's right, Karma Kebab! Their super sustainable kebab is made of locally produced celeriac. The ingredients grow just around the corner and that's why it only made sense to turn it into kebab.
Enjoy this plant powered and guilt free fast food in a fresh pita with delicious garlic sauce and fresh veggies.
Karma points guaranteed!

Pasta Amici
PASSION FOR PASTA
Thursday 10:00 - 17:30
Friday 10:00 - 17:00
It all started with making amazing Neapolitan pizzas. But that didn't stop the Amici from making more traditional Italian dishes. They cook their own freshly made pasta with the best ingredients and delicious Italian sauces in enormous pans.
If it doesn't look tasty already, they'll top it off with arugula and real Parmesan cheese.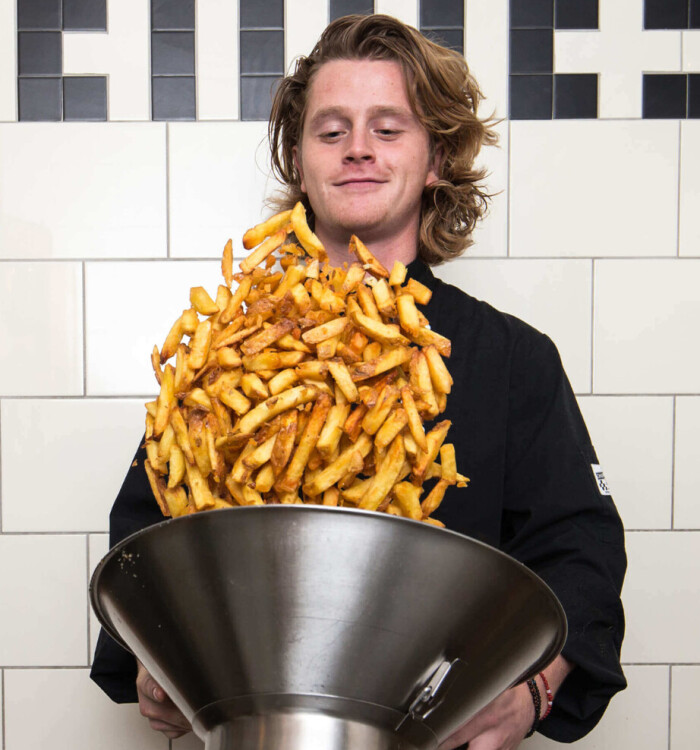 Friethoes
100% FRESH POTATO FRIES
Thursday 10:00 - 18:30
Friday 10:00 - 20:30
As frontrunners in the potato business, they bake fair fries with no waste. These guys go back to the basics. Every day they taste the potatoes to find the best one. Hand cut & baked into super crispy fries! And the potato waste? That goes into making beers and vodka.
Meneer Temaki
FUTURE PROOF SUSHI
Thursday 10:00 - 16:00
Friday 10:00 - 16:00
Meneer Temaki was the first temaki shop of the Netherlands. Everything is hand rolled and the perfect fusion between the Japanese and Hawaiian kitchen. Together with his team, Querijn makes the tastiest sushi rolls with only the best ingredients. Fresh fish is delivered daily by the local fishmonger.
Everything is served with their homemade furikake mix and soy sauce with yuzu. Trust us, it is as delicious as it sounds.

Thursday 10:00 - 17:30
Friday 10:00 - 17:00
Alexander serves authentic American pancakes from his eye-catching blue food truck. The pancakes are made from organic spelt flour milled by the artisanal 'Korenmolenaars gilde'.
Whether you prefer sweet or savoury pancakes, Spelty has got you covered!

Food Escape
JAPANESE FINEST
Thursday 10:00 - 17:30
Friday 10:00 - 17:00

Yasuyuki and Aoi fell in love with The Hague. They moved to Holland and started to cook dishes from their home country Japan.
Aoi is from a rural area in the South-West and combines the local flavours with Yasuyuki's roots from Osaka. We are fans!
RICH!
COMFORT FOOD TO THE MAX KATSU SANDU
Thursday 10:00 - 17:30
Friday 10:00 - 17:00

After 25 years of cooking amazing food in different high-end restaurants in Amsterdam, Richard decided to follow his dream and started his own business.
Comfort food is what he knows best. Classic French or Asian cuisine? There is nothing he can't work with. This great chef will make the tastiest dishes with fresh ingredients and amazing flavours.

This year we have partnered up with Join the Pipe to provide water stations where you can refill your water bottle free of charge. We will have three water stations throughout the conference grounds - on the business floor, the central food court and the 1:1 Event Garden. Make sure to bring your own water bottle. In case you forgot to bring one, you can purchase a reusable water bottle from the Deli at the business floor.
TNW recycling & Waste plan
As of this year, both we and our caterer The Food Line Up will be exclusively using reusable utensils, cups, plates, and packaging at our event. A transition program from single-use to reuse. In fact, we're going to be one of the first business conferences in The Netherlands that's introducing this. By taking this step, we are making significant progress in effectively managing waste at our events by increasing our use of reusable materials and by having established fixed points for the proper disposal of multiple waste streams both frontstage (organic and residual) as backstage (glass, fabrics, cardboard, paper, wood, plastic, coffee grounds and organic waste)
Floor plan