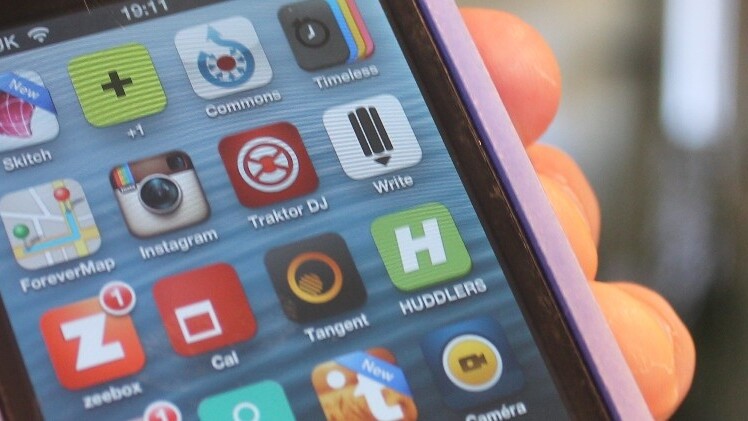 Story by
Paul Sawers was a reporter with The Next Web in various roles from May 2011 to November 2014. Follow Paul on Twitter: @psawers or check h Paul Sawers was a reporter with The Next Web in various roles from May 2011 to November 2014. Follow Paul on Twitter: @psawers or check him out on Google+.
2013 came and went, and we served up a gargantuan summary of some of the best apps to hit the App Store over the 12-month period ending in December. Now, with 2014 well and truly underway, here's a quick snapshot of some of the best new iOS apps from January.
SwiftKey Note
Swiftkey finally moved its perennially popular keyboard app beyond the confines of Android (including cars) and onto iOS last month.
In a nutshell, SwiftkeKey Note is a note-taking app that allows iOS users to use the predictive keyboard technology…but within the app only. Indeed, Apple's restrictions on third-party keyboards means that this was the only viable way of circumventing such a hurdle. It is a nice app though.
Peek
Peek is a simple, beautiful calendar app for iPhone. However, Peek isn't setting out its stall as an all-singing, all-dancing jack-of-all-trades app that cooks you breakfast in the morning – no, it is all about the design.
For me, Peek is very reminiscent of Clear, the to-do list app from Realmac Software. But this app stands on its own two feet, and is beautifully constructed.
➤ Peek
Octonius
If you consider yourself a power-user of Evernote, Dropbox and Google Drive, you may wish to check out Octonius, which recently launched in the App Store.
Optimized for iPhone and iPod touch, Octonius has previously been available as a proof of concept, as the Romania-based team iterated on various ideas and models for the service. But with the latest public-ready version of Octonius, the company has settled on what their unified file-browser should be all about, adding new features and dropping others.
Octonius lets you search all your content on Evernote, Dropbox and Google Drive, and organize, track and share all your files easily.
➤ Octonius
Carrot Fit
The aptly-named Carrot Fit app for iPhone, in its own words, is designed to "transform your flabby carcass into a Grade A specimen of the human race." And to get you there, Carrot will threaten, ridicule, bribe and sometimes even inspire you to achieve your goal.
Using a barrage of audio clips ("I am preemptively judging you"), animations and quirky instructions, Carrot Fit is a really fun app, and it's clear that developer Brian Mueller had a good ol' time working on this.
Quick Fit
One of the latest crazes to come to the fitness fore is the 7 Minute Workout, which is basically a short and snappy high-intensity session spanning 12 exercises of 30 seconds each, interjected with a series of 10 second breaks. These can be done anywhere, including the home, and require no special equipment.
While there's already a slew of 7 Minute Workout apps, Quick Fit – from the same folks who built the beautiful Wake alarm clock app – takes the same 7 Minute Workout philosophy and moves it forward by bringing its own exercises into the mix too. At launch it includes Quick Abs – a 7 minute intense workout geared towards strengthening your core and making your torso resemble a washboard – with Quick Yoga and a 4 minute tabata workout arriving on the scene shortly.
Horizon
Simply put, Horizon lets you shoot horizontal videos regardless of how you hold your device. As you record, you can swivel the camera from vertical to horizontal and back again, and the viewer will be none-the-wiser. The app uses your iDevice's gyroscope to auto-level the video to ensure it remains in the same aspect ratio.
Horizon supports a range of aspect ratios which you can change at any time – 1080p (16:9), 720p (16:9), 640×640 (square), 640×480 (4:3) and 480×480 (square). In addition to this, there are three separate leveling modes – 'Just Rotate' is the default setting, which keeps the frame-size fixed, 'Scale & Rotate' essentially adjusts the frame for maximum viewport as you swivel the device, or you can just disable the auto-leveling completely if you wish to use this like any other video-recording app.
➤ Horizon
5by
5by, the video recommendation service acquired by StumbleUpon in September last year, released its first mobile apps last month.
The service lets you start watching videos by making suggestions based on certain factors, including the time of day and what mood you're in (videos for… 'Entertaining You', 'Showing Your Friends', 'In Transit' etc), it's also possible to filter video suggestions by length – so if you only have time for a two minute video, it won't suggest something that's 10 minutes long.
➤ 5by
Caribu
If you've got kids, you're probably well-versed in reading them a little story before they head off to the land of marshmallow clouds. But equally, if you're a working mum or dad, you may often miss out on putting them to bed, either due to being tethered to the office, or staying away for the night for a company shindig. With that in mind, Caribu is a new video-calling app for iPad that lets you read e-books to your little ones in real-time.
The idea here is that you can add multiple contacts to a family iPad – granny, granddad, mum, dad, auntie Mary and uncle Bill. When you place the video call, you'll see a screen for each participant, and a virtual bookshelf – one for you, and one for the other person. Also, whenever you point to something in the book, it will highlight that same part on the other end.
➤ Caribu
Jelly
Twitter co-founder Biz Stone finally unveiled his secretive startup last month, a photo-based Q&A platform called Jelly. Stone described it as a service that works with people's existing social networks and is designed to search the "group mind" to better help what goes around, comes around — basically to enable you to pay it forward.
There's no question Jelly is a beautifully designed app, though only time will tell if it can find its niche among the myriad of existing Q&A apps out there. You can read our full review here.
➤ Jelly
Bloop It
YouTube may be the world's largest video repository, but it hasn't embraced the short clip style of Instagram, Vine and other popular video apps.
Bloop It is aiming to fill that void by letting users cut YouTube videos down to 20 seconds or less, and share them across existing social networks and its own iOS app. The process is simple, and Bloop It connects to Facebook and Twitter, and lets you email and copy links too.
➤ Bloop It
SocialRadar
SocialRadar is an iPhone app combining location data from social media services like Facebook, Twitter, Foursquare, LinkedIn, and more, to give you a snapshot of where all your connections are.
The app has two components to it. The first is allowing it to bring in data from your other social accounts – all the usual suspects are covered. SocialRadar's second purpose is to act as a real-time ambient location, similar to Highlight, Banjo and the now-defunct Sonar.
The Stat App
Optimized for iPhone and iPod touch, The Stat App uses AppFigures data and brings its own flavor of app-alytics to the table, with an uber-simple way of tracking downloads and revenue.
Hitting the App Store last month, The Stat App claims to strip out the unnecessary features that weigh down many similar apps out there. It basically serves up a view for all-time, monthly, weekly or daily, giving you two broad figures – downloads and dollars. Tap on the little pane at the bottom, and you're taken through to more data, including revenue from downloads and in-app purchases, while scrolling down breaks all this down by country.
Noted
With the likes of Evernote, Simplenote and Drafts long-established in the note-taking app realm, any new entrant to the busy space really has its work cut out for it before things have even started. But Denver-based development agency Tack recently entered the fray with Noted, a beautiful, gesture-based note-taking app for iPhone.
.
Feature wise, Noted is about as simple as things get. This is no Evernote-killer, but it doesn't pretend to be – it's all about the interaction, with swiping very much the order of the day.
➤ Noted
Wordeo
Former Apple executive David Bailey and ex-BBC iPlayer back-end builder Bob Johnson launched Wordeo last month, offering their own take on what a social video-messaging app should look like.
The folks at Wordeo have partnered with Getty Images to tap their enormous library of stock video and audio too. Indeed, the two companies have been working closely together to hone this integration, with Wordeo's technology automatically matching keywords from your message with relevant tags on Getty.
In the first instance, Wordeo automatically stitches together a video consisting of multiple clips. So if you're "lying on a beach", it will draw in snippets of someone/something lying down, and perhaps even a beach. But you don't have to use their suggestions – hit the 'tweak' button and you can manually peruse the library and choose which video(s) you wish to represent your words.
➤ Wordeo
Outread
Outread last month launched its own take on what speed-reading is all about.
Outread takes a slightly different approach to other similar apps, displaying a full page of text and guiding your eyes by highlighting which part you should be reading at the moment.
➤ Outread
Storehouse
Apple's former user experience evangelist and UI designer Mark Kawano launched Storehouse last month, an impressive iPad app that lets you quickly lay out and publish photo, videos and text as shareable stories.
Kawano's design and UX credentials, which include iPhoto, Aperture and Photoshop, are evident in Storehouse. The app is minimalist, intuitive and relies heavily on gestures. The app is designed to be like a magazine, where you stumble upon stories that sort of float dreamily in the app.
Google Play Movies & TV
Google finally released an iOS version of its Google Play Movies & TV app in January, which can be used to stream your existing content, though you won't be able to make purchases.
The app is designed for both iPhone and iPad, though streaming only works on WiFi, and TV shows are limited to the US, Japan and UK. Chromecast owners on iOS can celebrate yet another option for streaming video to their HDMI dongle, though sadly this app doesn't yet support AirPlay.
Interviewy
Whether you're typing up minutes from your weekly team meeting, lectures, or transcribing an interview, the process of finding the most relevant parts of a recording for transcription is often a time-consuming drag. Interviewy for iPhone wants to ease the pain by allowing you to highlight portions of the recording using TypeTags, which are essentially markers for the most important parts that allow for easy access later.
Then when it comes to transcribing it, all you need to do is quickly jump from one TypeTag to the next, eliminating the need to listen back to the whole recording, or to cross-check it with notes to see roughly where you should be listening.
OptimizeMe
There are plenty of ways for us to record data about all our activities, but what does all that data really mean? OptimizeMe for iPhone attempts to find out.
You can import data from movement tracking app Moves and log your time spent on a range of activities natively in the app, but the point of it all is the Analyzer section. Here, you'll find not only graphs of your various activities, from running and cooking to the places you've been, but an intriguing 'Correlations' display that tries to make sense of all the data.
Momondo Places
Travel metasearch engine Momondo launched a new standalone iPad app for travelers last month, making it easy to find things to do based on 'moods'.
Currently available for Barcelona, Berlin, Copenhagen, London, New York, Paris and Rome – with more cities en route – Momondo Places features seven individual downloadable guides, which means this can be used offline. But the centrepiece of Momondo Places are the six moods it lets you search by.
I'd be more inclined to call these category-filters than moods per se – it's not 'happy', 'sad', 'energetic' etc. It's 'Social', 'Fancy', 'Cultural', 'Local', 'Family' and 'Romantic', but nonetheless it's a super-easy way of honing in on the kinds of things you're looking for.
Beats Music [US only]
Dr. Dre's music streaming service, Beats Music, launched in the US last month, and puts it up against the likes of Spotify, Rdio, Pandora and iTunes Radio.
Costing $9.99 per month, Beats Music serves up unlimited streaming from its catalog of more than 20 million songs. Rather than offering music and leaving users to discover their own tracks, Dre's new service is striving to stand out from the competition by helping users discover artists and albums. For example, the Beats Music app on-boards users by asking what genres they're interested in and then recommends music tailored to their tastes.
StackSocial
StackSocial launched an iPhone app last month, bringing a native mobile experience to its Web-based marketplace for hand-picked apps, gadgets and all-things-tech. The app offers one-touch purchasing, new discovery features for customers and account management options.
The startup also announced plans to introduce a responsive design for its Web-based marketplace later this quarter, as well as iPad and Android apps later this year.
Meanwhile, check out our top Android apps from January, or take a peek at some of the most notable new iOS apps from December.
Get the TNW newsletter
Get the most important tech news in your inbox each week.
Also tagged with