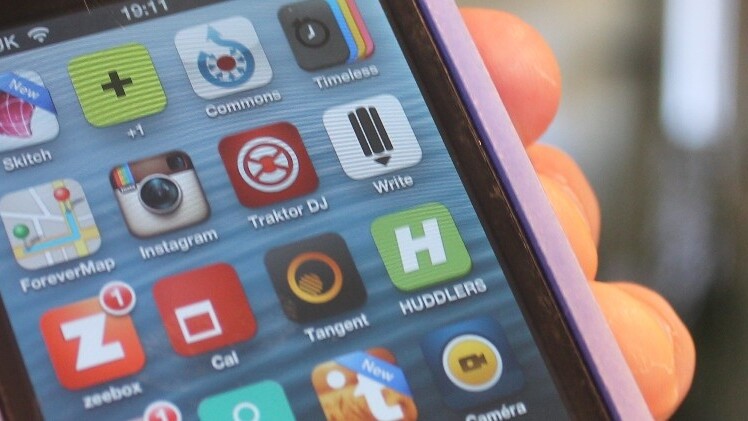 Story by
Paul Sawers was a reporter with The Next Web in various roles from May 2011 to November 2014. Follow Paul on Twitter: @psawers or check h Paul Sawers was a reporter with The Next Web in various roles from May 2011 to November 2014. Follow Paul on Twitter: @psawers or check him out on Google+.
December (and 2013) will soon be a distant memory, so we thought we'd take a retrospective look at some of the more notable apps to hit our radar over the past month. So without further ado, here's a quick snapshot of some of the best iOS apps to launch in recent weeks.
Codecademy
If you want to build an app, you'll need to learn how to code, right? The Hour of Code app by Codecademy targets total newcomers with the basics of programming.
Its relatively short repertoire covers the absolute basics, such as how programs are written and a few examples of what can be achieved with just a few lines of code.
Fiverr
Fiverr, the marketplace that lets people offer their services for as little as $5, made its mobile app debut this month with the launch of an iOS version.
The app allows you to browse the millions of 'gigs' listed on Fiverr, from logo design and music composition, to style consultations and voice impersonations for your voicemail greeting. Yup.
➤ Fiverr
Grand Theft Auto: San Andreas
There was good news for Grand Theft Auto fans in December – Grand Theft Auto: San Andreas went mobile, hitting iOS earlier this month.
Originally released for the PlayStation 2 in 2004, the game has now been reworked for touchscreens, with a more forgiving checkpoint system and different control schemes for driving and moving around on foot.
➤ Grand Theft Auto: San Andreas
Angry Birds Go
Rovio launched its Mario Kart-style Angry Birds racing game in December, hitting Android, Windows Phone, iOS, AND BlackBerry at the same time.
The Angry Birds franchise is growing arms (wings?) and legs now, and based on our dabblings, it has another hit on its hands.
MusicUp
MusicUp pits you against others to discover who can identify the most songs in 90 seconds.
You can challenge friends or strangers to listen to clips from a pre-set playlist of songs to see how many track titles can be identified within the time limit.
➤ MusicUp
Heyday
Heyday automatically journals your photos and locations so you don't have to.
While the setup is perhaps a little reminiscent of Rove, Heyday takes things a step further. Once you grant access, the app groups your photos, videos and locations together by day, images are displayed in grid layouts and you can even have the app automatically apply filters.
➤ Heyday
Manga Box
Japanese mobile games giant DeNA moved into manga this month, as it strives to make its mark in another entertainment vertical.
Manga Box is a free mobile app that lets users read manga from Japanese publishers. It includes original manga series, spin-offs of existing popular series and some classics. All titles will be updated weekly, with three to five new episodes added each day.
Slice [US only]
US-based consumers have perhaps encountered Slice before, a service that tracks all your online purchases and pulls the information together into one place. Thus far, Slice has been available for iPhone, Android, and the Web, but from this month, it's available for iPad too.
To use Slice, you simply connect your email account and it automatically finds tracking numbers for items you're awaiting.
➤ Slice
Tydlig
Tydlig is a funky take on what a calculator perhaps should look like on smartphones.
Tydlig is a beautifully designed app that brings a rich array of features to the table. It lets you return to, highlight and edit any number in your sequence – when you change that number, the result updates automatically. Also, with a result selected, you can hit any operation – e.g. divide, subtract or add –  and create a linked number beneath it, which lets you kick-off a new sum related to the original one.
➤ Tydlig
Yahoo Weather
Eight months after it rolled out an all-new Weather app for iPhone, Yahoo finally optimized it for iPads this month.
It taps Flickr (owned by Yahoo) to bring beautiful, relevant images to its local weather forecasts. Users can also submit their own weather-related snaps to the Project Weather Group and see their handiwork appear in-app next time it's raining in their locale.
Journeys of Invention
The London Science Museum launched its first app this month, as it seeks to take its physical exhibits to the technologically-enabled masses.
Journeys of Invention for iPad features 81 objects from the museum's collection, with 14 themed interactive journeys guiding users through the exhibits. It includes Scott's Antarctic Medical Chest, an Apple I computer, the Apollo 10 Command Module, a Cray supercomputer, Enigma and a 3D-printed gun.
Unfortunately, only one of the journeys is completely free, though a second one ('New Science') can be unlocked if you connect your Facebook account or sign-up by email. The remaining 12 require an in-app purchase of $9.99 (£6.99).
Cut the Rope 2
As expected, ZeptoLab released the follow-up to its uber-popular puzzler Cut the Rope this month.
In Cut the Rope 2, players are still tasked with collecting candy for Om Nom, although this time he's joined by a cast of supporting characters called Toss, Boo and Blue.
Notegraphy
Notegraphy is an Instagram-style app for creating short notes with beautiful typography.
Optimized for iPhone and iPad, Notegraphy wants everyone to have fun with typography and create vibrant, sophisticated examples that can then be shared with their friends online.
One Today [US only]
Google launched One Today this month, a mobile app promoting charitable causes, some six months after it arrived for Android. However, it remains US-only for now.
The app showcases a different non-profit organization each day, and provides a payment facility for users to donate $1 to the cause. Details of organizations can be shared with friends from inside the app, and there's an option to match friends' donations too.
Flow for Instagram
While Instagram has yet to launch an iPad-optimized app, there continues to be a steady stream of third-party clients waiting to fill this void. The latest one is Flow, and it's pretty sweet.
Feature-wise, there's nothing revolutionary in there, but it's all about the browsing experience – Flow does exactly what its name suggests and is slick and fast.
The more you use it, the more you notice the little navigational nuances, such as long-pressing an image to bring up details of the user-profile behind the shared-image. And tapping on an image once to start a gallery-style display that lets you swipe through everything in your feed.
Meanwhile, check out our roundup of some of the best iOS apps from the whole of 2013.
Get the TNW newsletter
Get the most important tech news in your inbox each week.
Also tagged with