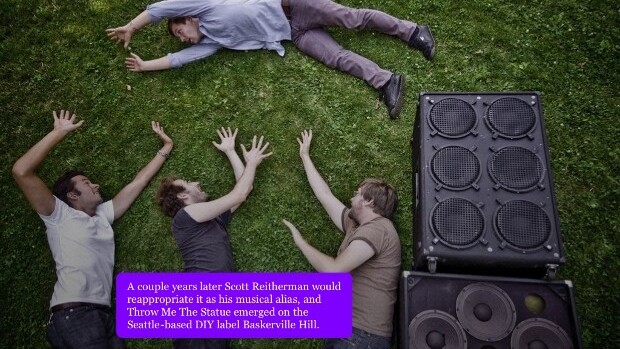 Story by
Lesotho-born and raised, Nancy Messieh, The Next Web's Middle East Editor, is an Egyptian writer and photographer based in Cairo, Egypt. Fol Lesotho-born and raised, Nancy Messieh, The Next Web's Middle East Editor, is an Egyptian writer and photographer based in Cairo, Egypt. Follow her on Twitter, her site or Google+ or get in touch at [email protected]
We've already given you a list of 10 websites which may leave you a little puzzled as to why they exist, as well as a list of the most niche dating sites you'll ever find.
One of the online treasure troves of bizarre human emotion and expression has to be YouTube. While the site is full of interesting, fascinating, funny and even educational videos, there are just as many, if not more, strange videos which will leave you wondering why you watched them. In no particular order, we've put together a list of the oddest of video phenomena available on the site.
You should be warned, there are some things in there you simply can't un-see. In fact, some of them are so bad, you're going to have to head over to YouTube and find them for yourself if you really want to watch them.
Yawning cats
You love your pets. We get it. We understand it. We love our pets too. But, why are there hundreds of videos of cats yawning on YouTube? That's really literally all they are. Some of them don't even bother to yawn, and just lie there, but the title would have you believe they're yawning.
Yawns, meows and hiccups make up over 1,000 videos posted on YouTube, with hundreds upon thousands of views. Some of them have even been posted in slow motion, accompanied by sound effects. We can confirm, however, after having watched several videos it would seem that cat yawns are not contagious. In case you were wondering.
Barking dogs
Not to be outdone by their feline friends, there are far more dogs barking videos on YouTube. And again, that's all they are. Dogs barking, incessantly, for minutes on end. Dogs barking at geese. Dogs barking at the camera. Dogs barking at the TV. Dogs hearing other dogs barking. Dogs barks stitched together to create a doggy-version of Jingle Bells. Lots and lots of dogs barking. Hundreds of thousands of dogs barking to be exact. The sheer variety of pointless cat and dog videos on YouTube is summed up pretty well in this equally pointless playlist.
Hauls
Make-up tutorials, I can understand. Fashion tips, I can understand. A post-shopping victory video containing all of the items you managed to buy, I can't understand. But for some bizarre reason there is a whole culture of these so-called 'haul' videos on YouTube, and people actually watch them.
Girls sit in their rooms excitedly discussing the items they bought from Forever 21, Walgreens and even the local grocery store. Basically they tell you what they bought, why they bought it, model it for you, tell you how they're going to wear it, how much it cost, and anything else they can possibly think of.
Haul videos are filled with side-long glances at themselves to see how they look on webcam, as well as confused attempts to read and pronounce polysyllabic words, and of course the profuse use of the word 'like.'
If you're morbidly curious about Haul videos, the example below posted almost 2 years ago, has over 1 million views and over 14,000 likes. The video also starts out with a fascinating explanation as to why she made the heart-wrenching decision to keep making haul videos, despite what the "haters" might say.
If nothing else, haul videos have at least spawned a slightly less prolific, but the far more funny genre of haul spoofs.
What's in my purse
Similar to the haul videos, are the 'What's in my purse' videos. They start out by telling you how long it's been since they last did a similar video, then they'll tell you a bit about the purse, how they carry it, who designed it, where they bought it. And you can expect the same level of commitment with the detail in which they describe the contents.
They'll show you every single little item they carry – wallets, all the keys on their key chain, their phone, iPod, camera, sewing kit, chewing gum, and make up. As they go through the list, they will proceed to stick each item up to the camera in all of its blurred glory.
So basically, What's in my purse videos are pretty much identical to haul videos, except that they get to tell you all about the stuff ages after they bought it.
Exploring abandoned buildings
These types of videos could be anything from the exploration of a mall, to a run down, dilapidated school to a subway station, and are often accompanied either by creepy or melancholic music. Sometimes the 'videos' are nothing more than slideshows of photographs.
There's an interesting concept in there somewhere, but the videos feel like they stop just short of being anything particularly useful. But that hasn't stopped people from uploading thousands of these videos to YouTube. A lot of them have a very Blair Witch Project feel to them, and for all we know, the movie was in fact inspired by YouTube.
Ear wax removal
There are over 400 ear wax removal videos on YouTube. 400. That's 400 people who felt the burning desire to share their tips and personal experiences on ear wax removal. I'm not going to share an example because the words alone are enough to let you know what to expect. If you really, really want to see the videos, YouTube is there, ready and waiting. And yes, there are microscopic closeups. Enough said.
Zit Popping
Another unsavoury type of video, of which there are over 1,500 on YouTube, are zit poppings. I wish I was making this up. Like the ear wax removal videos, sharing an example is wholly unnecessary, and if you feel the need to watch something like this, the earlier warning of there being some things that you just can't un-see is very very relevant. It may be hard to believe but there are some other skin related videos on YouTube, which are even more gag inducing, but we're just not going to go there.
Kids Arguing
You can't avoid the cute kid videos on YouTube, especially when they go viral. Who hasn't seen Charlie bit my finger or Hi Five for First Kiss? A not so cute take on what little kids are capable of is shown using the simple search, 'kids arguing.' You'll find videos of kids arguing over computer games, who has a new friend, and even one video where the object of their attention was a very scared little cat they had confused for a tug-of-war rope. And yet, who ever was filming, just kept right on filming.
What's particularly confusing about the existence of these videos is the fact that they're often accompanied by the words 'cute' and 'adorable.' It may just be me, but little kids yelling, screaming and pushing each other doesn't necessarily fit in with my definition of cute and adorable.
Ok maybe there are one or two exceptions.
How-To's
There are some pretty interesting and useful how-to videos on YouTube, with great tech and cooking tips, as well as makeup, software and drawing tutorials. And then there's just a random jumble of odd how-to videos which make you wonder why they were made, why they were uploaded, and why some of them have millions of views.
We found bizarrely random videos like how to build an igloo, how to pick a lock, how to cuddle and how to trick people into thinking your good looking. OK the last one is, of course, a parody, but still. Simply by searching for the term 'how to' on YouTube, you will unearth some of the strangest things that the Internet has to offer.
Reaction Videos
Some reaction videos are amusing, some just make you feel sorry for the people who are in them, and some are just sad. Roller coaster reactions are by far the most annoying, because of all the repetitive blood curdling screams, often accompanied by the maniacal laughter of whoever happens to be holding on to the camera at the time.
Then there's the trailer reaction videos, which kind of fit in the same category of hauls, because honestly, does anyone really care? Why there are thousands of these videos on YouTube is a mystery, but the even bigger mystery, is why some of them are getting hundreds of thousands of views. In fact some of them are nothing more than confused looks, and an eyebrow raise here and there.
Have you come across any particularly odd videos on YouTube? Let us know about them in the comments.
Get the TNW newsletter
Get the most important tech news in your inbox each week.
Also tagged with