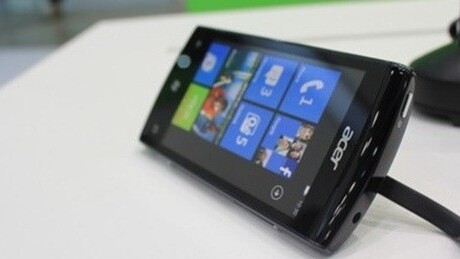 Story by
A music and tech junkie who calls Nashville home, Brad is the Director TNW Academy. You can follow him on Twitter @BradMcCarty. A music and tech junkie who calls Nashville home, Brad is the Director TNW Academy. You can follow him on Twitter @BradMcCarty.
How do you go from designing toilets to building a company that hosts video? Well, the story is twisty, but that's exactly what makes Michael Litt, the 3 other founders and their product called Vidyard a tale you should read.
To start, we have to go back in time and take a trip up to Canada. Litt was, indeed, designing toilets. His eventual co-founder, Devon Galloway worked at BlackBerry maker Research In Motion (RIM) and the two of them found that their corporate jobs left them quite a bit of time on their hands. With that time, and a bit of cash, they started doing some day trading.
Litt stumbled into a trade for a company that sold a foot cream which was not yet approved by the FDA. Purchased at $1.60 per share, he dropped $1,000 into it as soon as he heard that the approval had come through and ended up cashing out at $5.60 per share. Taking the earnings, the two put a down payment onto a house that would become a "hacker haven" in Waterloo, Ontario (inPulse's Alerta watch and TwitSprout both came out of the rooms of the house).
Litt supported himself by selling biodiesel. At the time there was a huge tax incentive for using the fuel and he was cashing in on it. Though as the food versus fuel debate rose (with many Canadians believing biodiesel to be a corn-based product, like ethanol) the market started to fall. Litt then went to work at Cypress Semiconductor.
The Genesis
It was at Cypress that he started to find his niche. Coming upon a box of old phones, he began ripping them apart, publishing reference designs for the devices online. Eventually his hobby got him press recognition and semiconductor companies would send him devices which he would tear down and then publish his findings. This educational spin is what would eventually lead to his success in helping companies deploy informational videos.
Edward Wu was working at Nortel in 2009. As the company saw the end of its days, Wu was literally the guy who turned out the lights on the way out the door. But he and Litt had decided that there was something more that they wanted to do and they knew that they could do big things if they worked together.
They started a company called Redwoods Media, creating instructional videos for businesses. What they quickly found though was that most companies had no idea what to do with these videos. Companies didn't understand how to host the videos, so Litt and Wu built their own hosting.
In order to make videos that were more effectual, they decided to build their own analytics platform. As is often the story with the genesis of great products, Vidyard was born in January of 2011 from this process of the Redwoods Media team simply scratching their own itches. They realized that there was a market outside of simply making videos for businesses and that market wasn't being served.
Using YouTube
In the world of video hosting and sharing, there are some big names. YouTube, of course, is the poster child and competing with them is a question I posed to Litt:
"YouTube really offers poor placement for a business video platform. If you think about it, embedding a YouTube video functions as an outbound link. If you click that link, you're likely to see a competitor's video simply because it's related to the same topic as your own."
Beyond that link function, Litt brings up the fact that people often get caught in the YouTube spiral where you start by watching one video but quickly end up laughing at sleeping cats they never meant to see. Then of course there's the fact that other companies can monetize on top of your own content, and many businesses are not aware of how to prevent this from happening.
What's difficult though is to pull dedicated YouTube users away. That's where Vidyard plays its trump card with YouTube skinning. Customers can still post their videos to YouTube in order to get those stumble-by visits, but those videos can then still be played in Vidyard's player, with a custom skin, thumbnail and more.
This is an example of Vidyard's reskinning a YouTube video with a custom thumbnail:
It's also an incredibly smart business move for Vidyard. It allows the company to market directly toward people who would use YouTube, yet provide features and a better viewing experience than what YouTube can give. All the while, that YouTube logo will still be on the video, reminding the customer that they can  get rid of it — all they have to do is move over to Vidyard. In other words, as the title says, Vidyard is using YouTube to sell its own video hosting.
The other name that springs to mind is Vimeo. While it is full of "really interesting stuff, it's more artsy than educational" as Litt puts it. Beyond that, it's against the TOS to publish any promotional content to Vimeo, so if your video is seen as such then suddenly everywhere that you've embedded it you're left with a blank box.
Then along comes Vidyard. With a focus that is based entirely on providing your content without anyone else's name over the top of it, it is placing itself firmly into territory that has been largely ignored by video providers.
The Features & Future of Vidyard
With funding from the former CFO of RIM, as well as some cash from SV Angel, Vidyard's time in Y Combinator has been fruitful. The company has hired on 3 more people, progression of the business is going well and now it's simply time to start rolling out the product to more people.
There are big plans for the future of the product, but what's important today is what the team is doing right now. With an incredibly slick-looking lightbox player, you're enabled to do more than a single video inside of 1 embed. While this is important to businesses, it's also important to the agency that is creating the multiple videos.
Vidyard's core offerings are the things that you'd probably pay more for at other hosts. Surprisingly, the company still manages to make the product affordable. With pricing that starts as low as free, that's a strong point from which to grow.
What's also interesting with the multiple video concept is the ability to do A/B testing. The team has come up with a system that will allow companies to display one video a certain amount of times, then another a certain amount of times in order to gather information about which video is more effective. Add to that real-time analytics (yes, you can see exactly when someone clicks away from your video, instead of just seeing that they've played it) and you have a powerhouse of a platform for business and educational content.
"The way that we view content is different now. Vidyard was built from the ground up to be a great video experience no matter where you're watching it."
That's important. It means that instead of coming behind a few years later and integrating players for mobile and other platforms, Vidyard is going it from day one. With a single upload, your video is encoded to multiple file formats so that it's going to work on whatever device it's accessed.
Take all of these features, enable a white-label product and you have the top end of Vidyard's offering. No branding, custom player skins, realtime analytics and API and phone support all come standard, blowing away the offerings of the competition.
Vidyard has taken not just a step, but rather a leap, in the right direction. Serving a part of the market that's been often ignored and offering them more features than they'd find elsewhere, I expect to see big things from this team in the future. Besides, it's better than selling fuel or designing toilets.
Get the TNW newsletter
Get the most important tech news in your inbox each week.
Also tagged with