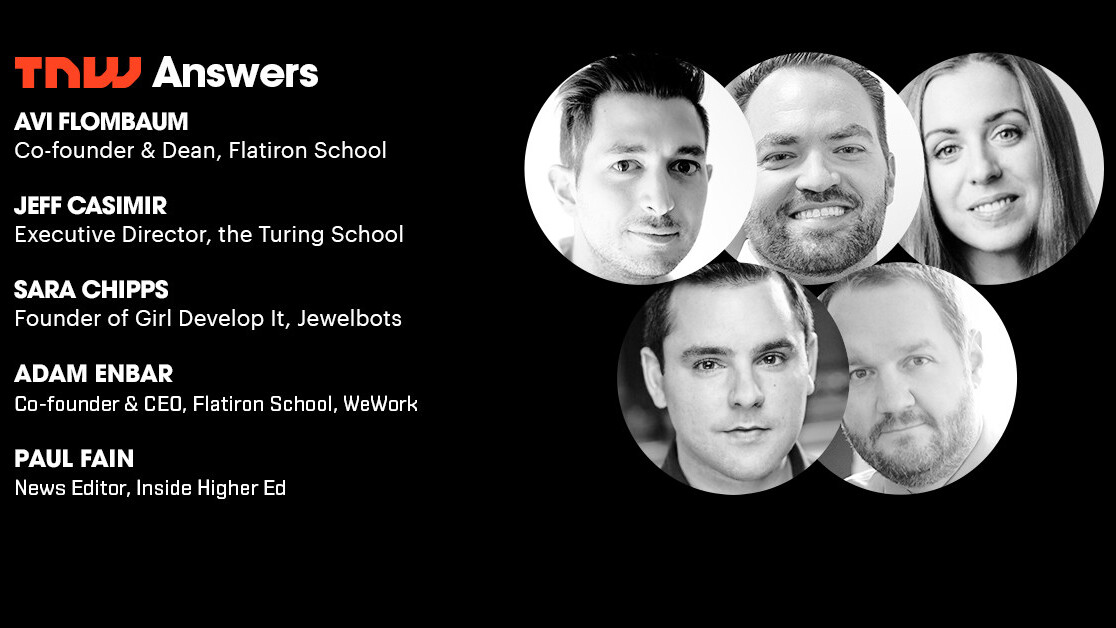 Story by
Former TNW editor and creative
Georgina created Big Spam, and wants to see more inclusion in tech. Georgina created Big Spam, and wants to see more inclusion in tech.
Curious about where dev is headed? Wondering if you should learn to code? Or what language to pick? Could education be the key to finally closing the STEM gender gap?
You can ask all this and more to an expert panel this Tuesday, May 22nd. We'll be hosting our first ever TNW Answers panel on the future of coding education, and will be joined by:
Coming from backgrounds in journalism, education, and entrepreneurship, each host will bring a unique perspective to the discussion.
Adam Enbar and Avi Flombaum are the co-founders of the Flatiron School which was recently acquired by WeWork, and have transformed it into a world-renowned coding boot camp — both online and on campuses in NYC, Houston, DC, and London. They've been active in developing diversity in STEM initiatives, including a partnership with entrepreneur and supermodel Karlie Kloss and her program Kode with Klossy.
Sara Chipps is a JavaScript developer and the CEO of Jewelbots, a company dedicated to drastically changing the number of girls entering STEM fields using hardware. She was formerly the CTO of the Flatiron School, and in 2010 she co-founded Girl Develop It, a non-profit focused on helping more women become software developers.
Jeff Casimir is the Executive Director of the Turing School, and an expert in Ruby and Rails. He's also a titan in education – he began his career in Teach for America, taught in middle school and high school, co-founded a middle school, and created Jumpstart Lab in 2009, Hungry Academy in 2012, and gSchool in 2013. He's given thousands of developers their jumpstart into tech careers.
Paul Fain is a News Editor at Inside Higher Ed, one of the leading American publications dedicated to higher education, where he has worked since 2011. He writes about low-income students, college completion and emerging models of higher education. He was previously a senior reporter at The Chronicle of Higher Education, where he wrote about college leaders, finance, and governance.
You can ask them ANYTHING, and engage in a unique AMA-style live discussion. TNW editors will be moderating, but feel free to jump in with comments and questions. Need inspiration? Here's some background reading on their work and coding education:
Ask your questions now, and don't forget to check back and participate in the discussion this Tuesday, May 22nd!