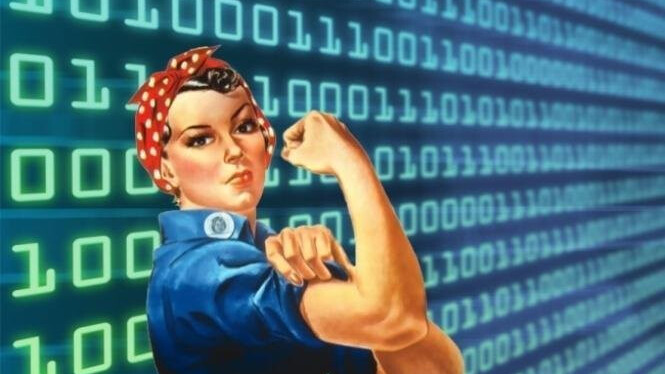 Story by
Allyson has been named one of the "Most Influential Women in Tech" by Fast Company, a "Tech Titan" by the Washingtonian, and "one of the top Allyson has been named one of the "Most Influential Women in Tech" by Fast Company, a "Tech Titan" by the Washingtonian, and "one of the top 30 women entrepreneurs to follow on Twitter" by Forbes for her leadership roles in tech. As founder of Women Who Tech, she has built a diverse network of 10,000+ engineers, entrepreneurs, investors, and industry leaders. She has produced several Women Who Tech TeleSummits packed with the most inspiring tech changemakers, disruptors, and startup entrepreneurs, ranging from Arianna Huffington, Founder of Huffington Post, to Rashmi Sinha, co-founder of SlideShare, acquired by LinkedIn. In 2015, Allyson launched the Women Startup Challenge to disrupt a culture and economy that's made it exceedingly difficult for women entrepreneurs to access capital. Allyson is also the cofounder of the award-winning web agency Rad Campaign. Allyson has sat on advisory boards for Anita Borg Institute, Tim O'Reilly's Gov 2.0 Expo, and NTEN's NTC Committee. She speaks at conferences globally ranging from SXSW to Personal Democracy Forum, BBCON, etc. Previously, Allyson was a blogger for FastCompany.com.
Imagine this. You've created an awesome product that has the potential to disrupt an industry and make a lot of money. You deliver a rock-solid pitch to investors. They say they love your product. It has the potential to deliver 10x returns. They say they want to invest in it, but there's a catch:
"I'd invest if only you had a cofounder on your team with a beard"

"Come sit on my lap. Let's chat more."

"Let's talk about doing a deal once we get upstairs to my hotel room."

"Tell me about your personal life. Are you in a relationship? Do you plan to have kids in the next few years?

"Who is taking care of your kids right now?"
You're probably laughing because those comments are so absurd, right? Who the hell would ever say these things to a startup founder? But the sad truth is that many women tech startup founders experience this behavior when they raise money. Those quotes are from stories that have been shared with me by women founders who I have met through our Women Startup Challenges.  
In a recent survey we conducted with 350 women tech founders, 45 percent said they experienced sexual harassment as a founder, and 65 percent of those women who were sexually harassed were propositioned for sex in exchange for funding, introductions, a job, etc. In comparison, only 10 percent of male founders surveyed experienced sexual harassment, and 0 percent of those men were propositioned for sex.
The tech sector has spent years espousing that code is power. They shouted from every conference podium, "it's a meritocracy! If you're a good programmer or if you launch a kickass startup, you will succeed." They said they were blind to gender, race, disability, sexual orientation, etc. But if you really dig into the data you'll quickly see that even if you have the coding and entrepreneurial chops, the tech sector is overwhelmingly benefitting white, straight men.
Startups founded by men received 16x more funding than women
According to Pitchbook, 5,839 companies founded by men received VC funding in the US in 2016, compared to just 359 companies founded by women. To put it more bluntly, startups founded by men got an excess of 16x more funding than women-led startups. Last year, women-led ventures only received 2.19 percent of venture capital funding. For women of color, the numbers are even worse. Only .02 percent of venture funding went to black women founders. The average amount of money for a failed startup raised $1.3M, but the average black woman founder only received about $36K, according to a #ProjectDiane study. Is this the result of the gatekeepers of the investor world being comprised of 95 percent men?
Is there really a pipeline problem in tech?
You may also be questioning if the stats are dismal because there's a pipeline problem. Unfortunately, there's not nearly as much of a pipeline problem as some tech companies and investors claim. There are thousands of women-led startup founders and there are thousands of women who are graduating with computer science degrees or who are completing coding bootcamps every year. The problem is that not enough of these women are being hired, and when they are hired or launching startups they face major obstacles.
"It's not about the skills, it's about who's doing the work. The work gets valued in different ways depending on who is doing it," said historian Marie Hicks in a recent talk at the Computer History Museum, and who is the author of Programmed Inequality: How Britain Discarded Women Technologists and Lost Its Edge in Computing.
"This isn't a STEM problem or a computing problem," Hicks says. "It is a broad social problem."
We need more than training and STEAM programs
Hicks is 100% right. We're at a pivotal point where we can actually fix some leaky pipelines and begin to address unconscious and conscious biases. It's time for tech companies to stop what I call "pink code washing" as the response to a barrage of negative publicity about the lack of diversity and inclusion. Throwing money at the problem and hoping things will get better with a few diversity and inclusion trainings, hiring chief diversity officers, and supporting feel-good STEAM programs for young girls and lower income communities are not cutting it.
We are the tech community. We can do better than that. When people in positions of power put their minds to finding solutions to problems, they put the necessary resources and teams together to fix it. "If diversity were a product that launched 2 years ago it would be considered a failure. A product that stagnates for two years has a growth problem," said Bo Ren, who is a Product Manager for Tumblr.
Three immediate steps that CEOs and investors can take right now to address their leaky pipelines:
Understand the business case for hiring and investing in inclusive teams.

For example, studies show that women-led tech startups

generate 35 percent higher ROI and 12 percent higher revenue

than startups run exclusively by men. This is not about charity. It's about making a lot more money by creating better products from diverse perspectives that serve mass markets filled with all different types of people. 

Next, commit to hiring more inclusive senior leadership, programmers, associates, etc. If you're an investor, develop a plan to designate a percentage of your fund to support inclusive startups. And please stop tweeting about how you embrace the diversity of opinions at your company. It sounds like an excuse for not being inclusive, and it makes you sound tone-deaf.


Diversify your network.

Many people in tech live in a filter bubble. People get stuck in a rut, primarily networking with others who share similar interests to them. This turns into a co-dependency on warm leads for intros to other like-minded people, particularly when it comes to making investments. So it's not surprising to see that most investment funding goes to white men. 

Here are a few places to begin expanding your network: Backstage Capital invests in women, people of color, and LGBTQ-led startups. My organization Women Who Tech showcases and helps fund women-led startups. Change Catalyst builds tech inclusion programs, Project Include uses data and advocacy to accelerate diversity and inclusion solutions in the tech industry, Plum Alley

is a network of investors who fund women-led ventures, and so on. All of these companies and organizations are deeply connected to diverse networks. Introduce yourself to them, work with them, and invest with them.

Understand your unconscious and conscious biases.

We all have them. And sometimes when you get a dose of power, you abuse your position. To really address unconscious and conscious biases you'll need to invest in cultivating trusting spaces where staff can feel comfortable sharing personal experiences and opinions about diversity and inclusion. These conversations are not easy to have and they cannot simply be done in a day-long training and — 

poof — 

you're not biased anymore. This is a long haul. It takes intentional, long-term work. Working with your teams on supporting bystander intervention at your company can be helpful too.
I do believe that code is power. It's what led to Christianna Taylor developing Intelligent Space, which makes AI for autonomous robotics to tow away dead satellites so the internet and electrical grids all over the world don't get knocked out. It's what led to Jessica Matthews starting Uncharted Power, a renewable power company that specializes in harnessing the energy from motion to create entire ecosystems of power for communities worldwide.
It's because of these women, and countless others like them, that we cannot stand by and watch another generation of women, of people of color, enter tech and then lean out. That's too much innovation to lose. The time to fix things is now.