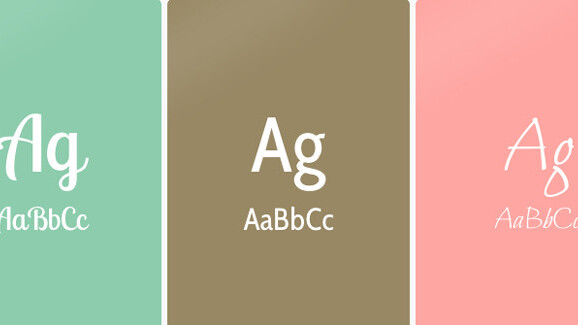 Story by
Reporter
Jackie Dove was in charge of The Next Web's Creativity channel from February 2014 through October 2015. Jackie Dove was in charge of The Next Web's Creativity channel from February 2014 through October 2015.
Looking for font/color theme ideas? Palettab, a Chrome browser extension whose mission in life is to generate ideas for your creative projects, is conveniently located in the next tab.
Run by COLOURlovers, an international online community of over 4 million, each palette of five colors has its own identity, as members continually add and experiment with new color combinations.
Once you install the extension, just click on a new tab in the Chrome browser and a five-part color combo — each with a unique name and author — appears. Nested inside of each color swatch is a different font sample. To select the color scheme, click the name at the bottom of the window; to select the font, click its name inside the swatch.
Palettab can be as quick and dirty or deep and complete as you want. Check out channels like Wedding, Craft, Business, Fashion and more to see what's already available if you have a specific project in mind.
Or you can just survey different color combos at random whenever you want by selecting the new browser tab or the button at the top of the window. When you choose a color scheme you like, there are many more things you can do. You can rotate the colors, toggle their display widths and auto generate patterns right in the window. Each color is defined by Hex, RGB and the name given by the author.
The fun begins when you start to generate patterns from the color scheme. A pull-down menu takes you through some general categories, and at that point the choices can get overwhelming. You can also word search according to the pattern you seek.
Color collections are only half of Palettab. For every five-part color combination, Palettab also serves up five different Google Fonts. Clicking on a font name brings up the font's ID page with description, attribution and licensing information and a sample of each character.
Google Fonts also gives you alternate ways to judge whether a font is right for your project, including testing different pairings and a Typecast tryout where you can experiment with both layout and typeface in a dynamic online environment. Then you can decide whether to use it or not.
Palettab has a strong social networking component. You start by giving the color scheme a love — similar to a Facebook like — in addition to commenting on and sharing it. You can see the newest palettes, colors, and patterns or create and share your own original designs.
Everything about Palettab is easy, fun and free, though you may want to set aside a few minutes because it's easy to get immersed in the world of colors and fonts.
➤ Palettab
Get the TNW newsletter
Get the most important tech news in your inbox each week.