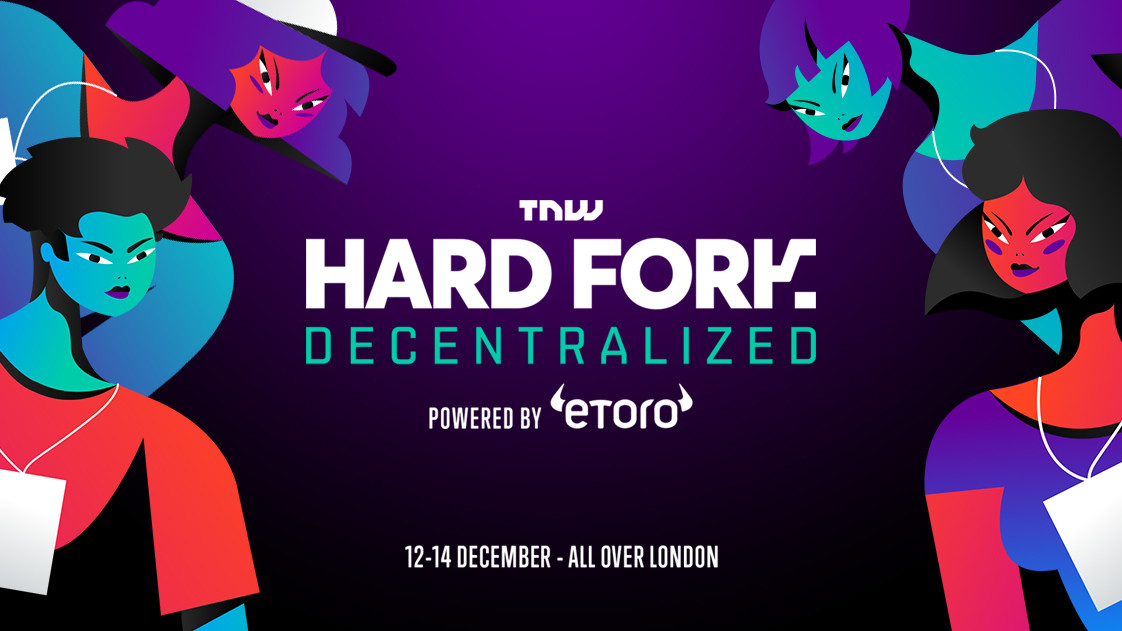 Story by
CPO and co-founder, TNW
Patrick de Laive is an experienced entrepreneur and daddy of Bo and Denne. He is co-founder of TNW and sporadicly invests in startups. He is Patrick de Laive is an experienced entrepreneur and daddy of Bo and Denne. He is co-founder of TNW and sporadicly invests in startups. He is a frequently asked speaker at (tech) events across the globe. Check his LinkedIn profile and @Patrick on Twitter for more information.
Earlier this year, we launched Hard Fork, a bespoke blockchain and crypto brand in cooperation with our friends at eToro. Hard Fork quickly became a trusted source for the blockchain and crypto space and is read by more than a million people each month.
In May, Hard Fork was an important part of TNW2018, our yearly flagship event that brings together 15,000 professionals from all over the world to do business in Europe. The Hard Fork stage (you guessed it; powered by eToro) had room for 1,500 people and was packed throughout the event. It was a good start.
In the meantime, we continued to kick ass – breaking stories, hosting expert A M A's and generally setting the record straight.
Even though the total market cap had drastically fallen and the sentiment in the market has been bearish over the last few months, Hard Fork has been showing continuous growth. The underlying technology is rapidly improving, use cases are popping up everywhere and the smartest brains in the world are moving their efforts and focus to the blockchain.
We probably haven't seen the bottom yet, but blockchain is here to stay and will change the way we do business and the way we organize ourselves. At TNW, we truly believe in the space and we're dedicated to double down on it and grow the Hard Fork community online and offline.
That's why we've decided to develop a stand-alone Hard Fork event format.
When crafting the format, we found some very powerful shared beliefs amongst all types of blockchain and cryptocurrency related companies.
First: decentralization will play a significant role in our near future and will impact people, businesses, and governments.

Second: everybody is dedicated to bringing the next 100 million people to the blockchain.
Those two shared beliefs plus the experience of hosting Europe's leading (and awarded best B2B event of Europe ???) tech event for 13 years, formed the basis of our event format.
Hard Fork Decentralized
We're proud to introduce Hard Fork Decentralized, taking place all over London from 12-14 December.
Hard Fork Decentralized works with the blockchain and cryptocurrency community to take over London, transforming the city into an interactive hub to explore our decentralized future.
Step inside one of the many events hosted by leading blockchain, crypto, and finance companies; debate the future of our industry, participate in a range of different formats throughout the city, and meet the people behind the companies face-to-face.
When I discussed the idea behind Hard Fork Decentralized with our partner eToro, Yoni Assia (CEO eToro) agreed that this format was key to taking blockchain and crypto to a point of ubiquity. "We all want the market to grow and for the pie to get bigger for everyone" was the consensus, "and the best way to increase adoption is by educating the market and by creating and supporting more real use cases."
At its core, we feel that an open and transparent event format such as this is one of the best ways for the community to build trust – and trust is what this space needs in order to succeed.
The first ten Decentralized events have been confirmed and we'll be announcing them (plus a lot more) over the next few weeks.
The Exchange
Alongside the Decentralized events is The Exchange.
The Exchange is the hub where deals get done. In this exclusive space, decision makers come together to build new relationships, conduct private meetings, join round table discussions, and interact with leadership teams from blockchain and cryptocurrency companies.
This is also where you can meet other speakers, partners, investors, and vendors through a range of formats.
It's the perfect setting for expanding your social circle and making business deals.
The Exchange is also home to the Hard Fork Studio, from there we'll live stream panel sessions and fireside chats.
How to get involved?
We have a range of opportunities for companies to be a part of Hard Fork Decentralized.
You can take part in the content and host a Decentralized event (note, if you don't have an office in London or need something more suitable, our team can help you with a location), but there's more – download the Hard Fork Decentralized info deck and we'll schedule a meeting to discuss what fits best.
If you're a great speaker and want to be part of other decentralized events, you know where to find me.
When and where is this happening?
Let's start with the basics today, more to come in the next weeks.
When? December 12-14, 2018.
Where? London, UK.
When can I get my tickets?
We'll open the registration towards the end of this month. Leave your email address to stay tuned and get the best deals.
Tell me more about the program
We'll be announcing Decentralized events on a rolling basis over the next two months.
The first ten have been confirmed and we're talking to dozens of interested companies who want to join our shared cause and be involved in Hard Fork Decentralized.
Yesterday, one of our partners said to me: "Hard Fork Decentralized… There is no better way to represent blockchain. We love it, we want to be involved." That's the spirit!
We're in this together, let's bring the next wave to the blockchain. Looking forward to seeing you in London right before the holidays!
Get the TNW newsletter
Get the most important tech news in your inbox each week.
Follow @thenextweb