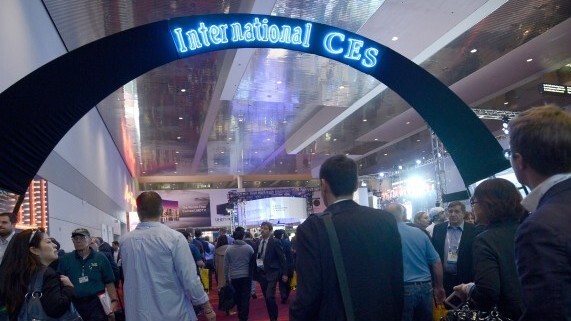 Story by
Josh Ong is the US Editor at The Next Web. He previously worked as TNW's China Editor and LA Reporter. Follow him on Twitter or email him a Josh Ong is the US Editor at The Next Web. He previously worked as TNW's China Editor and LA Reporter. Follow him on Twitter or email him at [email protected].
Going into CES, we expected to see loads of wearables, connected home products and shiny promises of 4K streaming. The show delivered all of that and more.
While we didn't see many announcements for groundbreaking technology, there were still plenty of exciting products that will bring to fruition the futuristic visions from previous years. Here's a recap of some of the most interesting stuff at CES last week:
We've been a waiting while now for Oculus Rift to make compelling virtual reality, well, a reality. At CES, Oculus VR blew minds everywhere with its new high-definition Crystal Cove prototype, which includes improved head-tracking. The Verge and Engadget both bestowed "best of show" awards on the device.
According to Forbes, the retail version of Oculus Rift could arrive as early as this summer with a price in the $500 range. Summer can't come soon enough.
Marketing speak aside, Nvidia's new Tegra K1 chip is an incredible breakthrough for mobile devices. This is true desktop-class computing with mobile efficiency. You can expect to see a nice bump in the quality of mobile gaming through Tegra's support of Unreal Engine 4, OpenGL 4.4 and DX11.
The quad-core 32-bit version will start shipping in the second quarter of this year, while a dual 64-bit model will arrive in the second half of 2014. Nvidia claims that the graphics performance of the 32-bit Tegra K1 outmatches Apple's A7 by 2.5 times.
Tactus made waves at last year's CES with its impressive tactile touchscreen buttons, and the team showed off the latest version of its tech at this year's show. The company uses pressurized liquid to make buttons appear and disappear right from the screen. After seeing it in person, I could almost swear sorcery is involved.
Look for the first products implementing Tactus to arrive as an iPad case later this year. Third-party smartphones and tablets are also set to begin embedding the technology into their devices in late 2014.
We've been repeatedly disappointed by lofty promises of cloud gaming that don't actually work. Sony's upcoming PlayStation Now service looks like the real deal. Sony reps said you'll be able to play online multiplayer against players with the physical disc, so latency shouldn't be too much of an issue.
The suggested 5Mbps connection speed is going to be a barrier for some households, but it's no surprise that streaming a PS3 game consumes a healthy chunk of bandwidth. The initial roll out will be limited to the PS4, PS3, 2014 Bravia TVs and the PS Vita, but we're very excited about the potential to stream older PlayStation games directly onto smartphones and tablets.
As we get closer to tossing our computer mouse and keyboards in the trash for good, the MYO armband was an awesome look into what the future of gesture control will look like. Using a combination of sensors to detect muscle movements in the forearm, the alpha edition of the MYO armband allowed us to control the volume of music streaming via iTunes and play Call of Duty without ever touching a screen.
Although the consumer edition is not slated to ship until Q2 this year, it was cool to see that the MYO armband is well on its way to completion. Most of the major work to go is in the software aspect.
In case you can't tell from the myriad of reporters groaning over Twitter, CES is overwhelming. But every so often, you come across something truly amazing and it makes the entire experience worth all the struggle.
Case in point: Natt Garun's encounter with Nikon and xxArray. Using 68 Nikon DSLRs, the xxArray team took two photos of Natt as a human model and rigged her into a playable, 3D video game character just a few hours after the fact. Check the full video out to see how the team was able to do it:
We love that someone actually set out to build the tricorder from Star Trek. Initial versions of Scanadu's Scout physical exam device will begin shipping out soon to the startup's Indiegogo backers. Following feedback from early adopters, Scanadu will make changes and then apply for FDA approval.
You'll press the Scanadu to your forehead to get a reading. The device then takes your vitals so you can track and share them. Scanadu is sheer breathtaking ambition.
T-Mobile CEO John Legere got up to a bit of trouble at CES before announcing a bold plan to pay early termination fees for AT&T, Verizon and Sprint customers switching over to its network. The trade-in deal doesn't work out for everyone, but it's still a great option for customers that have been wanting to switch to the "Un-carrier" but have held back because of the steep fees from their existing contracts.
Romo doubles as a robot toy, a telepresence device and an introduction to programming. You pop an iOS device onto Romo's treads and let the machine roam around. Romotive has built support for face and color tracking.
The robot comes with an elementary programming interface that kids can learn to unlock new features on the device. We'd love to see this integrated with a smart home hub to double as a robot sentry.
3D Printing
Matterform's $579 3D scanner can scan objects at a resolution of up to 200 microns. The device uses a rotating platter, a camera and lasers, to build a 3D model of objects up to 7 inches in diameter and 9 inches high.\
The company will begin shipping the scanner in February, and it expects to fulfill new orders over the next couple months. Makerbot makes its own scanner with similar functionality, but its retail price of $1,400 is inaccessible to most consumers.
The $497 Buccaneer 3D printer tore it up on Kickstarter last year, raising $1.3 million more than its $100,000 goal. Pirate 3D says it will begin shipping early backer units next week. The printer boasts a maximum resolution of 85 microns. New orders will start shipping in April.
Pirate3D is also building an open-source programming language for creating 3D objects. Its Smart Objects platform will let prospective makers print their own pieces without having to fire up complex 3D modeling software.
3D Systems had one of the best booths at CES. The company offered live demonstrations of its Sense handheld scanner, and it also had a live band playing music with instruments using 3D-printed parts. Will.i.am also stopped by the booth to announce his new role as Chief Creative Officer at 3D Systems.
The upcoming iSense scanner for iPad uses the same technology as the Sense, but packs it into an accessory that works on a tablet. We're not super excited about walking circles around objects with our iPads, but iSense's functionality will make it worth the awkwardness.
http://www.youtube.com/watch?v=JDit_SrVc2E
Pebble announced at CES a premium version of its smartwatch. The new design is fairly nondescript as watches go, but it offers users the flexibility of a connected watch without calling attention to it. We're particularly interested in the new Foursquare, Yelp and ESPN apps that are coming to the platform when the Pebble appstore launches.
We stopped by the Smartthings model home to check out their ultimate connected home setup. Internet of Things products were a major theme at the show, and it's great to see how affordable the space has gotten. While we'd still like to see deeper intelligence, communication and automation from these devices, companies like Smartthings are making it extremely easy to get connected and make things work for you.
What's cooler than an AR.Drone? A miniature version. Parrot's new Minidrone will zip around indoors when it arrives later this year. You can attach wheels to drive the drone up walls and onto your ceiling.
The tiny size of Parrot's new drone means you won't be able to do some of the cool stuff you can do with the AR.Drone 2.0 limits some of the applications from earlier versions, but I'm sure we'll find all sorts of new trouble to get up to with the Mini.
We don't know the price yet, but hopefully it'll come in quite a bit below the full-size version's $299 price.
Wrap-up
So there you have it, some of the best stuff on display at CES 2014. We've got some more content coming up this week, but in the meantime, you can head here to read all our posts from the show.
Related: CES 2014: In photos and Marissa Mayer's star-studded CES keynote refocuses Yahoo as a media company
Image credits: Getty Images, Robyn Beck / Getty Images
Get the TNW newsletter
Get the most important tech news in your inbox each week.
Also tagged with