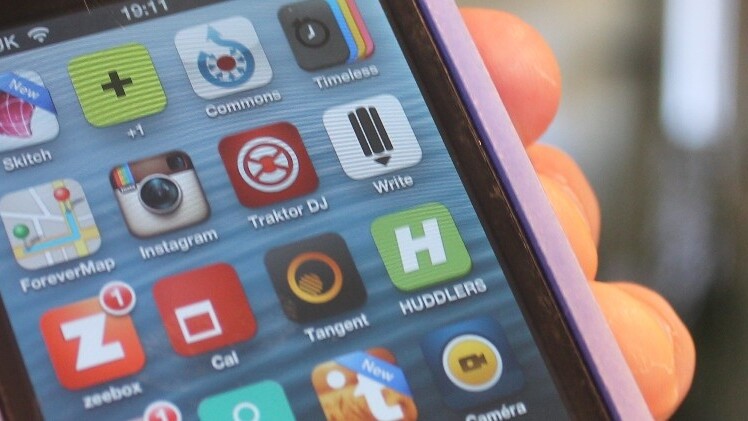 Story by
Paul Sawers was a reporter with The Next Web in various roles from May 2011 to November 2014. Follow Paul on Twitter: @psawers or check h Paul Sawers was a reporter with The Next Web in various roles from May 2011 to November 2014. Follow Paul on Twitter: @psawers or check him out on Google+.
From music-themed dating apps to browsers and Family Guy fun and games, we covered a lot of ground with new iOS apps in April. Here's our pick of the bunch for the month.
Carousel [From Dropbox]
Dropbox launched a new photo- and video-sharing gallery app called Carousel last month, combining content from your Dropbox account with that on your mobile devices. You can read our full hands-on review here.
Carousel lets you hold private conversations around your photos with friends, and add their photos to your own special events too.
➤ Carousel
Family Guy: The Quest for Stuff
Family Guy's first mobile game captures the show's irreverent hilarity as you strive to rebuild Quahog.
At its core, The Quest for Stuff resembles The Simpsons: Tapped Out, another free-to-play city-builder game from Fox. Both titles have you rebuilding their respective towns after the main character accidentally destroys it. In Family Guy's case, a drawn-out brawl between Peter and Ernie the Giant Chicken levels the city of Quahog, giving Peter the task of recruiting his friends to clean up.
➤ Family Guy: The Quest for Stuff
Tastebuds
The principle behind Tastebuds is simple: If you're an avid music fan you probably want to date people who share your taste in music. Following a long period as a Web-only affair, if you'll pardon the pun, Tastebuds finally launched a native mobile app, kicking off with iPhone.
You indicate your sexual orientation, gender, city, date-of-birth, and insert a profile picture. The app then scans your local music library, adding your 'favourite' artists to your Tastebuds account, and matches you with other users.
Secret
You'll either love or hate Secret, but its garnered a lot of attention since it launched in the US, so its international arrival last month is certainly worth a mention.
Secret has skyrocketed in recent months, as members of the technology industry post gossip – the truth of which is by no means guaranteed – about startups in Silicon Valley and beyond. There are no names on Secret, making it difficult for anyone deduce who has posted the most recent rumors, or the chances of them being true.
The mobile app, however, does tap into users' address books to disclose whether they know the author, or if they're a friend of a friend. In that respect, the app isn't limited to the technology industry – anyone can use it – although the former is where the app appears to have been adopted most strongly.
Besides the US, it's now available in the UK, Ireland, Australia and New Zealand.
➤ Secret
Animoto Video Maker
Animoto Video Maker was already a popular shooting and sharing app for smartphones, but April also heralded a new version optimized for iPad.
Animoto hosts your video creations in the cloud, and is targeted at consumers, small businesses, educators, photographers, and anyone really, offering a range of pricing plans. The app is easy to use, with guided, step-by-step features. Within a minute or two, you can create a pro-quality video based on new shots or videos stored on your camera roll.
Udacity
Udacity made its online learning platform more accessible by launching for iPhone users last month. Udacity was originally an iPad-only app, but the company finally brought its video lessons – which include 12 full courses and 26 free and 'open' courseware — to smaller screens.
In addition, Udacity also introduced an offline mode that lets users download videos which can viewed sans Internet access.
➤ Udacity
Wist
Following a 'soft launch' in a handful of US cities late last year, Wist finally launched its personalized travel recommendations app globally in April.
During set-up, it asks for permission to access your location. Then you stipulate whether you're looking for coffee, food or drinks. You can also filter down into whether it's just for you, friends, business or 'a date', among other criteria such as distance and whether it's open just now.
The one caveat is that you are required to log in using your Facebook credentials. However, if you can stand that, Wist is slick and beautifully-crafted – it's easy to see why it's proven popular in its short tenure in the App Store so far.
➤ Wist
Opera Coast
Those looking for alternative browsers on their iPhone now have another option – Opera's Coast app, a gesture-heavy browser which it first introduced for iPad.
Coast features a dark, minimalistic look with a strong focus on tiles. This means that instead of having to type in a URL every time you want to access a site, you can just tap on tiles. When you're in a site and want to exit it, all you have to do is tap on the 'home' button, while to access the sites you already have open, just tap on the bottom right.
Pause
Shuffler.fm, the curated music-discovery service designed to help users navigate the music shared by online publications and blogs, rolled out an iPhone version of Pause, its recently-launched standalone multimedia music magazine.
Hitting the App Store back in February for iPad, Pause is essentially a curation of Shuffler.fm's already-curated music service, so this is all about the crème de la crème of the best new music.
➤ Pause
Breeze
Perennially popular GPS fitness tracking service RunKeeper expanded beyond running last month with Breeze, a new standalone app for the iPhone 5s.
Breeze is all about tracking how many steps you take in a day, and uses the 5s's M7 co-processor to garner this data. It's a really slick, well-polished app. Though it may be a little late to the scene, with the likes of Fitly, Moves, Nike+ Move and more on the market already.
➤ Breeze
Blab
In July 2013, entrepreneur Michael Birch spent $1 million to buy back Bebo, a company he founded and sold to AOL for $595 million. And in February this year, the company announced the debut of its video messaging service Blab, which finally launched in April.
To send a Blab, you hold to record and let go to send — just like creating a video on Vine or Instagram. However, Bebo is keen to distance itself from those two services, by focusing on being about friend-to-friend communications, rather than a public network.
➤ Blab
Superb
Superb completed its pivot away from social dining service Grubwithus after launching its new iPhone app for finding new places to visit with friends. An early version of the app with basic functionality was already in the App Store, but the firm's latest release added the messaging and social features needed to complete the product.
Conceptually, Superb functions as a 'Tinder for places' by showing you cards of nearby places and then having you swipe left to dismiss or swipe right to mark as 'to do'. Once you've expressed interest in a place, you can see which of your friends has also marked it. Then, you can message them in the app to schedule a time to visit together.
➤ Superb
Fantastical
Fantastical has been a perennially popular app here at TNW Towers. Kicking off as a Mac app initially, developers Flexibits launched a version of its slick calendar application for iPhone way back in 2012, before giving it a slew of new features last March and then basically overhauling it for iOS 7 six months later. As of April, it comes optimized for iPad too.
Indeed, you'll notice the new Fantastical 2 dashboard is a fresh interface for iPad that displays calendar, day ticker, and list in a single display. It uses the larger screen real estate of the iPad well here, letting you toggle between the day ticker, half-screen week view, and full-screen week view.
Based on our initial dabblings with Fantastical for iPad, users won't be disappointed. It's slick, very easy to use, and although it more than makes full use of the available screen real estate, it doesn't feel cluttered. But at $9.99 – soon to rise to $14.99 – it's not cheap.
If you're on the hunt for more iOS apps, check out some of the best ones from March, or put your feet up and peruse our pick of the bunch from the whole of 2013. Alternatively, you can also check out some of the best Android apps from April too.