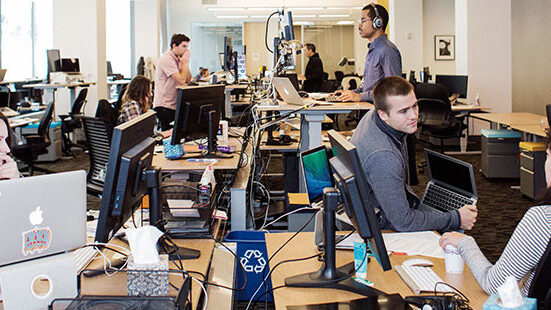 Today, Slack announced some staggering numbers to mark its first birthday. The company launched to the world on February 12 2014 and in that time it's grown to over 500,000 daily active users.
It's a pretty impressive number for a company that's been publicly available for a single year. These numbers are more impressive when you learn that Slack is currently a team of 103 people and the company has facilitated 300 million messages in that time.
Slack's huge growth isn't just impressive because of the size of the numbers, but in particular just how enthusiastically businesses around the world have embraced it.
As you may well know, the business messaging space is a hard one to get traction in. Businesses are known to be slow moving, late adopters of technology, but somehow Slack has managed to buck the trend and has had companies rushing to adopt it.
What makes Slack so special that many businesses are falling over themselves to get onboard? When we talked to Slack CEO, Stewart Butterfield earlier this year he said he didn't even know exactly why: "I get in trouble with my PR team for saying this. But I have no fucking idea."
While I believe that startup success can be unpredictable and come out of nowhere, I also don't believe this to be entirely true. Butterfield seems to have a plan and is quietly executing it to great success.
Slack angles itself incredibly well in the market to be a company that users absolutely love to use — and they do! In the way that it markets itself on its own website, the way it engages with customers and just how easy/fun to use the tool is.
Understanding this is important to the company's success and something that many others in the business market just don't quite have a grasp of. When users are the champions for your tool — and they use it and adore it — that basic fact is going to drive adoption better than anything else ever could.
There are many subtleties to Slack's strategy to make users love it, but they're important ones. Take the product's onboarding, for example. It's enjoyable, easy to understand and talks to you like you're actually a human being, not just a face in the herd.
One particular example of this is when setting up your account, you're messaged by Slack's friendly bot to get your details. It talks like a human, instead of just offering you a form to fill out. An overlooked, but valuable detail in making the tool feel friendly.
These sorts of details are easy to miss but are littered throughout Slack; custom emoji and loading messages are pretty nifty, but you can also directly integrate with almost every tool your business is already using, smoothing the process to making it indisposable. Slack doesn't sit around in its own silo and work separately from everything else, instead it becomes the ultimate hub for getting an overview of the business.
Slack's support team uses a similar tactic for interacting with customers. Instead of responding to disgruntled users with robotic "sorry about your problem we'll look into it" messages, the team talks to customers in simple, easy to understand language… with some emoji thrown in. Emoji works to add a human touch, believe it or not.
Slack's attention to detail and heavy emphasis on treating users like actual human beings is fairly unique in the enterprise world where tools are often hard to use and full of cryptic error messages that leave users frustrated. Others like Mailchimp, use similar user-friendly tactics to win customers over.
The company's meteoric growth is seemingly not slowing yet, but the next battle is a lot bigger. Startups everywhere have adopted Slack, but the next battle is for bigger companies to come onboard. That's a much slower, uphill battle than the company might be used to. Startups are significantly more flexible in switching tools than bigger companies are.
That's OK, though. Slack's biggest competitors are already way behind in the race. Right now, it's winning with a simple strategy of making users love the tools they use. Slack removes the friction to actually getting stuff done.
That's not to say it's perfect, however.
While Slack is almost infinitely extendable with integrations, it still needs work on the core product. A core messaging tool should probably have video calling — Slack just acquired a video calling / screen sharing startup — and other features like threaded messaging and a self-hosted option that would cater to larger businesses.
With fanatical users on the company's side — my personal experience out in the business world showed that employees will fight tooth and nail for the tools they love — it seems to me that it's only a matter of time until Slack is being used effectively everywhere.
Get the TNW newsletter
Get the most important tech news in your inbox each week.
Also tagged with