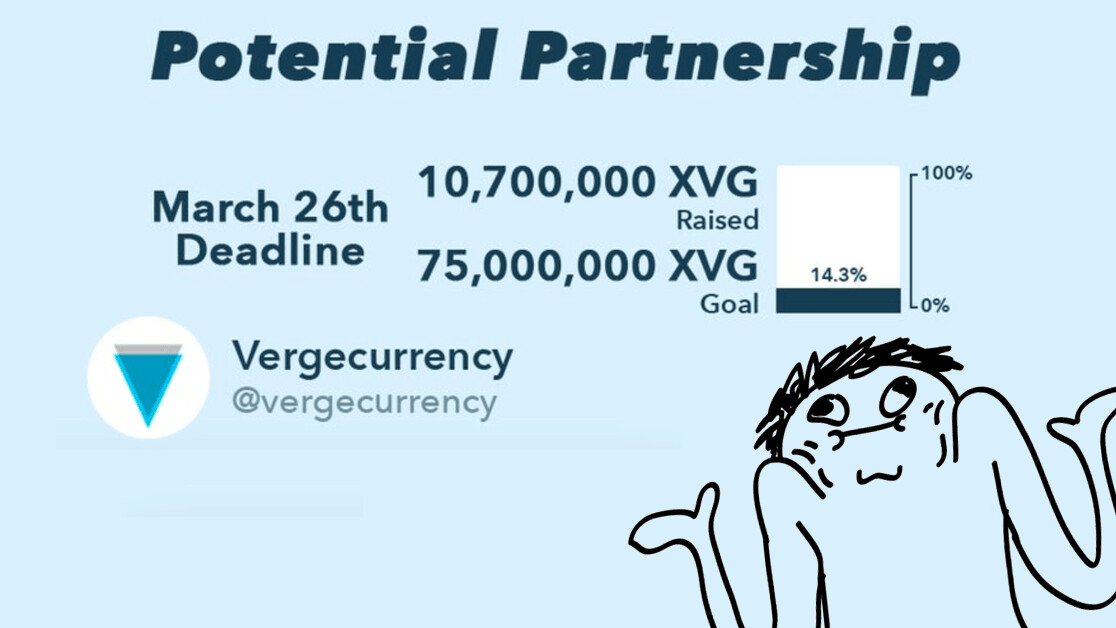 Story by
Former TNW Writer
Mix is a tech writer based in Amsterdam that loves cinema and probably hates the movies that you like. Tell him everything you despise about Mix is a tech writer based in Amsterdam that loves cinema and probably hates the movies that you like. Tell him everything you despise about his work on Twitter.
This can only happen in the world of cryptocurrency and blockchain. Privacy-oriented digital currency Verge has taken to Twitter to ask its users to donate 75,000,000 XVG (approximately $3 million) so it can reveal a mysterious, "potential partnership" next week.
For the record, this is completely unheard of – and borderline risible. At the very least, it is a tremendously bold move to ask your users to pay you to reveal a partnership.
"In line with our mission to empower people to bring blockchain transactions into everyday life, we are thrilled to announce efforts to establish the largest cryptocurrency collaboration to hit the market," the fundraising appeal read. "Help us accelerate this crowdfunding effort and reach our target goal."
"If our goal is met, we will be releasing the name of the company Monday March 26, 2018," it finished.
A representative for Verge has since confirmed that the impromptu crowd sale is indeed legitimate.
"This partnership is a massive opportunity for us," the spokesperson told TNW. "Few realize the magnitude of what this deal means for Verge. The volume of transactions and stability of ongoing payment processing with this company would easily push our value to a whole other level – potential top 10, if not top [five]."
Meanwhile, you can see the full statement below:
** IMPORTANT UPDATE! ** An opportunity for Verge to have the largest partnership in crypto to date! https://t.co/5bmNLM4X2J pic.twitter.com/Hz6NNhISeW

— vergecurrency (@vergecurrency) March 22, 2018
Naturally, crypto-enthusiasts have responded to the crowd sale with a fair degree of skepticism.
Asked about their decision to raise funds, Verge said that the partnership cannot materialize without the support of their community:
We will not achieve the partnership if we don't have the funding for integration

— vergecurrency (@vergecurrency) March 22, 2018
At the time of writing, users have chipped in over 16,500,000 XVG (over $650,000) to the designated donation wallet. For the record, anyone can look up the wallet from the Verge blockchain explorer here.
Verge has also set up a dedicated donation page on its website, where it insists the following:
As many of you are aware, no one on the Verge staff is paid to do the work they do and generally any marketing efforts that come from our team are funded out of our own day job salaries. That is why we need your help. In order for us to be able to provide these services to you, our community, we need to raise a substantial amount of funding.
While details about this "potential" partnership remain scarce, the company says that it "represents an enormous potential market with a global reach that will compete with multiple fiat currencies."
"We are eager to see this partnership materialize and invite everyone in the Verge community to support this groundbreaking initiative," the company added.
The crowd sale tweet was swiftly targeted by a number of Verge-impersonating scammers, asking naive investors to send them Ethereum. Indeed, one of these scammers has so far swiped almost 8 ETH (about $4,000).
Curiously, the crowd sale campaign comes only a week after Verge got its Twitter account hacked, after attackers were able to leverage leaked Yahoo databases to breach an employee's account. Fortunately, the hack affected only the company's social media accounts, which meant that no funds were at risk at any point.
There is a growing tendency for cryptocurrency startups to misrepresent minor collaborations with big corporations as formal "partnerships." Indeed, such shifty tactics have often been used as a legitimate marketing and branding efforts.
As is often the case, these announcements frequently lead to big increases in the price – followed by equally big drops in value once it becomes clear the so-called partnerships were blown out of proportion.
For better or worse, it seems that Verge is taking the opposite approach to this though.
Even though blockchain and cryptocurrency might not be perfect yet, we're exploring the possibilities at TNW Conference 2018. Find more info here.
Get the TNW newsletter
Get the most important tech news in your inbox each week.
Follow @thenextweb