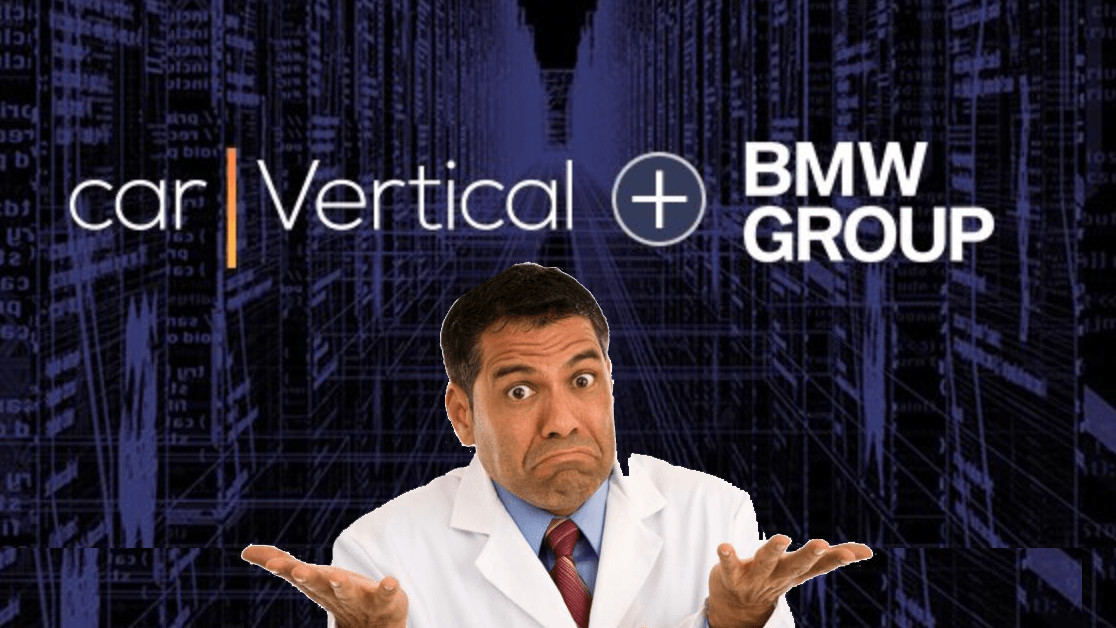 Story by
Former TNW Writer
Mix is a tech writer based in Amsterdam that loves cinema and probably hates the movies that you like. Tell him everything you despise about Mix is a tech writer based in Amsterdam that loves cinema and probably hates the movies that you like. Tell him everything you despise about his work on Twitter.
Fledgling cryptocurrency startup carVertical made waves after announcing last week that the company had struck a partnership with BMW that would see the two parties build the "first ever connected reports for cars." But it appears the company might have misrepresented its relationship with the German automobile titan after all.
BMW has taken to Twitter to clarify that it currently has no formal partnership with carVertical. It further claimed the cryptocurrency startup – which aims to build a decentralized car history registry on the blockchain – is merely "using" the BMW CarData interface "available to any third party."
Seen from this perspective, the relationship between the two parties is more akin to that between a technology provider and a client.
BMW has not entered into a cooperation/partnership with CarVertical. The company is using our BMW CarData interface available to any third party.

— BMW USA (@BMWUSA) March 20, 2018
"I want to clarify that BMW Group isn't denying that they will provide data to us, the whole confusion came because both parties understand the word 'partnership' differently," carVertical partnerships manager Aleksandras Gaška told TNW. "There was a contractual relationship between both parties, which is why we decided to call it a partnership."
carVertical has since responded to the controversy in a Medium post, where it continues to describe the relationship between the two parties as a "partnership" – despite the car-maker's correction. Here's what the company said:
We confirm that carVertical and BMW group have entered into contractual relationship concerning exchange of vehicle generated data. Under the Conditions of Use, carVertical has a right to receive data from BMW group and an obligation to pay a fee for this data.

Respectively, BMW group has an obligation to share vehicle generated data with carVertical. These obligations are already in effect and binding upon the parties. Due to this partnership, carVertical has the right to use data received from BMW group for connected reports for cars.
For the record, BMW's marketing makes it very clear that CarDrive is available to any "customers" interested in managing closely how "their telematics data is shared."
"All it takes to release data, deny access or withdraw previous consent is a click of the mouse," the Bavarian giant said in a press release from May last year. "The customer alone decides whether or not a company receives their data."
It seems that carVertical somehow missed the memo though. The startup went as far as publishing a sponsored press release on NewsBTC to promote the "partnership" with BMW.
"carVertical, the famous automotive blockchain startup, will be the first company ever to offer connected vehicle history reports," the press release read. "BMW Group was chosen as a partner for the pilot project."
In all fairness, carVertical is hardly the only blockchain-powered startup to misrepresent a minor collaboration with a big corporate as a "partnership." In fact, this shifty marketing tactic is gradually shaping up into a trend in the money-hungry blockchain space.
Back in December, IOTA Foundation unveiled plans to launch its own Data Marketplace for the Internet of Things, boasting a partnership with technology mammoth Microsoft as well as other high-profile participants like Bosch, Accenture, and Deutsche Telekom.
As with carVertical, it later became clear that IOTA had no formal partnership with the Windows-maker. Instead, Microsoft said that "IOTA is a Microsoft Azure customer and plans to use Azure to test and deploy its Data​ ​Marketplace."
Get the TNW newsletter
Get the most important tech news in your inbox each week.