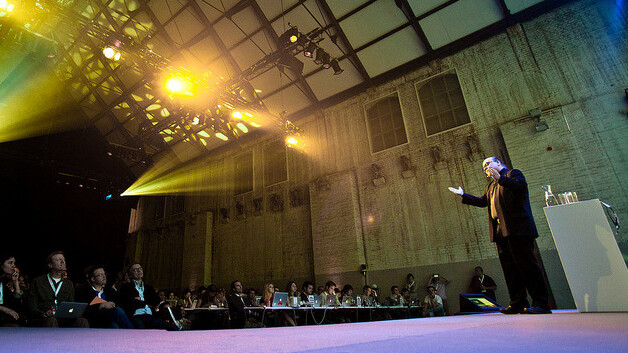 Story by
Founder, The Hatchet
Wytze writes weekly career advice for employees of fast-growing startups and scale-ups on topics like how to negotiate a better salary, conv Wytze writes weekly career advice for employees of fast-growing startups and scale-ups on topics like how to negotiate a better salary, convincing clients to work with you, or how to be a great manager for your team. Prior to founding the Hatchet, he spent 9 years working as Director of Events for TNW.
Welcoming so many amazing speakers to Amsterdam each year is by far the most exciting part of organizing TNW2012. We pledged earlier to create equally great content for both our tracks at the conference so we know this means arranging engaging keynotes on both stages.
We don't want to spill all of the beans just yet, but we thought it would be a good idea to give you a first glimpse of the speakers that you will find on stage at The Next Web Conference 2012. We are adding new speakers to our official Speaker page as we go.
Below is a list of some of our speakers including a short biography and links to their Linkedin and Twitter profiles. We will be doing more extensive interviews with each speaker with more information on their talks as we grow closer to the conference dates.
Still haven't bought a ticket? Grab the last early bird tickets (35% – 41% discount) and have your boss pay later by invoice.
Kevin Rose

Kevin made his name by founding Digg, now he's leading Milk and he is one of the hottest angel investors in the tech scene with investments in Zynga, Twitter, Square, Facebook, Foursquare and many other awesome companies.
Linkedin: Kevin Rose
Twitter: @kevinrose
Chad Hurley

After founding YouTube and leading it into the biggest video platform of the world, Chad is now taking on a new adventure. He bought Delicious from Yahoo and is back in the game as CEO.
Linkedin: Chad Hurley
Twitter: @Chad_Hurley
Susan Crawford

Susan served as Special Assistant to President Obama for Science, Technology, and Innovation Policy. She is a professor at Cardozo Law School in NYC and a Visiting Research Collaborator at Princeton's Center for Information Technology Policy.
Linkedin: Susan Crawford
Twitter: @scrawford
Alex Huot

Alex is the Head of Social Media of the International Olympic Committee (IOC) and responsible for the Social Media strategy and engagement of online communities during the upcoming Olympics in London.
Linkedin: Alex Huot
Twitter: @alexhuot
Mark Randall

Mark is a successful serial entrepreneur who sold his last company to Adobe and he took on the role of Chief Strategist for Digital Media. After last years standing ovation at TNW2011 we asked him to come back with a new story.
Linkedin: Mark Randall
Twitter: @markran
Gabe Zichermann

Gabe is an entrepreneur, author and gamification thought-leader. He co-authored the book "Game-Based Marketing" and is the chair of the Gamification Summit and Workshops.
Linkedin: Gabe Zichermann
Twitter: @gzicherm
Looking forward to seeing our speakers on stage? Welcome all of them to The Next Web Conference 2012 with this pre-formatted tweet:
See you at TNW2012 @kevinrose @Chad_Hurley @scrawford @alexhuot @markran @gzicherm http://tnw.to/17l7Q
Follow all of our coverage of The Next Web Conference 2012 here.