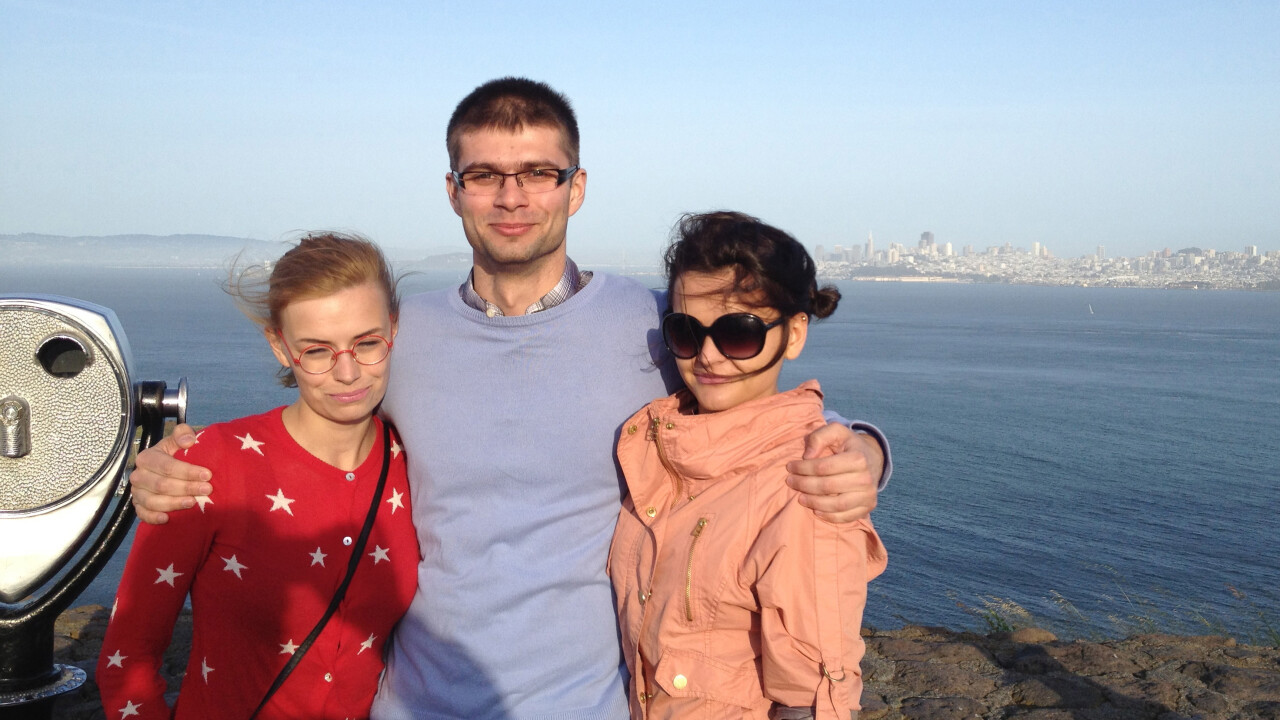 Story by
Robin Wauters is the European Editor of The Next Web. He describes himself as a hopeless cyberflâneur, a lover of startups, his family a Robin Wauters is the European Editor of The Next Web. He describes himself as a hopeless cyberflâneur, a lover of startups, his family and Belgian beer. If you'd like to know more about Robin, head on over to robinwauters.com or follow him on Twitter.
Under the relatively fresh 'TNW Profile' banner, we regularly shine a light on great European entrepreneurs and startup founders, to learn more about their journey and their business, and what drives them personally.
We kicked off our series of Q&A-styled TNW Profile interviews with Unity co-founder and CEO David Helgason and followed up with Wooga co-founder and CEO Jens Begemann (and interviewed Soundrop CEO Inge André Sandvik).
Today we're profiling Polish serial entrepreneur and lady extraordinaire Ela Madej, initiator of many a venture and project.
TNW: First of all, congrats to making it the list of the Top 100 European women in tech. Does that mean a lot to you?
Thanks! It's a nice feeling to be acknowledged and have your "5 tweets of fame". Some people believe what I'm doing makes sense, I'm thankful for that.
Having said that, you have to be very careful with such lists and all other personal "vanity metrics".
They tell the world that you're doing something right but can have very little to do with the impact you have or how successful you are. They sound nice, generate some buzz but that's pretty much it.
It's part of my job is not to get distracted by those and keep on going. If you ask me, I'm just getting started.
Things that MEAN a lot to me include: how much my team believes in my crazy ideas. Emails from a client or tweets from strangers saying you're doing something right are invaluable. These are the "metrics" you should live by.
Also, Robin, I still haven't decided what I think of women-only lists. (Are there men-only lists? Would that be considered ok?).
It will sound weird but not until recently–after almost 6 years of running companies in tech–did I realize that I AM an instance of "a woman in tech".
I went to IT/physics streamed high-school, was always surrounded by awesome nerdy guys and girls, was a nerdy teenager myself. Wanted to be a high-energy physicist and dreamt of working in CERN with the LHC. Both my parents and my sister are software engineers … I actually have female co-founders in my companies – an amazing developer & manager Agata (also included in that Top 100 list) and Socha, an architect-turned-designer.
As much as being a woman has some professional implications, I don't think it's the topic you should focus too much energy on when building a business.
A good rule of thumb to follow: building a business is what you should focus on when building a business.
TNW: You're a serial entrepreneur, but instead of starting one company after another, you're the co-founder and manager of multiple startups at the same time. What are you currently involved with?
I'm used to doing many things and my companies and projects overlap but I'm not managing them all at once! My partners are making all that possible, it's pure teamwork.
I started my first company – a boutique web and mobile development shop Applicake – with 3 other friends (Agata, Pawel and Bart) when I was 21. Using Applicake, we've been working on different projects and initiatives. Some of them worked, some of them failed.
Future Simple was one those successful "side-projects" we started with Uzi Shmilovici, an amazing designer and entrepreneur from Israel and now the CEO of Future Simple. I was helping to build the product and company in the initial years, then we had to divide responsibilities more clearly when we were raising the first round of funding and my ex-partners Bart and Pawel moved from managing Applicake to managing Future Simple full-time.
Then we tried to find ways to be more active in the developers community so we, quite by accident, started an events business and threw European Rails Conference Railsberry. It was a huge success, we attracted all best names in the community and people loved it! (See this).
Right now Future Simple is going great, just closed a nice Series B at $6.8 million led by Index Ventures and its small business CRM Base is exploding. The events business is getting ready for European Rails Conf 2013 and Mobile Mobile Conf.
Applicake is led by 2 extremely hard-working women and doing great. And I am 100 percent focused and committed to this idea I had for a while – Credictive. Me and my cofounders Joanna Socha and Mariusz Lusiak just got into Y Combinator.
(Editor's note: that's them with Ela in the picture on top)
TNW: Do you ever sleep? How do you divide your time?
Work is fun so: 1/3 fun, 1/3 fun and 1/3 fun!
I do not sleep a lot but I love the intensity. I work many hours and multiple weekends but I make sure I take quality time off.
But here's the secret – I work like crazy but I take at least 1 month of vacation a year: 1 week of skiing/snowboarding, 1 week of sailing, 2 weeks of doing nothing in some random place. Up until last year I'd do additional 2 weeks of contemporary dance workshops a year (ok, classes in the morning, then work!).
Right after we learned that we got to YC, I went for a 10-day trip to Goa, India that I have planned earlier. That's the best thing you can do to yourself to stay productive.
TNW: What keeps you busy outside of work?
Quality time with friends, my travels, riding my bike, some yoga … I also cook -I actually cook everyday for the entire Credictive team in San Francisco. This helps me relax. I'm really glad they want to eat it!
I'd love to dance more and I'm secretly planning to take a few months off in a couple of years to see all musicals on Broadway, all shows in Vegas and go to all contemporary dance festivals. I also want to choreograph my own piece one day. Who knows – maybe a "startup musical"?
Any good choreographers out there reading it? Wanna help?
TNW: Can you tell us a bit more about your latest venture, Credictive?
Credictive answers the question "Who did that?" – whether you're looking at a web application as a whole, great logo or an amazing makeup in a short movie on Vimeo.
It's a tool for creators -like developers, designers, everyone in the online video and independent movie industries – to show their involvement, "sign" their work and become discoverable through something they helped create. We just launched our closed beta and are slowly letting people in.
On the other end, as we gather metadata about professionals, Credictive will become a talent discovery layer on top of the web.
It's pretty fun to use, go do Credictive.com, get the "Cred" bookmarklet and see it in action on any site, no account needed for that. Not many things have credits yet, but you'll get the idea.
I see Credictive as my life's mission and hopefully a beginning of a movement for creators to be visible and get proper recognition for their work. I have so many friends who have worked on cool projects and were never mentioned anywhere. That it's sad. If we are to move closer to "the Internet of people", work and contribution have to be way more transparent.
A fun fact – the Delaware company behind Credictive is actually called Rainbows and Unicorns Corp. Since the name doesn't really matter and part of being an entrepreneur is having the freedom to do whatever you want … we concluded we will be less conventional and hopefully make some accountants and lawyers smile.
TNW: Obviously, one of the biggest issues if it takes off will be stopping people from gaming the system. How do you plan to prevent that?
Good point. The service is invitation-only for that very reason. We're slowly letting people in while we're developing basic verification system. Since in most cases we will have no way to verify who did what, it will be community-based and community-enforced.
To make sure people realize it's their reputation that is at stake, we're intentionally relying on existing online identities (Facebook now, Twitter & LinkedIn soon) and plan to be very strict with users who abuse the system. This might be challenging but it Wikipedia was possible, Credictive is possible.
TNW: When do you plan to launch in public beta?
In a good couple of weeks. But everyone wiling to show their involvement and share their skills with the world can go to credictive.com and request an invite now.
TNW: How do you plan to monetize the service?
We're focused on usage first and seeing how much value we're giving both to creators and businesses looking for talent. Once the answer is "a lot" – we're home. Otherwise, we'll have to keep trying.
There are many ways we can monetize Credictive, but we first have to make sure it works.
Let me add that I'm used to running bootstrapped businesses with good cash-flow and while we do we plan to raise a small round pretty soon, we do want to start making money in the next couple of months.
TNW: You're Polish but recently moved to San Francisco. Does that say anything about the Polish startup ecosystem, and/or Europe as a whole?
One thing you can say – it's definitely more quiet in Poland now that I am away haha. Damn that must be a relief!
We will definitely keep our development team in Poland – we have a big team, very special company culture, great office, great vibe. That's something I am very proud of and something I wouldn't want to risk. Having said that, we will need to have US presence to make it work.
I can definitely see how being in San Francisco can speed things up. When you work in tech, being close to Silicon Valley just makes sense, you can learn so much here. But it might turn out that when Y Combinator is over, New York will be better place for a product like Credictive.
There are many ways to do things and we're in the process of deciding what is best for us.
European and Polish startup ecosystems are less dense, less evolved, for sure.
But there's great talent, less distraction and genuinely amazing people. There are many interesting things going in culture and I think European startup scene has a lot to offer.
TNW: You were part of the last Y Combinator class. What was the experience like? (both positive and negative if applicable)
We're in the current Y Combinator class and it just started. I have a strong vision of what we want to achieve and I'm trying to use the YC experience to our advantage. Will tell you more in a couple of months!
TNW: What are the downsides of running a company out of, and living in, Silicon Valley in your fresh view?
Hmm, people work a lot and because you work a lot, you end up talking about work all the time.
We're guilty as charged! But we literally just moved here 2.5 weeks ago and we're in very special situation (YC), so I wouldn't draw any final conclusions from that yet. The intensity we're going through right now is incredible.
Cost of living and running a company is way higher compared to Berlin or Krakow.
But hey – it's sunny! Jokes aside – I will tell you more in 2 months.
Get the TNW newsletter
Get the most important tech news in your inbox each week.