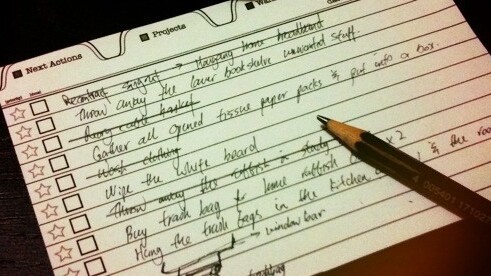 Story by
Paul Sawers was a reporter with The Next Web in various roles from May 2011 to November 2014. Follow Paul on Twitter: @psawers or check h Paul Sawers was a reporter with The Next Web in various roles from May 2011 to November 2014. Follow Paul on Twitter: @psawers or check him out on Google+.
There's a real danger that by looking for ways to streamline your life to get things done (GTD), you achieve the opposite effect and actually get nothing done by spending way too much time looking for new lifehacks.
As perverse as that may sound, there's an element of truth in it. However, there is nothing sweeter than finding a new tool to make things run just that little bit more smoothly.
With that in mind, yet another productivity app has fallen onto our radar, hitting the App Store this week. Task is the handiwork of Nuage Touch, a France-based app development company. It's an iOS app that offers a simple way to plan EVERYTHING in your life, and professes to be as easy as tweeting or sending a text message.
Our initial tinkerings reveal a very nice app, one that perhaps borrows a little too much from Clear, another productivity list-based app we covered earlier this year with a rave review. But Task goes a step further, as you'll see below.
How it works
Now, Task isn't the sort of app that can be properly explained with text and screenshots, which is why we've linked to a video further down the page so you can see it in action. The reason being is that so much of the appeal of this app is the way you interact with the interface, with pinches, swipes and taps very much the order of the day.
It should take you a whole of 5 minutes to get used to how this app works, differentiating your long and short taps, and working out how to set to-do list reminders and move items up and down your list.
Pinching and pulling lets you create new items on your calendar/list. Swiping left lets you delete an entry, and swiping right enables you to edit it.
What you're left with is a long list, with the most recent items at the top, of things you need to do, whether that's go to the post office, pick up some apples or call your grandmother.
But here's the thing. As I mentioned already, Task is so unashamedly similar to Clear in just about every respect, that it's hard not to be a little put out by this. I don't think it would be an exaggeration to say that it has been copied from the ground up.
However, the small improvements Task brings to the table probably make this a more worthwhile version. Whilst Clear is a pretty straight-forward list app, Task is more of a calendar-based list application that swings the pendulum slightly in its favor.
As someone with a penchant for writing down things that I really, really need to do, being able to schedule reminders for specific days whilst still adhering to a list format is priceless. Oh, and to rub salt into the wound, Clear has been undercut by Task by two whole dollars, the latter of which setting you back a mere $0.99.
The comparisons don't stop there either. As promised, here's Task's official video demoing how the app works.
Since you asked, here's Clear's video:
When all is said and done, Task is a really neat app and there's no getting away from that. Clear can at least take some consolation from the fact that imitation is the sincerest form of flattery. Or perhaps the similarities are just a coincidence? We'll let you decide.
As a final thought on this, I would dearly love to see Task hit the Android market soon too, but I'll settle for the iOS version for now.
Meanwhile, you can read all our previous Pick of the Day selections here.