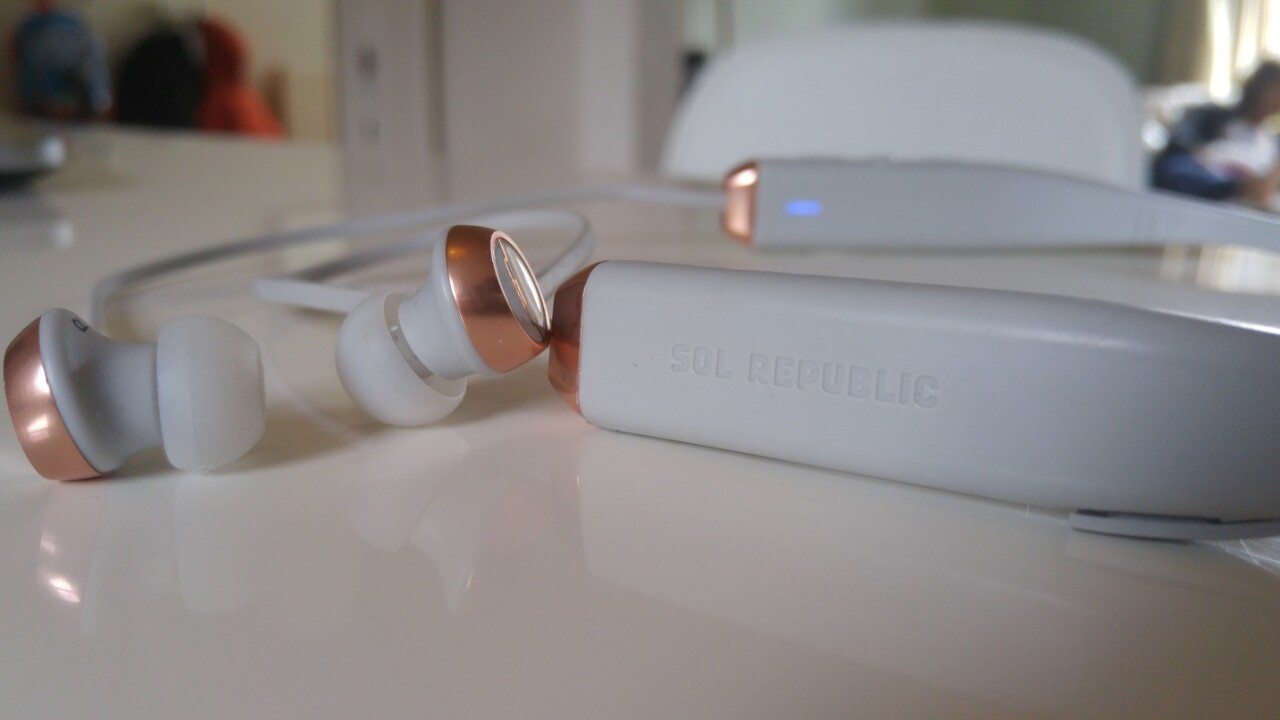 Story by
Europe Editor
Ben is a technology journalist with a specialism in mobile devices and a geeky love of mobile spectrum issues. Ben used to be a professional Ben is a technology journalist with a specialism in mobile devices and a geeky love of mobile spectrum issues. Ben used to be a professional online poker player. You can contact him via Twitter or on Google+.
If you're any sort of a loyal TNW reader, you'll already know that I'm a pretty big fan of Sol Republic's Tracks Air over-ear headphones. I even liked them enough to recommend them as an Ideal Gift in our Christmas series last year.
It's little surprise then that when the company announced its follow-up in-ear buds that I was keen to test them out.
Due to go on sale more widely in the US next month, I spent a little time using the Shadow to see if they could live up to the lasting impression left by the Tracks Air.
Design
First things first, this might seem like an obvious point and a stupid thing to quibble, but these are 'wireless' headphones in the sense that you don't need to plug them into your phone, tablet or any other device to listen.
That's not to say there's no cable whatsoever though, there's obviously one that joins the two earpieces and allows them to hold a charge. If you thought they were pure magic and you could just pop them into your ears then you'll be disappointed.
Back in reality, the main band of the headphones sits around your neck and on the left underside is a micro USB charging port.
On the right underside, there's a power button. Pretty sure you don't need telling what that's for. Just long-press to switch the unit on or off.
On the top right side, there are volume and a call control/music playback button. When wearing the unit, the volume buttons sit above your right collarbone.
A blue LED indicates when the Shadow is switched on, or flashes when the device is charging.
In the pack, there are also a few different size earpieces, so you can find the most comfortable fit.
In use
When you first switch on the Shadow, it makes an audible noise through the headphones to let you know that they're ready to go
The Tracks Air did the same, except they also have a voice that announces the remaining battery life so you know how long it will last before you start a session. The Shadow unit, unfortunately, does not.
Nonetheless, you can opt to have the battery status shown in your notifications bar if you're using the Shadow with an Android device running Lollipop (Android 5.0) or later.
Sol Republic says you'll get eight hours playback out of a full charge, and you might, depending on how loud you listen. For me, around 6 or 7 hours was more accurate, which makes it significantly shorter in longevity than the over-ear Tracks Air, but then they have a bigger chassis to build a rechargeable battery into.
If you're disappointed by the battery life, the audio quality more than makes up for it. Purists would probably favor a slightly less bassy sound.
I loved it though – a detailed and punchy low-range suits me fine, and helps add some presence and depth to podcasts and radio.
While the audio quality itself put a smile on my face, after a while it turned to a grimace. No matter which size earbuds I tried, after more than an hour and a half or so, they'd start to get a little uncomfortable and need to be removed for a short while.
The problem doesn't seem to be the tips themselves, but more the plastic housing the rubber buds sit on – they're so soft and flexible that you can feel the hard plastic through them. It's not a deal-breaker, but it does slightly hamper an otherwise great set of wireless headphones.
I didn't find the placement of the power button very convenient either, and always seemed to press the wrong volume control, depending on whether I was trying to make it louder or quieter.
Worth the money?
Shadow Wireless cost just $99, which would make them a bit of a steal even if they weren't wireless. If you've tried other Bluetooth headphones in the past – particularly the in-ear variety – then don't be put off. Yes, some lack definition and kick, but these don't. 
They also offer the same sort of pick-up and run out of the house convenience that I loved about the Tracks Air. Even better, they don't feel like a liability to then carry around for the rest of the day – you can just pop them in your pocket and get on with it.
$99 isn't an expensive set of headphones, even for earbuds. As a result, the Shadow's performance is pleasantly surprising and punches well above the level its price category would suggest.
No, they're not perfect and could be more comfortable for longer listening sessions, but in the bang for your buck department, it's hard to really complain and if you do, I can't hear you now anyway.
Get the TNW newsletter
Get the most important tech news in your inbox each week.
Also tagged with