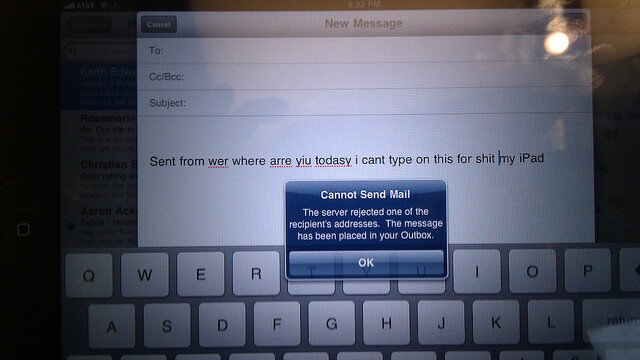 Story by
Drew Olanoff was The Next Web's West Coast Editor. He coined the phrase "Social Good" and invented the "donation by action" model for onlin Drew Olanoff was The Next Web's West Coast Editor. He coined the phrase "Social Good" and invented the "donation by action" model for online charitable movements. He founded #BlameDrewsCancer. You can follow him on Twitter, Google+, Facebook, or email [email protected]
I haven't been secretive about the fact that I don't use my iPad for much of anything anymore. I use it on plane rides, instead of pulling out my laptop. Even then, I only use it for basic web surfing and checking tweets if I'm on a Wi-Fi enabled flight.
The one thing that I could never do on my iPad is write things, like this blog post for example. Using the iPad keyboard has always been an awkward experience for me, and I end up holding it like an iPhone and typing on it the same way. Rarely have I ever put an iPad in landscape mode and typed on it like I see other people doing.
However, an app that's in the works called SlideWriter might change all of that for me.
It's not out yet, and not much is known about it, but here's how its creator describes it:
SlideWriter for iOS lets you quickly move the cursor or select text by sliding your finger above the keyboard. It makes editing text faster and much easier than tapping and holding for every edit.

It does not require a jailbreak, all functions of the built-in keyboard stay intact including splitting the keyboard.
Here's a seriously impressive demo of it in action though:
I want this. As in, right now. I could see this turning the typing experience on an iPad into an easier task for me. I find that having to move the cursor to the exact spot to make an edit is a pain in the ass, thus turning me off of the whole experience entirely.
Until the app is available, go shout at the team on Twitter and tell them to rush it to the App Store!
Get the TNW newsletter
Get the most important tech news in your inbox each week.
Also tagged with