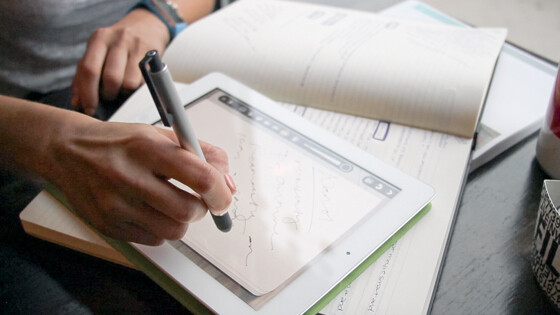 Story by
Jon Russell was Asia Editor for The Next Web from 2011 to 2014. Originally from the UK, he lives in Bangkok, Thailand. You can find him on T Jon Russell was Asia Editor for The Next Web from 2011 to 2014. Originally from the UK, he lives in Bangkok, Thailand. You can find him on Twitter, Angel List, LinkedIn.
Touchscreens have become almost standard across so many smartphones and tablets thanks to the intuitive and easy way that they allow us to browse the Internet and use apps. Most of us, however, have had issues with a touchscreen, "fat finger" syndrome — i.e. tapping the wrong part of a screen — being the most common, and boy is it frustrating. But now, there is a new solution that could soon spare us from such touchscreen mishaps, and helps us use the screens more effectively.
May we present…the LunaTik Touch Pen.
The product is a Kickstarter initiative to build a product that combines the features of a stylus with the 'offline' capabilities of a regular biro-type pen.
Right now, LunaTik Pen has raised more than $40,000 of crowdsourced funds, however it must raise an additional $30,000 over the next 90 days to make it a reality and begin shipping the product in April 2012.
The initiative is a follow-up from the hugely successful and innovative TikTok+LunaTik Watch — which turns an Apple iPod Nano into a watch — which raised almost $1 million in pledges through Kickstarter in 2010.
Here's what Scott Wilson, the Chicago-based head of the initiative, says:
Paper and pen will never be replaced. However, more and more people are embracing their iPads and tablets to take notes and capture ideas in a new hybrid analog-digital workflow. These users continuously switch between paper and touch screen during the day. This means they require both a traditional ink pen and a digital stylus.

While both are great on their own we would prefer to have our everyday pen be compatible with iPads and tablets with a click of a button eliminating the need to carry both items. This was the inspiration for the LunaTik Touch Pen. The idea was born from a desire to integrate our pen of choice, the rollerball, with the digital stylus.
Aside from the idea behind the pen — which could help greatly improve the user-experience on touchscreen devices — we particularly like that there will be two versions of the device.
The LunaTik Alloy Touch Pen is the premium product, which includes "an aircraft grade aluminum barrel, a die cast clip that is hard coated with PVD plating and a high grade silicone rubber grip".
For those of us who go through pens on a near-daily basis, the LunaTik Plastic Touch Pen is a less expensive, and more dispensable option to get the best of digital and paper-based uses. The plastic version also comes in a wide selection of colours and designs, which could make it an ideal present, although sadly not in time for Christmas 2011.
You can find more details at the link below. Wilson has provided a breakdown of how the funds will spent and, crucially, you can also leave a donation if you want to see the product become a reality next year.
➤ LunaTik Touch Pen | via @hnfirehose
Get the TNW newsletter
Get the most important tech news in your inbox each week.
Also tagged with