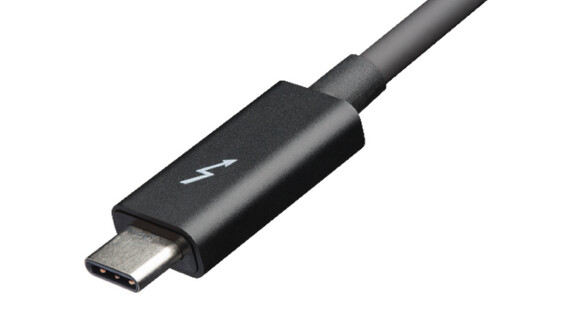 Story by
Reporter
Amanda Connolly is a reporter for The Next Web, currently based in London. Originally from Ireland, Amanda previously worked in press and ed Amanda Connolly is a reporter for The Next Web, currently based in London. Originally from Ireland, Amanda previously worked in press and editorial at the Web Summit. She's interested in all things tech, with a particular fondness for lifestyle and creative tech and the spaces where these intersect. Twitter
Intel has announced that it's developing the super-fast Thunderbolt 3 with the latest USB-C connector. Abandoning its proprietary connector, the new reversible cable reportedly manages speeds of up to 40Gbps.
By comparison, the Thunderbolt 2 cable gets up to 20Gbps, with USB 3.1 capable of 10Gbps and 3.0 capable of only 5Gbps. Apple brought the USB Type-C connector to our attention when it was used in the latest MacBooks.
So what does that mean to you? Well, it means you can run two 4k monitors at the same time or transfer a 4k movie in less than 30 seconds. The new cable also allows you to daisy-chain computers together if you want to have a small workgroup working off one CPU.
Intel is offering a few different versions of the Thunderbolt 3 cable – a 20Gbps copper cable that supports USB 3.1, DisplayPort 1.2 and 20Gbps Thunderbolt, and an active 40Gbps copper cable version as well. Intel is also working on a 40Gbps Optical Fibre cable as well for expected release in 2016.
The first products with Thunderbolt 3 are due to ship before the end of this year, according to Intel.
➤ Thunderbolt™ 3 – The USB-C That Does It All [Intel]
Read next: One cable to rule them all: Everything you should know about the new MacBook's USB-C port
Get the TNW newsletter
Get the most important tech news in your inbox each week.
Follow @thenextweb
Also tagged with