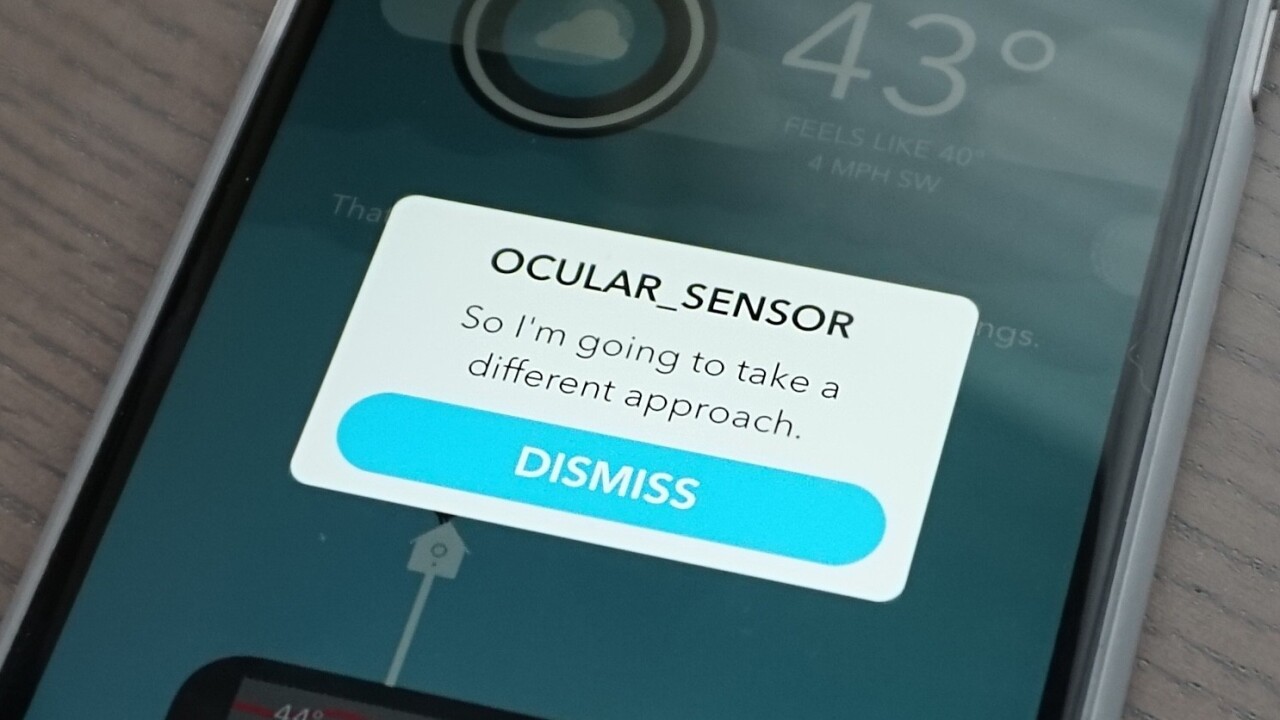 Story by
Former Reporter, TNW
TNW's former West Coast writer in the PNW (Portland, Oregon). Nate loves amplifying developers, and codes in Swift when he's not writing. If TNW's former West Coast writer in the PNW (Portland, Oregon). Nate loves amplifying developers, and codes in Swift when he's not writing. If you need to get in touch, Twitter is your best bet.
Getting stuff for free is awesome; it's why apps that don't cost you anything are so popular.
Like anyone else, I was guilty of forgoing paid apps to get a free one — even if that meant I wasn't having the best experience. But I've done a complete turnaround on that thinking, and you should consider doing the same.
Predictable results from an unpredictable app
Getting weather info right isn't necessarily hard, but creating a decent weather app seems to be.
I was using Yahoo weather, which is free. It's also gorgeous, accurate and has a nice widget for iOS. On a basic level, it left me wanting for nothing.
But why should the weather be boring? Why should my view of what's going on in the world around me be so static?
That led me to Carrot Weather, an app that promotes snark ahead of stats. On a whim, I decided to see if the four-dollar app was even worth a damn.
Happily, Carrot is clever in addition to being just as accurate as Yahoo or any other weather app I've tried. It's also got a bit of gamification and an interactive element that can entertain for short bursts. Without trying to be too clever about how it fed me information, Carrot actually brought me joy when clicking on its icon.
Also, nerd humor.
But why spend anything?
That was the question I was asking even as I was buying Carrot Weather.
Selfishly, I could have hung onto my four dollars and bought terrible coffee at Starbucks while checking my free weather app and probably not have known the difference; Carrot would have still been that weird weather app I just never bought but quietly admired.
Instead, I've added a bit of character to my device, and I have an experience I can't get elsewhere. Carrot Weather is also available for Mac, Apple TV and has a nice Apple Watch glance (and complication).
And, like dodgy coffee, four bucks came and went before I knew it. Unlike coffee, Carrot is paying off long after my money and I are no longer acquainted.
It's about experience
After Carrot, I began looking into other paid apps. Many either have a free counterpart (with fewer features), or an alternative that cost nothing.
Critically, I can argue paid apps are mostly superfluous if there's a free option. The problem with that thinking is that your smartphone or tablet then become minimum viable products. Did you buy an iPhone or an awesome Android handset to have a substandard experience? I really hope not.
The second app I purchased was Tweetbot, a Twitter client. I love Twitter, and paying for an app to access it seemed silly, conceptually.
But, it's got some subtle tweaks I really enjoy — like muting words or phrases. Sorry Taylor Swift, I care about the real Swift; the mere mention of your name is banned from my timeline. The free Twitter app may not let me control the firehose of information spewing from it, but Tweetbot does.
And the dark mode? I love it. For a few bucks, my enjoyment of Twitter itself increased quite a bit — and that's good for Twitter as well as Tweetbot.
The list goes on — manual camera apps, software for tracking hours spent on tasks — but the end result is the same: my experience is better.
Recently, Airmail launched for iPhone, which was another $4.99 I decided to spend. While I could have kept using the email app I was used to, Airmail is my go-to for the desktop, and having a unified experience was worth a few bucks for me. So far, it's been a joy. My local barista may not see me as often, but I'd rather have a good app.
The hidden benefit of paying for apps
Go ahead — tell Twitter about the problem you have with its apps. You won't hear back.
Tweetbot, on the other hand, responds. On more than one occasion, I've mentioned (publicly and privately) that I was experiencing issues with the service. Each time, someone from the team reached out.
Even when it's a simple 'we're aware of the issue,' at least I know I've been heard.
The same can be said for Carrot; after a few users took offense to some in-app commentary, developer Brian Mueller pulled the text from Carrot's codebase out of respect. On launch day, Airmail was giving me a strange sync issue — but the team paid full attention to me as if I were the only Airmail user (and I'm definitely not).
All of those instances show a responsive awareness of you, the user. I can say the same of developers and teams responsible for a handful of apps on my phone. From the manual camera app adding features users were clamoring for, to a clipboard app making it easier to cut and paste text, the changes come — and faster than they would via free apps from faceless companies with massive teams who are likely sitting in meetings rather than coding fixes to problems.
Pay with cautious optimism
Your phone is important to you — I don't need to verify that. For many of us, it's the device that keeps us grounded, sane and productive. Or distracted. All of the above, really.
I'm not advocating for you to choose the paid option when there's a free app available. There's no way of knowing if you'll be burned, so definitely familiarize yourself with the return policy of your chosen app store before you buy.
I will say that I learned my lesson by dismissing paid apps so easily. I no longer turn my nose up at paying a few bucks for something that could dramatically change the experience I have with my devices, and often the world around me. In many cases, I'm also helping to support a developer or team with a vision, and that's equally satisfying.