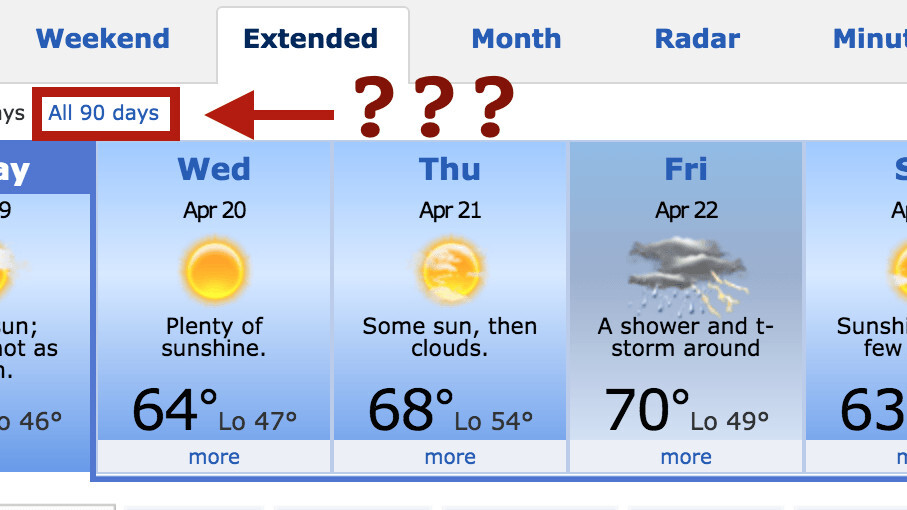 Story by
US Editor
Natt Garun is the former US Editor at The Next Web, managing the North American team on content, events, features and reviews coverage. She Natt Garun is the former US Editor at The Next Web, managing the North American team on content, events, features and reviews coverage. She previously wrote for Digital Trends, Business Insider, and Gizmodo. Facebook | Twitter | Google+
With an increased focus on climate change, it's no surprise that people are paying more attention to weather forecasts and their strange, unseasonal ways. It's hard to figure out whether this pattern of sunshine is here to stay, or if we're gearing for a storm next weekend.
Part of the confusion, however, is because most times, weather forecasts aren't that accurate unless you're checking it 36 hours ahead of time.
So why in the world has AccuWeather released a new 90-day weather forecast tool? Two ways to look at it: Big data, or massive trolling.
According to the company, the 90-day forecasts derive from a prediction tool that looks at long-term trends so people can better plan events ahead of time, such as weddings or travel. Previously, AccuWeather can give you historical averages of highs and lows for a particular month in your local area, but now it goes as far as to predict a daily forecast, including chance of precipitation.
Meteorologists are already calling it a load of crap. "AccuWeather is putting out a product that has no demonstrated value, and they've never proven otherwise," Jason Samenow, a meteorologist for the Washington Post, told Gizmodo.
We'll give AccuWeather the benefit of the doubt – maybe it's managed to employ some oracles or feed their meteorologists food fertilized by Punxsutawney Phil. But considering how often we're disappointed by forecasts seven days in advance, we're not confident this tool is anything more than a huge troll move.
We understand the need to predict weather as far ahead of time as possible, but the reality is we don't currently have the technology or science to foresee that kind of thing. Just stick with your favorite weather apps and live life the way it's intended: full of the unexpected.