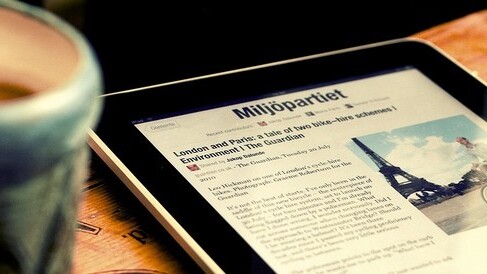 Story by
Paul Sawers was a reporter with The Next Web in various roles from May 2011 to November 2014. Follow Paul on Twitter: @psawers or check h Paul Sawers was a reporter with The Next Web in various roles from May 2011 to November 2014. Follow Paul on Twitter: @psawers or check him out on Google+.
The Next Web has covered Flipboard on a number of occasions since it first arrived on the iPad way back in 2010. And it has gone from strength to strength since then, eventually landing on the iPhone last December. So where else could it go to continue to grow? Well, Android of course.
In case you missed it, the Samsung Galaxy SIII has had several exclusives attached to its recent launch – it was chosen as the official Olympic phone for starters. And it was also selected for Flipboard's first foray into the world of Android. The latter, however, is no longer so exclusive, as SlashGear reported earlier today.
Flipboard opted to dip its toes into the Android pool in a very limited way, announcing that the app would not be made available on Google Play, and thus other Android devices, until the summer. Indeed, it is inviting Android users to register their interest now.
In less than a week, the Flipboard APK has been ripped, and as SlashGear points out, the rip doesn't come as too much of a surprise, but the speed at which it happened is pretty impressive.
The rip has been shared on xda-developers, posted with a pretty modest comment:
"It's simple, I just had a Galaxy S III lying around and I extracted the .apk using AirDroid. So, there you go."
The Next Web thought we'd give the app a quick test-drive to see how she performs…and here's the lowdown.
Hands-on with Flipboard for Android
When you first launch the app, you'll see the welcome screen, which you flick upwards to access the main access screen:
Once you're in, you'll be asked to select which categories of news you're interested in…News, Technology, Design, Photography, Business, Sports, Style, Travel…and Flipboard Picks. The interface is pretty much exactly the same as the iPhone version, in terms of design, layout and navigation.
As with the iPhone version, you can integrate the app with your Facebook and Twitter accounts to have your social feeds appear within Flipboard too. And having selected a handful of topics, it was nice to see The Next Web featured in one of the Cover Stories….
Overall, my first impressions of the Flipboard Android app were pretty good, I didn't encounter any issues and the navigation between the different screens was smooth. I'll be elevating this version to one of my main news apps for the time-being to see how it compares to the likes of News Republic.
So…how do you get the app now without having to buy a Samsung Galaxy SIII or wait until the summer? Here's how.
How to get Flipboard for Android today
First, download the Flipboard.apk file and copy it on to the SD card on your Android device. Or, if you're reading this on your smartphone, you can click the link and it should download automatically.
Given this app isn't officially available to download yet through Google Play, you'll have to change the settings on your phone. Go to Settings and then Applications, and activate Unknown Sources.
To access the files on your handset, you will also need to have a file manager installed – something like Astro File Manager should be fine.
Browse to 'Downloads' on your device through your file manager, select the APK…and voila.
Let us know your first impressions in the comments below.
Get the TNW newsletter
Get the most important tech news in your inbox each week.
Also tagged with