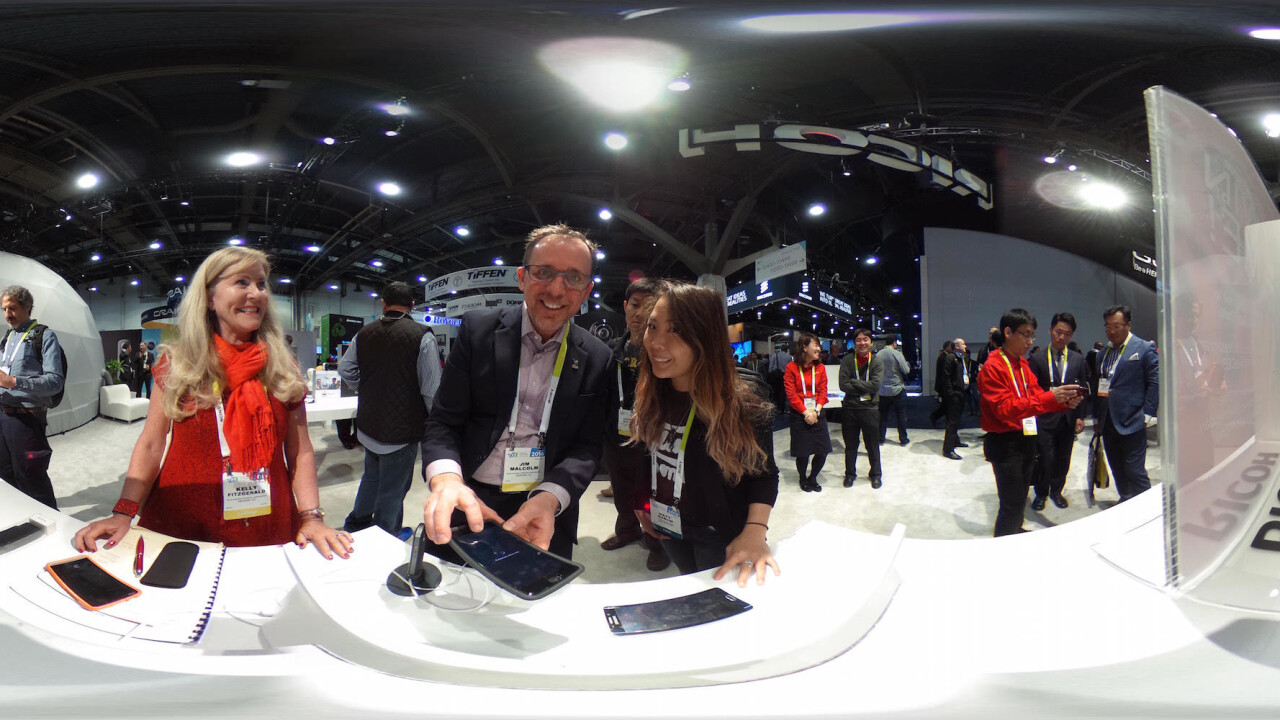 Story by
US Editor
Natt Garun is the former US Editor at The Next Web, managing the North American team on content, events, features and reviews coverage. She Natt Garun is the former US Editor at The Next Web, managing the North American team on content, events, features and reviews coverage. She previously wrote for Digital Trends, Business Insider, and Gizmodo. Facebook | Twitter | Google+
Life-logging continues to be a trend at CES, with more cameras and apps than ever designed to record your daily activities and display them in unique, interactive ways. We went hands-on with Ricoh's latest rendition of its 360-degree camera, the Theta S, to see how 360-degree imaging might play into our everyday lives.
Currently, it seems 360-degree photos and videos are often limited to sports photographers and travel. What Ricoh has done is to make it easy for people to take photos of any instance – birthday parties, football games, absurdly crowded conferences during a particular January week in Las Vegas – and allow anyone to interact with the scene.
The Theta S is made up of two half-spherical lens that shoot 190-degree images each at 12.4 megapixels. The extra 10 degrees on each side help the images accurately stitch together the photo for a seamless circular image.
Theta S also shoots full HD videos so you can rewatch a particular moment and browse around things you may have not seen in the first viewing. In our demo, Ricoh president Jim Malcolm showed us a video of him snowboarding in Colorado, which you can swipe around and observe different angles of the scenario, such as how his face changes during different parts of the slope, or looking ahead and behind him as he makes his way down the mountain.
With 360-degree photos and videos, virtually anyone becomes a photo bomber. Sure, this could raise security and privacy concerns in the future, but in social settings like CES, it's actually quite amusing to look around the room to see what else was going on in the moment you're focused on smiling for the camera.
TNW at Ricoh #CES2016 Spherical Image – RICOH THETA
During our demo, a bystander also interrupted our session and asked Malcolm how to best use 360-degree imaging in his profession of real estate. Malcolm recommended he take clients to showings with the Theta S and send them the images they take after the viewing to relive the visit, allowing them to explore parts of the home they may have missed in the initial walkthrough.
As companies continue to invest in 360-degree imaging, I asked Malcolm if he foresees spherical lens technology shrinking enough to fit inside a smartphone. He says that is a possibility Ricoh is definitely not ruling out.
"It's only a matter of time," he says, as he compares the Theta S and his iPhone 6P together.
"When you look at the Theta S, what really powers it are the lens, internal memory and batteries. These are components that already exist in a smartphone, so we're definitely excited to see how this is incorporated in the near future."
The Theta S is available today for $350. The device comes with 8 GB of internal memory, which should amount to about 1,600 images or 65 minutes of HD video.
Get the TNW newsletter
Get the most important tech news in your inbox each week.
Also tagged with