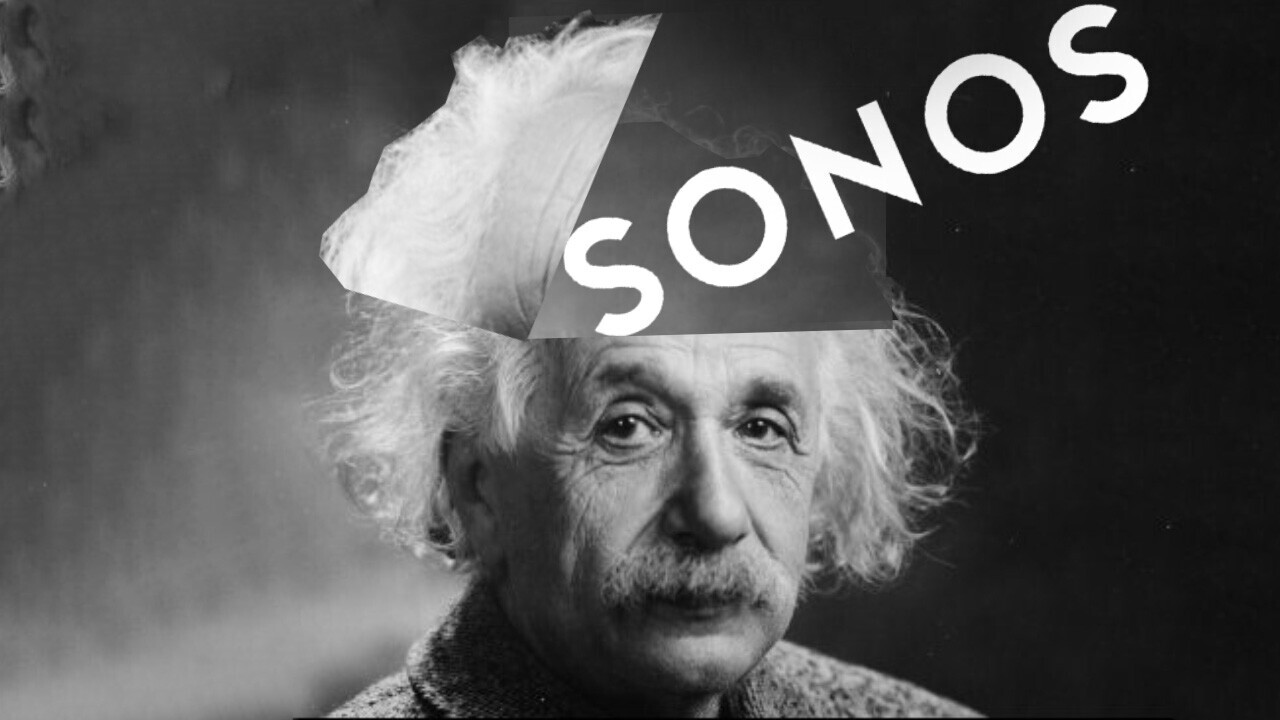 Story by
Editor of Plugged by TNW
Callum is an Englishman in Amsterdam, but not in the way you're thinking. He's the Editor of Plugged, TNW's consumer tech vertical. He w Callum is an Englishman in Amsterdam, but not in the way you're thinking. He's the Editor of Plugged, TNW's consumer tech vertical. He writes about gear, gadgets, and apps — with a particular focus on Apple — and also makes the occasional odd video. Basically, he's halfway between an abrasive gadget nerd and thinky art boy.
Sonos is a fascinating company. In the 20 years since its inception, the business has carved out an enviable niche with its multi-room audio service.
In fact, it's hard to think of any other consumer technology company that holds such a sway over the market. From TVs to headphones, laptops to games consoles, there are few companies that dominate their spaces quite like Sonos.
This isn't to say the company doesn't have competitors — I've written in great depth about my adoration of Bluesound gear and Bose has been in this sphere for some time — it's just that they're not on equal footing.
For example, Bluesound isn't quite doing the same thing, as its focus is more on the audiophile community. Secondly, while many of us could name a competitor to, say, Microsoft Windows, far fewer would do the same for Sonos.
The more I've pondered it, the more I've come to the conclusion that Sonos' biggest competitors aren't companies in its precise space (that's multiroom, wireless audio equipment).
Rather, the biggest threat to Sonos are the tech giants making voice-activated speakers.
In 2021 alone, there were 186 million smart speakers shipped. Their growth has been spectacular, with this figure sitting at 6.5 million in 2016.
Why are these figures important? Well, a key selling point of the most popular smart speakers — the Amazon Echo and Google's Nest range — is how damn affordable the things are.
Currently, you can pick up an Amazon Echo or Google Nest Audio for around $100. Or, if that seems a bit too spicy, you can also grab the smaller Echo Dot or Nest Mini for $50.
Sonos, on the other hand, has been a historically premium brand. Many of its 'mid-range' devices shipped for around $400.
If it stuck to this strategy, the company was bound to lose market position. But it hasn't. And its most recent hardware shows just how cleverly it has been responding to the threat of tech giants' smart speakers.
Widening the Sonos sales funnel
The company's most recent product is the Sonos Ray, a soundbar that retails for $279.
For some context, the company's other soundbars — the Beam and the Arc — retail for $449 and $899 respectively.
This isn't by chance. Nor is it a one-off decision to try and ship more products. No, this is part of a deliberate strategy by Sonos to compete with tech giants and widen its sales funnel.
It's no coincidence that a year after smart speaker sales more than doubled (31.7 million shipped in 2017, to 85.8 million in 2018), Sonos released its first truly affordable hardware: the SYMFONISK collection in collaboration with IKEA.
The bookshelf version of this retailed for $99 — half the price of the company's previous cheapest speaker.
Shortly after this, the company also released the One SL. Again, at $179, this was the lowest priced speaker Sonos made itself.
The next piece in how the company has evolved to fight the tech giants' smart speaker threat was with the launch of the Sonos Roam, its first portable Bluetooth speaker.
Start low and go high
At its launch, I wrote about how shrewd a business move the $169 Sonos Roam was.
To put it succinctly as possible, the device is a standalone unit that's good enough to hook in anyone looking for a portable speaker.
In other words, the Roam acts as an easy entry point into Sonos' funnel.
You can buy it without having to commit to a whole system. But if you do end up liking it? Well, it's not a huge leap to decide to populate your home with more Sonos gear. I mean, why wouldn't you buy something that complements a speaker you already own?
This strategy must be paying off for Sonos.
Not only has the company announced it's releasing three more colors of the Roam (that's Olive, Wave, and Sunset if you care), but we can see the aforementioned launch of the Sonos Ray as echoing this strategy.
Sonos is dangling a carrot in front of people and hoping they get the taste for it.
The entry-level soundbar can be viewed through a similar lens as the Roam: built-in TV speakers are notorious for their low quality, and a soundbar is an easy way of improving this.
This means the Ray offers people a high-quality, affordable option that can operate as a standalone unit.
But Sonos has more tricks up its sleeve. Say a user likes the Ray. They enjoy the richer sound they're getting in comparison to their TV and they want even more. Well, then they can purchase a set of Sonos One speakers and easily give their entertainment setup surround sound.
What's happening here is Sonos is dangling an entry-level carrot in front of people and hoping they get the taste for it.
More than that though, Sonos is using its experience in creating audio hardware to outpace its rivals. I have no doubts that Google and Amazon are capable of creating soundbars and subwoofers, but, with the amount of other pies they have in the oven, doing so is unlikely to be a priority.
Sonos, being nimbler and in a more niche market, can make these projects reality. And with it, draw in people who want more from their audio setup than a bog-standard smart speaker that can tell you the weather.
Swinging at the tech giants
If you needed more confirmation that Sonos itself views smart speakers from Amazon and Google as its greatest threat, you only need to look at the announcement of its proprietary voice assistant: Sonos Voice Control.
With this move, the company has decoupled itself from Alexa and Google Home.
By having its own assistant to control devices, Sonos can deliver a faster, smoother experience — all while removing the thorn of having their biggest competitors literally integral to their own devices.
We'll have to wait to see if Sonos Voice Control (which launches in the US on June 1) delivers the same — or even better — experience as the more mature voice assistants, but Sonos' intent is clear: it's not giving its market position up without an almighty fight.
With the release of its latest products, Sonos has reinforced just how capable it is in thinking long-term. Rather than sticking to a strategy of solely making expensive audio gear, the company acknowledged a burgeoning threat to its market position and adapted.
Quietly and with control, Sonos has not only given people quality alternatives to popular products, but, with it, opened up its hardware to a whole new segment of people — many of whom will end up diving headfirst into the company's ecosystem after this first taste.
It's not easy to dominate a niche in the modern world of technology, and it shows just how damn smart Sonos is to have managed such a thing. Will it continue? That's impossible to say, but if Sonos keeps playing its hand with this much skill, I wouldn't bet against it.
Get the TNW newsletter
Get the most important tech news in your inbox each week.
Follow @thenextweb