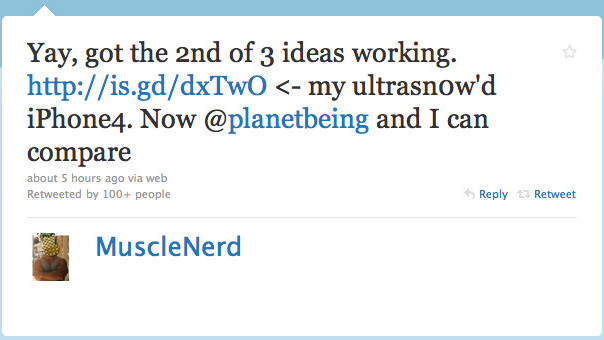 Story by
Courtney Boyd Myers is the founder of audience.io, a transatlantic company designed to help New York and London based technology startups gr Courtney Boyd Myers is the founder of audience.io, a transatlantic company designed to help New York and London based technology startups grow internationally. Previously, she was the Features Editor and East Coast Editor of TNW covering New York City startups and digital innovation. She loves magnets + reading on a Kindle. You can follow her on Facebook, Twitter @CBM and Google +.
In March, we covered the launch of Zite, a free, personalized iPad magazine that gets "smarter" as you use it. While at first I was slightly skeptical, the app has taken off, and every day I hear more people tell me it's their favorite iPad news app. The reason is that reading news on Zite is a pleasure as you no longer have to go back and forth between information silos. You can sign-in with your Twitter or Google account and it immediately starts generating targeted content. You can also choose from thousands of topics like journalism, the singularity or vegetarianism to customize the magazine.
Today, big news just hit: Jim Walton, president of CNN Worldwide, a division of Turner Broadcasting System, Inc., a Time Warner Company, announced that it's acquired Zite, for $20-$25 million as reported by AllThingsD. As iPad readers rely on mobile apps such as Zite to consume news, it's clear why big media companies are trying to acquire this kind of technology.
With aggregators like Flipboard and Pulse and publishers like The New Yorker and News Corp. jumping into iPad publishing, Zite differentiates itself by personalizing categories based on your interests through algorithms that learn your reading habits. For avid Zite users, one has to wonder whether content will be skewed to favor Time Warner brands.
For the time being, Zite will remain a standalone entity, as a wholly owned subsidiary of CNN. Zite's CEO Mark Johnson will continue to run Zite's day-to-day operations out of headquarters in San Francisco and will report to KC Estenson, general manager of CNN Digital. Zite Founder Ali Davar will stay on board as Executive Director and Mike Klass will continue to lead Zite's technology R&D.
"Zite is thrilled about combining forces with CNN to create a world-class news discovery platform. In CNN, we have found a partner who shares our vision and passion. Being part of the CNN family gives us the capital to grow Zite's business and continue to innovate in the space."

-Mark Johnson, CEO of Zite
KC Estenson, the general manager of CNN Digital says that: "Zite represents the next generation of content discovery and personalized publishing and CNN wants to help lead in that space. We think we can advance the industry in a meaningful way that helps content creators grow their businesses while growing the distribution of a product that people already love. Zite's technology can also be used to help CNN's Websites and apps serve more personalized content, making our current digital services even better."
Check out the app for yourself here.