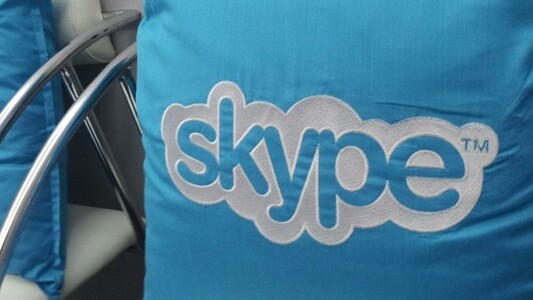 Story by
Paul Sawers was a reporter with The Next Web in various roles from May 2011 to November 2014. Follow Paul on Twitter: @psawers or check h Paul Sawers was a reporter with The Next Web in various roles from May 2011 to November 2014. Follow Paul on Twitter: @psawers or check him out on Google+.
Back in May 2011, Microsoft announced its intentions to acquire Skype, an $8bn deal that was finally given the green light in October.
Skype is pretty much the industry leader for consumer VoIP technology in many markets, and is also the platform of choice for small-to-medium sized businesses, given that it offers free Skype-to-Skype voice and video calls, and pretty affordable Skype-to-phone calls too. But its mobile offerings across Android and iOS (and Symbian..) has allowed the platform to shake off its desktop shackles and become a truly portable communications tool for those on-the-move.
However, despite Microsoft's acquisition of the company, there was a glaring hole in Skype's mobile armory…a Windows Phone app. But that all changed this week.
Skype for Windows Phone

During Mobile World Congress (MWC), Skype announced it was finally arriving on Windows Phone, which was good news for fans of the emerging mobile operating system.
This took Skype to nearly all of the leading mobile smartphone operating systems (though there's still not a native BlackBerry app…), and it offered its clean and simple Metro UI to those keen to sidestep iOS and Android and make the Windows Phone platform a force to be reckoned with.
At MWC, The Next Web met up with Skype's Linda Summers, Director for Product Marketing, along with Sravanthi Agrawal, communication head at Skype Mobile, to get the lowdown on the development of the app and where it could go from here.
So…was the Windows Phone app prompted by the Microsoft acquisition, or kick-started by the latest slew of Windows Phone devices to arrive on the market? It turns out it was neither. "The Windows Phone app is something we've been working on from before the acquisition," says Linda. "So it has always been part of our strategy that we should be present across the ecosystem."
A design for life
So, with Skype existing on Android, iOS, and Symbian for a number of years, were there any design considerations, or specific benefits to be had with the Windows Phone app, given the relationship with Microsoft?
"The biggest thing with the Windows Phone app is the Metro UI, and the ability to have a very clean and simple interface," adds Sravanthi. "I think that Skype was designed especially for this, and it has been getting really good reviews so far in the marketplace since we launched this.
"For now, this is still an over-the-top app, so it has been a similar development to our Android and iOS app," she adds. "But I think one of the advantages we have, being part of the Microsoft family, is the experience will get better as we go along and release new product cycles."
The Windows Phone Skype app is still in beta, and the interface is limited to the English language at present, whilst the 'gold' version is due out in April.
Whilst design aficionados typically sway towards Apple over Android, Microsoft's 'Metro', its typography-based design language rolled out for Windows Phone 7, certainly does bring an aesthetically pleasing interface.
"We always want to get the user-experience right," says Sravanthi. "The product manager who worked on this app also designed the Skype iPad app and after that, she concentrated on developing the Windows Phone app."
Feedback
The beta release will have all the app's core features, such as audio-calling, video-calling, one-to-one messaging and group chat, so it's not likely we'll see any big additions arriving in time for the gold release, but as with any new app, they will be taking on board feedback from its users.
"We use a number of routes to improve a beta product," says Linda. "There are features we have on the road-map that we want to include in gold and also in later releases, because it is a continuous process. But in terms of the feedback, we take the comments and ratings on marketplace really seriously."
Indeed, whilst the more traditional route of using beta test groups was used, simply keeping an eye on public gripes is a key method for Skype to monitor what people are saying about its products.
"Anything that's rated, we collect that information," continues Linda. "We have other touch points where we get information too across different platforms. For example, in some of our desktop clients there are in-client feedback forms that you can use to leave comments about your experience. And at the end of a call there is a call-rating question too. There's also customer service and community teams.  We take all of this data and distill it down into a set of insights we can give to our developers in the product and engineering team."
2012 and beyond
"Having grown up being known for free Skype-to-Skype calling, audio voice calls and cheap international calling, one of the big changes at Skype over the past 12 months is that we've completely shifted in the market, and we see Skype as the leader in video-calling," says Linda. "That's really exciting for us, because it heralds a new step in how people are going to communicate with each other when they're apart."
Even with a Windows Phone app and a pretty strong desktop proposition, there's still room for growth. There's  functionality in desktop that it hasn't yet delivered on mobile, such as group video-calling which is part of its desktop premium service. It has also introduced group screen-sharing for Windows, which has been around on Mac for a while. So, what's next for Skype?
"The final part of the jigsaw is Skype for TV ," adds Linda. "We're just a couple of months on from CES, and we're currently working with all the leading TV-manufacturers, such as Panasonic, LG, Sony and Samsung. Their big thing is Internet connectivity, and this year in particular embedded cameras. There's a lot of people out there with Internet connectivity on their TVs, but they haven't got the cameras."
As technological convergence continues, Skype for TV will be a far more common sight moving forward, and will likely see the VoIP platform nab way more than its current 400m-plus user-base. "I think the addition of all these platforms and the continuing of our multi-platform strategy is really important," says Linda. "It brings different experiences to different people in the market, and brings lots of choices."
Show me the money
Skype is one of Europe's most successful technological exports, and there's little question it has cemented its place on the Web. But the monetization debate has always followed Skype around, given that its free product is more than sufficient for most people. And this also led many to question the sanity of Microsoft's $8bn valuation.
However, it is making inroads. And in addition to Skype credit, which lets users call mobile phones and landlines around the world, there's also Skype WiFi, a sort of 'pay-per-play' WiFi hotspot funded by a user's credit. It is currently in place in around one million hotspots around the world. "Skype WiFi is a product I really, really love," says Linda. "It lets you get online and use your Skype credit to pay for whatever you use. It's totally pay-as-you-go. That just one revenue stream though."
Then there's the premium products which bring together group video-calling, and screen-sharing which lets a group of people share images and present information visually. "There's advertising too for some of our users," adds Linda. "But we want to make the Skype product better across all platforms, and we want to make it accessible to as many people as possible."
"Our CEO has set a clear ambition that he wants Skype to be the communications tool of choice," says Linda, "used by billions of people every day."
Also tagged with