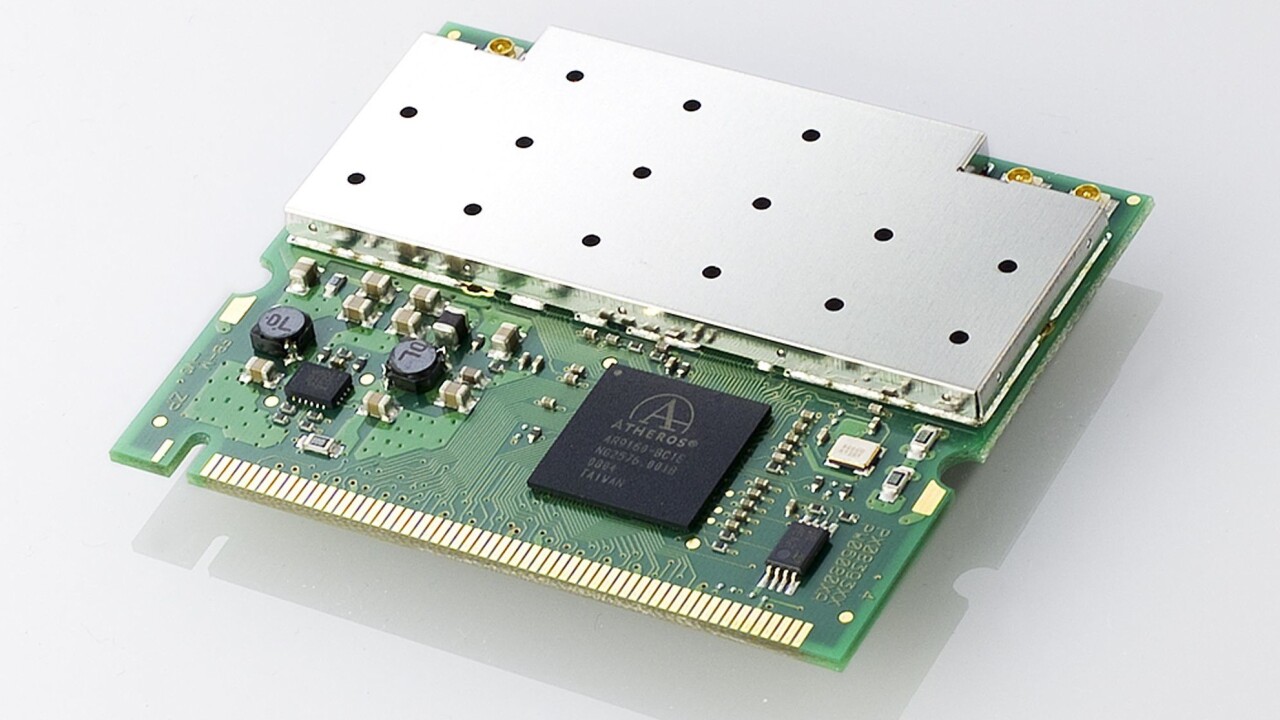 Story by
Matt is the former News Editor for The Next Web. You can follow him on Twitter, subscribe to his updates on Facebook and catch up with him Matt is the former News Editor for The Next Web. You can follow him on Twitter, subscribe to his updates on Facebook and catch up with him on Google+.
Apple, Microsoft, HP, Samsung, D-Link, Parrot and Logitech have been included in a patent lawsuit by non-profit research institution — the Washington Research Foundation (WRF) — over claims that they are infringing on wireless radio patents with chipsets they use in their mobile and computer products.
According to the lawsuit (which is embedded below), the seven companies are accused of infringing at least one of six patents (from a set of 14 subject patents) registered by the WRF. They include Patent numbers: 6,427,068; 6,631,256; 7,116,963; 7,606,542; 7,853,225 and 7,925,238 – all of which cover a 'Simplified high frequency tuner and tuning method.'
The patent describes a technology that "tunes a signal from a channelized spectrum having a predetermined channel spacing. A signal of interest having a predetermined maximum bandwidth is mixed with a local oscillator signal, which has a frequency that is an integer multiple of the channel spacing or one-half of a channel spacing displaced from an integer multiple of the channel spacing."
All the parties involved appear to have been named in the lawsuit because they use radio chipsets manufactured or sold by Atheros, Qualcomm, or Qualcomm-Atheros (the latter of which is the merged company the acquisition by Qualcomm).
Apple is accused of using such chipsets in its 27" iMac EMC 2309 and 2374 (late 2009 models), as are D-Link's DIR 600 range of wireless routers, HP's DV5-2040BR Pavilion Entertainment and ProBook 4520s notebooks, Logitech's Revue Google TV set-top box and Microsoft's Zune HD music player.
Parrot's AR Drone (remote control WiFi quadricoptor) and Samsung's Series 5 3G Chromebook are also named as infringing products.
Why is the Washington Research Foundation not suing Qualcomm?
When the WRF started flexing its patent muscles, many of the accused companies believed they were protected by indemnity agreements with their radio chipset suppliers and didn't intend to license them directly.
As a result, a number of chipset suppliers contacted the WRF in order to license its patents, to ensure its partners were protected. The organisation lists Airoha Technology, Broadcom , CSR, Ericsson (including National Semiconductor and Winbond), Infineon, Marvell, Silicon Laboratories, SiTel Semiconductor, ST-Ericsson and ST-NXP, Toshiba and NXP Semiconductors as licensees.
Other companies including Cisco, GN Netcom, Harman International Industries and VTech also licensed the patents to cover sales of their wireless products.
While Qualcomm has been engaged in negotiations with the WRF, it has "failed to take a license on terms that are consistent with WRF's prior licenses and that would cover the past and present infringing activities." This has meant that Apple (and the other six companies named) have been asked to license the patents directly, with the WRF explaining that it has attempted to license its patents to Apple, D-Link and HP as far back as September 1, 2005.
The WRF was assigned the portfolio of patents relating to radio frequency (RF) receiver technology used in Bluetooth, FM, GSM, Wi-Fi, and other communication systems. Using its existing portfolios, it has been able to "provide support, through gifts and grants, for scholarship and research" worth more than $344 million.
The organisation seeks confirmation that the companies involved have infringed on its patents, an award of damages and adequate compensation for past infringement of its portfolio.
Image Credit: Atheros