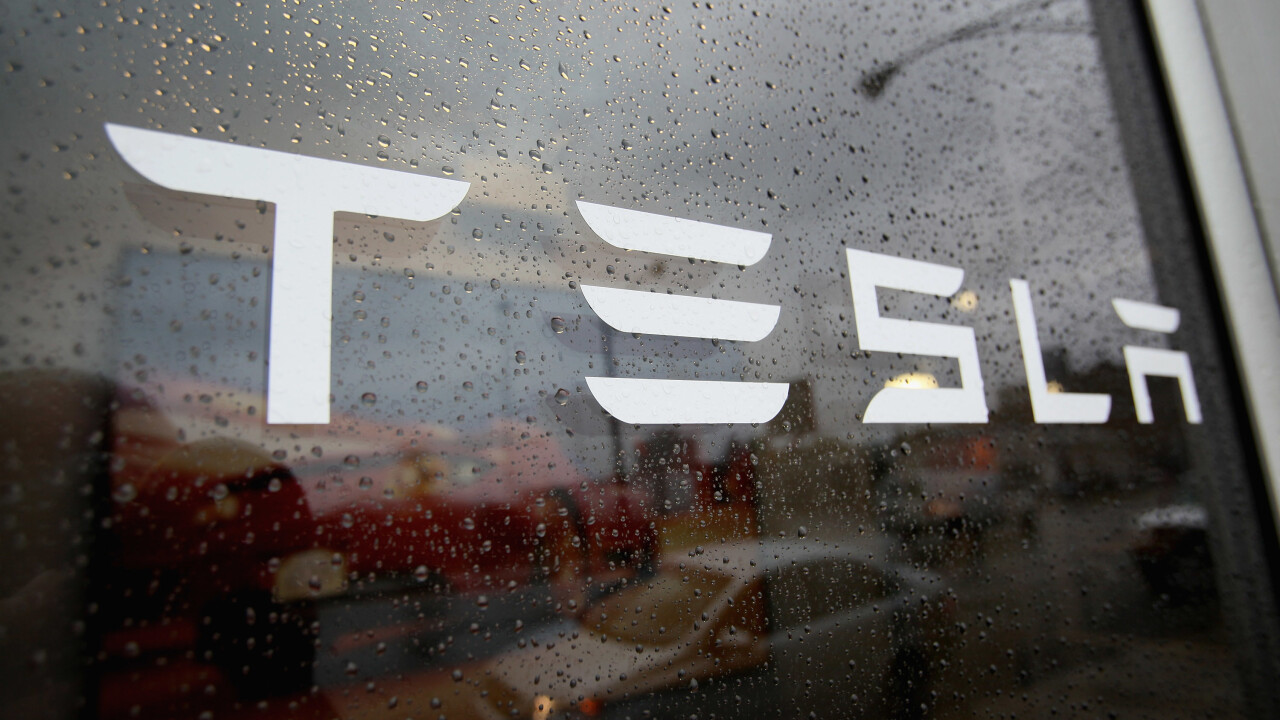 Story by
Josh Ong is the US Editor at The Next Web. He previously worked as TNW's China Editor and LA Reporter. Follow him on Twitter or email him a Josh Ong is the US Editor at The Next Web. He previously worked as TNW's China Editor and LA Reporter. Follow him on Twitter or email him at [email protected].
Rumors about Apple showing interest in buying Tesla have resurfaced after the SF Chronicle reported that Apple's M&A chief met with Elon Musk last spring. Considering Tesla's market capitalization of more than $24 billion, such a deal would be unprecedented for Apple, but the two companies do appear to have a lot of potential synergy.
As a thought experiment, let's take a look at a few of the reasons Apple acquiring Tesla might make sense.
Apple has the cash for it
Apple still hasn't found an ideal solution for its $160 billion cash hoard. Over the past year, the company has bought back $40 billion of its own shares, with plans to repurchase an additional $20 billion. That's more than enough to have purchased Tesla outright. While there's a certain sensible arrogance for a healthy company like Apple believing that repurchasing its own stock is the best investment of its cash, Tesla is poised for near-limitless growth if it can disrupt the automobile industry.
A trillion dollar opportunity and a "new product category"
The car market represents exactly the kind of industry that Apple would be interested in – high-value and slow to innovate. Tesla's Model S could make the same kind of shake-up that the iPhone inflicted upon the mobile phone industry when it arrived in 2007.
Investors have been unhappy with slowing growth rates for Apple's iPhone and iPad businesses, and the Mac seems destined to become a niche device. The company needs a new market to go after to keep up its impressive gains and win back investors.
Apple CEO Tim Cook has repeatedly mentioned the company's interest in expanding to new product categories. While automobiles might seem far-flung from consumer electronics, cars have actually become the ultimate gadgets. The connected car has been a hot sector for tech companies as they work with manufacturers to incorporate software and hardware into vehicles. Apple announced its "iOS in the car" initiative at WWDC last year to bring its mobile OS into dashboard systems.
Sure, Apple could get into the TV or wearable categories, but wouldn't electric cars be so much more fun?
Steve Jobs wanted to build a car
Jobs once told The New York Times that he had hoped to build a car:
In a meeting in his office before he died, Steven P. Jobs, Apple's co-founder and former chief executive, told John Markoff of The New York Times that if he had more energy, he would have liked to take on Detroit with an Apple car.
Jobs left a strong imprint on Apple's company culture, so it's possible that he also instilled a desire to eventually break into the auto business.
Elon Musk is the new Steve Jobs
While Tim Cook has been a solid and reliable leader for post-Jobs Apple, he hasn't captured the public's imagination with the same charisma that Jobs had. Musk, on the other hand, has cultivated an aura about him that is reminiscent of Jobs.
Similar to Jobs, Musk has dreamed big, even going so far as to literally aim for the moon with Space X. If Musk joined Apple's senior leadership team, it would likely reassure investors that have expressed concern about the company's ability to keep innovating under Cook. While Musk would have to figure out what to do with Space X, Jobs did set a precedent at Apple for having a side project through his work with Pixar.
Apple could also benefit from Musk's experience at PayPal. Cook hinted during Apple's fiscal Q1 2014 conference call that he's interested in exploring the payment opportunity.
One risk for Cook with the deal, however, is that investors could take up the call to have Musk replace him as CEO.
If Apple built a car, it would look like the Model S
Apple is certainly free to build a car on its own, and it undoubtedly has the resources for it, but the truth is that Tesla's Model S looks like the kind of car that Apple would build if it entered the market. The Model S has great design, advanced electronics, an approach that breaks with the status quo and a high-end branding for consumers.
The design language on the Model S also resembles Apple's own minimalist tendencies. Both companies pay attention to the smallest of details in their products.
On the electronics side, the Model S features a 17-inch touchscreen that looks and could be mistaken for an oversized iPad.
Tesla's reliance on sell cars through its own stores instead of third-party dealers resembles the strategy Apple has taken with its own retail stores. Both companies want to control the entire experience for customers in order to properly educate them about the unique advantages of their products.
A shared environmental focus
Cook has highlighted environmental responsibility as one of his key priorities at Apple. Last year, he hired ex-EPA chief Lisa Jackson to take charge of the company's greentech and efficiency initiatives.
Tesla, of course, has made environmental friendliness one of the pillars of its brand. By uniting, Apple and Tesla could increase their respective impacts while also improving the perception of their brands among consumers that prioritize the environment when making purchases.
Apple could help Tesla scale
Musk has been open about the fact that Tesla almost didn't survive. In 2008, the company was close to shutting down when it managed to close an investment on the last hour of the last day. Tesla is in a healthier place now, even flirting with profitability, but Apple could still give the company a boost by bankrolling its growth, smoothing out any production inefficiencies and acting as a financial buffer.
Tesla delivered 6,900 vehicles in the fourth quarter of 2013. By comparison, Apple sold 51 million iPhones and 26 million iPads in its most recent quarter. There's a world of difference between producing a car and a phone, but Apple's specialization in advanced production techniques could benefit Tesla. Apple has also proved adept at managing an empire of suppliers.
The Model S isn't exactly affordable, but Tesla is trying to build a $30,000 car in the next few years. With Apple's experience and resources, it could optimize the production process to drive down costs and increase volume in order to meet the mass market demand that a mid-range vehicle would generate. The Model S will have niche market share like the Mac, but if the right conditions come together, Tesla's next-gen car could achieve mainstream success similar to the iPhone.
Cook, who previously served as Apple's Chief Operating Officer, is widely acknowledged as a master of operations and efficiency. If he brought his expertise to bear on Tesla, the car maker could solve some of its production issues and scale faster. Last October, Tesla hired Apple VP of Hardware Engineering Doug Field to head up its vehicle programs, so clearly the company feels it has something to learn from Apple.
Tesla had just $796 million in cash at the end of the third quarter of 2013. If it joined forces with Apple, it would gain access to deep coffers that would help it weather any rough patches in the future.
Wrap-up
Speculating about an Apple/Tesla merger is an intellectual exercise at the moment, but there are plenty of reasons why it could work. Maybe not 24 billion reasons, but only Apple can decide that. In the meantime, we can keep dreaming.
See also: This is what 6 Apple moonshot technologies could look like
Photo credit: Scott Olson / Getty Images,  Justin Sullivan / Getty Images, Robyn Beck / Getty Images

Get the TNW newsletter
Get the most important tech news in your inbox each week.
Also tagged with