Red Dead Redemption 2 looks cool as hell in first person
Credit: Rockstar Games
After months of giving us only brief glimpses of Red Dead Redemption 2, now Rockstar can't stop showing us gameplay. The latest gameplay trailer shows a myriad of in-game activities, and also finally teases what first-person mode will look like — and I know I'm going to have to give it a try when the game comes out.
We've known RDR2 would be getting a first-person mode for a while, and it's not a surprise after the same feature was so well-liked in Rockstar's Grand Theft Auto V.  The footage is near the end of the trailer, and only lasts for a few seconds. It shows protagonist Arthur Morgan shooting his way through a variety of situations, including a horse chase and a store robbery.
Being honest? It looks a bit like a light gun game from the tiny bit we see. It almost feels like a natural evolution of something like Mad Dog McCree from the '90s. That's not a bad thing, by any means. Being an Old West gunslinger was one of the first fantasies games sought to fulfill, and RDR2 in first person is obviously meant to scratch that same itch.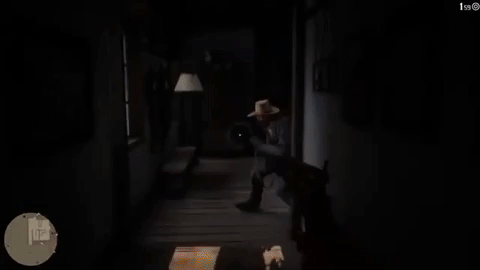 Not to mention it gives me hope for the other thing first person is good for: VR. We've already seen GTA V make the leap, and now I want nothing more than to explore the streets of Armadillo in a VR headset (my colleague Tristan has pretty much sold me on HTC's Vive with the wireless adapter).
It's far from the only feature we saw in today's trailer — the whole thing was basically an extended montage of Arthur doing everything you could possibly expect from an old-timey Western. He hunts, he fishes, he plays poker, he knifes his own finger, and he tends his horse. If this game actually delivers on the breadth on it's promising in the trailers, we should all still be playing it well into 2019.
Read next: The blockchain can't change the world, but it's a good start