Blogger finally gets threaded comments. Here's how to enable them.
Google has been making some pretty significant changes to Blogger, including the beginnings of some Google+ features. Most significantly, Google revamped Blogger's appearance, bringing it in line with the rest of the company's products.
The latest change to Blogger's features has just been announced, bringing threaded commenting to the Google-powered blogs. Google has been a little late to the game bringing this standard feature to its blogs.
Ever been to a tech festival?
TNW Conference won best European Event 2016 for our festival vibe. See what's in store for 2017.
While users may have been turning to third party services like Disqus to get this feature on their blogs, they don't have to do that anymore. The announcement tells Blogger users:
It is now much easier to differentiate between whether someone is making a general comment on the thread, or responding to another comment on the thread.

What do you have to do to enable this on your blog? Nothing! If you have Blogger's commenting feature enabled, "Blog Feed" set to "Full", and are using "Embedded" comments, then you're ready to start a discussion with your readers. To check, or change your feed settings, select: "Settings > Other >, and then "Full" from the "Allow Blog Feed" dropdown:
After you've made that selection, go to Settings > Posts and Comments and, under "Comment Location," select "Embedded":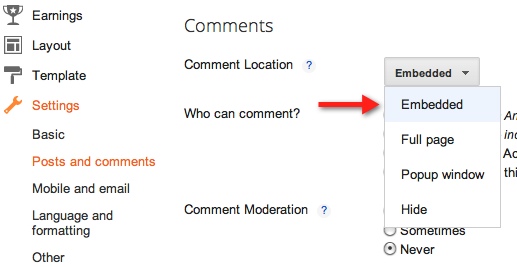 Read next: Klipsch's Console is an audiophile's dream and a minimalist's nightmare