Fun fact: 31 days is the gestation period of a baby chipmunk, and it's also the amount of days left until TNW Conference! Coincidence? Probably.
300 speakers and counting
300 is the name of a movie, and it's also the amount of speakers we have confirmed so far for TNW Conference! That's definitely a coincidence, but it's true.

We recently confirmed some really cool names, including:
Michael Gidney, CEO of the Fairtrade Foundation
Harley Finkelstein, COO of Shopify
Priyanka Carr, SVP at SurveyMonkey
Check out the full list of speakers, and stay tuned for even more amazing names!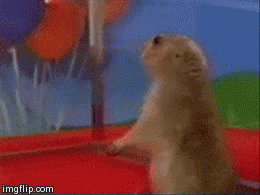 Speaker spotlight: Michael Gidney
Michael Gidney has been the CEO of the Fairtrade Foundation since 2009. He's worked in international development for over 20 years, with a focus on reducing poverty.
At TNW2019, Michael will be speaking on a panel at our Trade track, which focuses on the future of business, together with the Financial Times. Interested in learning more about Fairtrade? Don't miss him speak!
That concludes today's TNW2019 Daily. Tune in tomorrow for more TNW Conference highlights, and catch up on previous editions right here.
Published April 8, 2019 — 13:49 UTC