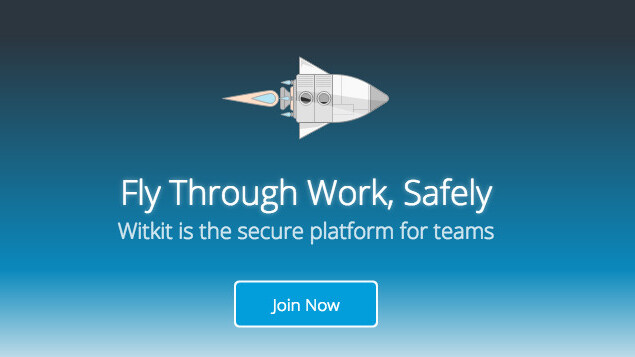 Story by
Reporter, TNW
Mic Wright is a journalist specialising in technology, music and popular culture. He lives in Dublin. He is on Twitter at @brokenbottleboy. Mic Wright is a journalist specialising in technology, music and popular culture. He lives in Dublin. He is on Twitter at @brokenbottleboy.
Canadian startup Witkit has launched an encrypted collaboration platform that it claims will prevent data breaches. The system is the product of three years work by the Vancouver based company, which raised $5 million in funding to develop it.
Sean Merat, Witkit's CEO, told TNW: "Our intention with Witkit is to make the first fully-encrypted global collaboration platform so companies and individuals can more easily reap the benefits of socialized teamwork…With our proprietary method of data encryption, we can ensure that users' information is secure at all times, allowing individuals to be productive without worrying about a data breach."
Rather than simply offering a means of communication for teams, Witkit is attempting to create complete workspaces where they can share calendars, upload and access files, contribute to group discussions and manage tasks. They also incorporate encrypted storage, instant messenger and video conferencing.
Witkit calls the work groups 'Kits'. Kits can be private with membership controlled by an admin or public, allowing any Witkit user to contribute. Users can be members of multiple Kits, with updates from them consolidated in a single newsfeed.
The company says all data sent to Witkit's severs is encrypted on the device using its own WitCrypt technology and can only be decrypted with the user's chosen passphrase. Merat believes that makes Witkit a compelling option: "We can confidently say that we've minimized most, if not all the risk, of user data being hacked. In the unlikely even that Witkit's servers are compromised, there will be no decrypted data to be found."
However,  it's worth pointing out that just because Wikit offers encryption doesn't mean people won't be able to use other means to gain unauthorised access to your information.
But why switch to Witkit if you're already using something like Slack? Merat says:
"What Stewart [Butterfield] had done with Slack is amazing. He's taken the communications part and completely transformed it for the better. The frustration we had was the juggling. You still need a storage platform, you still need task management, project management and the rest. Having your company information spread across platforms creates more risk. We think this will save people time and money and be more secure."
Witkit is offering 50GB of free encrypted storage to the first 50,000 users to sign up along with free access to all of its applications. It'll be interesting to see how its offering fares versus bigger names, especially with Facebook At Work on the horizon. That said, Witkit's already signed up 400 companies during its closed testing phase including teams at Facebook, Accenture and Zendesk.
➤ Witkit
Read more: Slack's Stewart Butterfield Doesn't Fear Facebook At Work
Get the TNW newsletter
Get the most important tech news in your inbox each week.