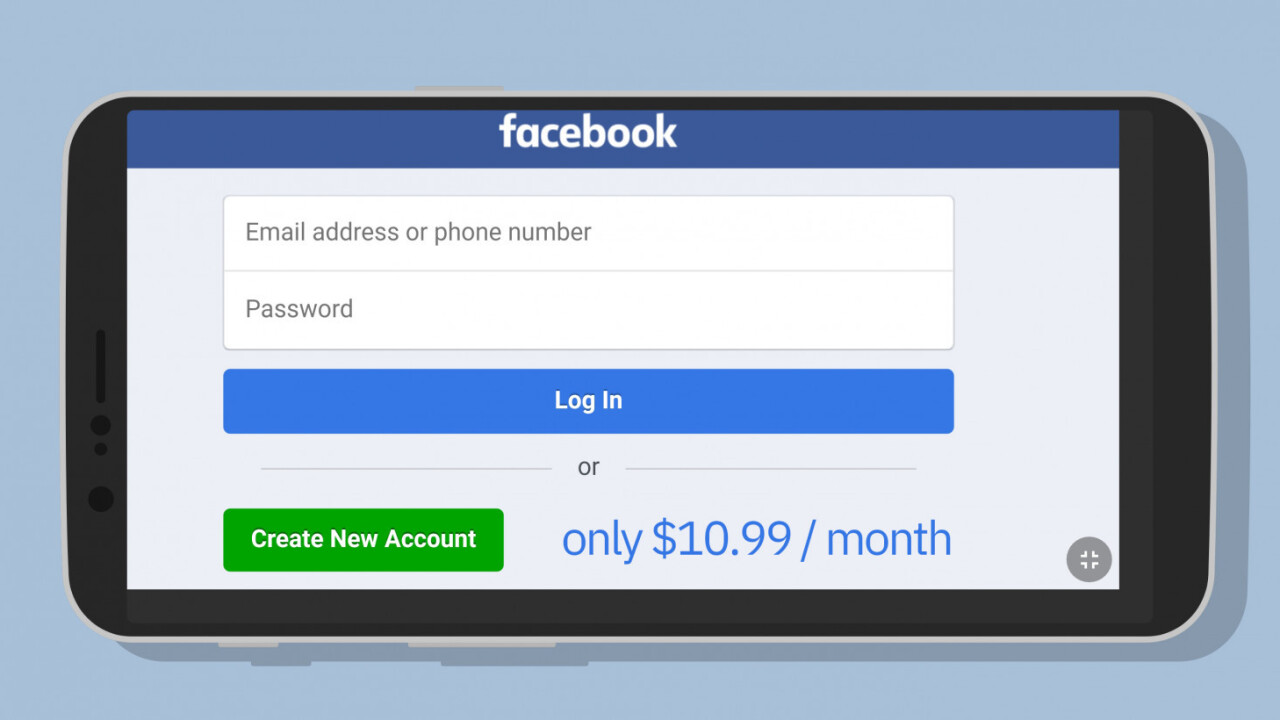 Story by
Managing Editor
Abhimanyu is TNW's Managing Editor, and is all about personal devices, Asia's tech ecosystem, as well as the intersection of technology and Abhimanyu is TNW's Managing Editor, and is all about personal devices, Asia's tech ecosystem, as well as the intersection of technology and culture. Hit him up on Twitter, or write in: [email protected].
The recent Cambridge Analytica privacy scandal has sparked plenty of interesting conversations about the value of our data, the future of Facebook, and the relevance of social networks.
It also led CEO Mark Zuckerberg to address the question of whether there'd ever be a paid version of Facebook; when testifying before US Congress, he didn't entirely rule it out. And today, BuzzFeed News combed through the company's financials and did the math to figure out what a Facebook subscription would cost: $11 a month.
That would net you an ad-free experience on the social network – and hopefully, make the company significantly less dependent on users' data for monetization (though it might still use it for personalizing your feed). Effectively, it could also mean less susceptibility to manipulation by malicious foreign actors, as in the case of Russia meddling in the last US presidential election.
But as a veteran user who's clocked 11 years on Facebook, it feels like there's virtually no reason to stick around there any longer.
Back when I was active on Facebook, the first thing I'd look at is my notifications – but lately, the shiny red notification counter has lost its meaning. Here's what I get when I click on it these days:
Notice how none of those notifications have anything to do with me. It's obviously a sign of reduced interactions between the people in my network and me, but it's also indicative of a breaking down of one of the most crucial aspects of Facebook: its variable rewards.
In his book Hooked: How to Build Habit-Forming Products, author Nir Eyal describes how services can offer users rewards for activities like logging in or sharing something. In the case of Facebook, it's something as simple as letting you know someone saw and liked a photo of yours.
Now, when you see a bright red badge saying you've got X notifications, and you don't know what those are until you click them, the dopamine levels in your brain tend to increase because you're expecting a reward – and you're hoping to be surprised by exactly what it is (a like, a comment, or a mention in a discussion).
Over the past few months, I've learned that there's almost never anything interesting to see when I click that red notification badge – so no dopamine surge, and no further interaction.
Next, let me draw your attention to my news feed. I once liked a post that my friend's father shared, and so now Facebook has decided that it must display content from him as regularly as possible, in between sponsored posts and those from all the biryani enthusiast groups I joined several months ago. I love and respect the man, but this is a bit much. Thanks, almighty algorithm.
At this point, the only thing Facebook is really good for, is for tracking events. The company actually has a separate app for that, but sadly, it's only available in the US.
Perhaps more importantly, I'm no longer keen on a steady diet of what my friends are up to. That may be partly due to the fact that i'm now in my early 30s, as are many of my contacts; it seems like we tend to share more on Instagram, and privately via messaging apps, than anywhere else. Plus, I've been actively trying to wean myself off of addictive apps, and Facebook's dreary experience has helped me cut it out of my life almost entirely in the past few weeks.
Between losing trust in the brand, seeing its novelty wearing off in my circle of friends and loved ones, and finding less utility in the service, I feel like it's time to part ways with Facebook – the same way a million North Americans did at the end of last year. As I've mentioned above, it's not entirely the company's fault – but if we're now pondering whether we'd like to pay for it, I'm afraid that that ship has sailed.
That being said, I'm happy to continue using its other products, namely Instagram and WhatsApp. I'd even consider paying for those, if that'd help keep my data private. Heck, with Instagram, I mostly don't even mind the ads, and in some cases, I enjoy them – it's how I've discovered a number of excellent local apparel brands that I now shop with regularly.
I don't think my logic applies universally to the entire lot of Facebook's currently registered users, and I imagine that it'll still be delightful, exciting, and useful to those who are yet to try it for the first time. But in thinking about whether I'd pay for it as a long-time user, it raises a question about whether Facebook knows how to keep people engaged and loyal to its social network over decades. And right now, the answer is a resounding no.
The Next Web's 2018 conference is just a few weeks away, and it'll be ??. Find out all about our tracks here.
Get the TNW newsletter
Get the most important tech news in your inbox each week.
Also tagged with