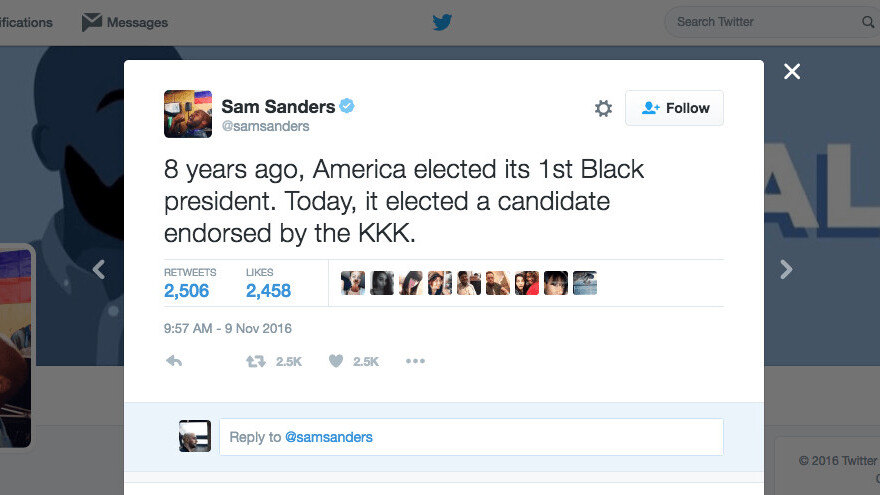 Story by
Former TNW Writer
Mix is a tech writer based in Amsterdam that loves cinema and probably hates the movies that you like. Tell him everything you despise about Mix is a tech writer based in Amsterdam that loves cinema and probably hates the movies that you like. Tell him everything you despise about his work on Twitter.
Believe it or not, it's official: Donald Trump is now the president-elect of the United States of America.
The victorious Republican candidate trumped Hillary Clinton by a huge margin, clinching the presidential spot with over 275 electoral votes across states and denying the Democrat a historic moment in what could've been America's first woman president.
Trump's less than expected political triumph did not go unnoticed by the Twitterverse, spurring a heated debate between voters as well as a barrage of emotionally-ridden reactions – both happy and sad.
In the after-hours of Trump's defeat over Clinton, thousands of people took it to Twitter to voice out their opinion of what will likely go down as one of the most controversial election runs in US history – and they had a lot to speak up about.
So without further ado: Here's all the joy and pain from the 2016 US election as it unfolded in tweets.
The joy
Russia and President Vladimir Putin were among the first to congratulate the Democrat on his victorious campaign.
Congratulations to Donald Trump on winning the #US presidential electionhttps://t.co/RV3E5zFRO5
? @realDonaldTrump

— Vladimir Putin (@PutinRF_Eng) November 9, 2016
Holy Trump! pic.twitter.com/vekyPZeNT2

— English Russia (@EnglishRussia1) November 9, 2016
Likewise, star entrepreneur and owner of NBA's Dallas Mavericks Mark Cuban was also optimistic about Trump's upcoming presidential reign.
We all need to give President-Elect Trump a chance. Support the good. Lobby against what we disagree on. No one is bigger than us all

— Mark Cuban (@mcuban) November 9, 2016
And while some got it right…
TRUMP rocked.
WORLD shocked!!

— Iqraaa (@chashmish_Ed) November 9, 2016
… I'm not so sure about others.
With #DonaldTrump as our next President we will have safer borders & stronger national security policies for future generations to come.

— John Bolton (@AmbJohnBolton) November 9, 2016
The pain
But it wasn't all cheers and applauses for Trump.
8 years ago, America elected its 1st Black president. Today, it elected a candidate endorsed by the KKK.

— Sam Sanders (@samsanders) November 9, 2016
This isn't an episode. This isn't marketing. This is reality.

— Black Mirror (@blackmirror) November 9, 2016
Redditors are collecting and making collages of female Clinton voters crying at election results pic.twitter.com/uspbL0dtUO

— Ryan Broderick (@broderick) November 9, 2016
Did I miss where Trump said he'd be putting minorities in camps? No? Guess it was your beloved media cretins spewing hyperbole

— Thorin (@Thooorin) November 9, 2016
To trump and his supporters..my president is black and …. pic.twitter.com/mZ9OzwUS1z

— Owen♠️ (@owen_wii) November 9, 2016
The witty cracks
In midst of the heated discussion, many saw an opening to show off their humour.
Frank Underwood would have assassinated Trump before it got to this stage.

— Black Rose (@Joks1d8) November 9, 2016
https://twitter.com/mattbors/status/796172064050683904
https://twitter.com/vanschneider/status/796232012436799492
The Brits also had a field with America's own Brexit.
BRITAIN: Brexit is the stupidest, most self-destructive act a country could undertake.
USA: Hold my beer.

— Brian Pedaci (@bpedaci) November 9, 2016
Relieved Britain no longer biggest f**k-up of 2016 https://t.co/iZDd3vDcR8 pic.twitter.com/dhLdvyLgGZ

— The Daily Mash (@thedailymash) November 9, 2016
Well, at least now the UK no longer holds the award for craziest, most self-harming hit-yourself-in-the-face nation. #USElection2016

— David Schneider (@davidschneider) November 9, 2016
The Trump memes
Guess that didn't take long…
Haha, This Is Crazy…#Trump #DonaldTrump #ElectionNight #Elections2016 pic.twitter.com/J630AXyreV

— Sir Jadeja (@SirJadeja) November 9, 2016
— Summer Ray (@SummerRay) November 9, 2016
The confusion
And while most were busy celebrating, ranting and tossing around one-liners, others were just straight-up baffled.
Wow, tonight's Black Mirror is fucking terrifying!

— Peter Serafinowicz (@serafinowicz) November 9, 2016
I will never forget this chart for as long as I live. pic.twitter.com/7Y4t4o65gp

— Pablo Slickasso (@MrAlexisPereira) November 9, 2016
Tell me again how rape and sexual assault accusations will ruin a man's career

— Amelia (@Paxmee) November 9, 2016
People are going to study this @nytimes graph for decades pic.twitter.com/JkmkA0M1J8

— Owen Williams ⚡️ (@ow) November 9, 2016
What about you?
How do you feel feel about the outcome of the 2016 US election? Let us know down in the comments and don't forget to share some of the most memorable things you noticed about Trump's presidential victory.
And in case you have some time to waste: Make sure to also check out our roundup of the best tweets prior to the election.
Read More: Why Trump will be the most technology-illiterate president ever
Get the TNW newsletter
Get the most important tech news in your inbox each week.