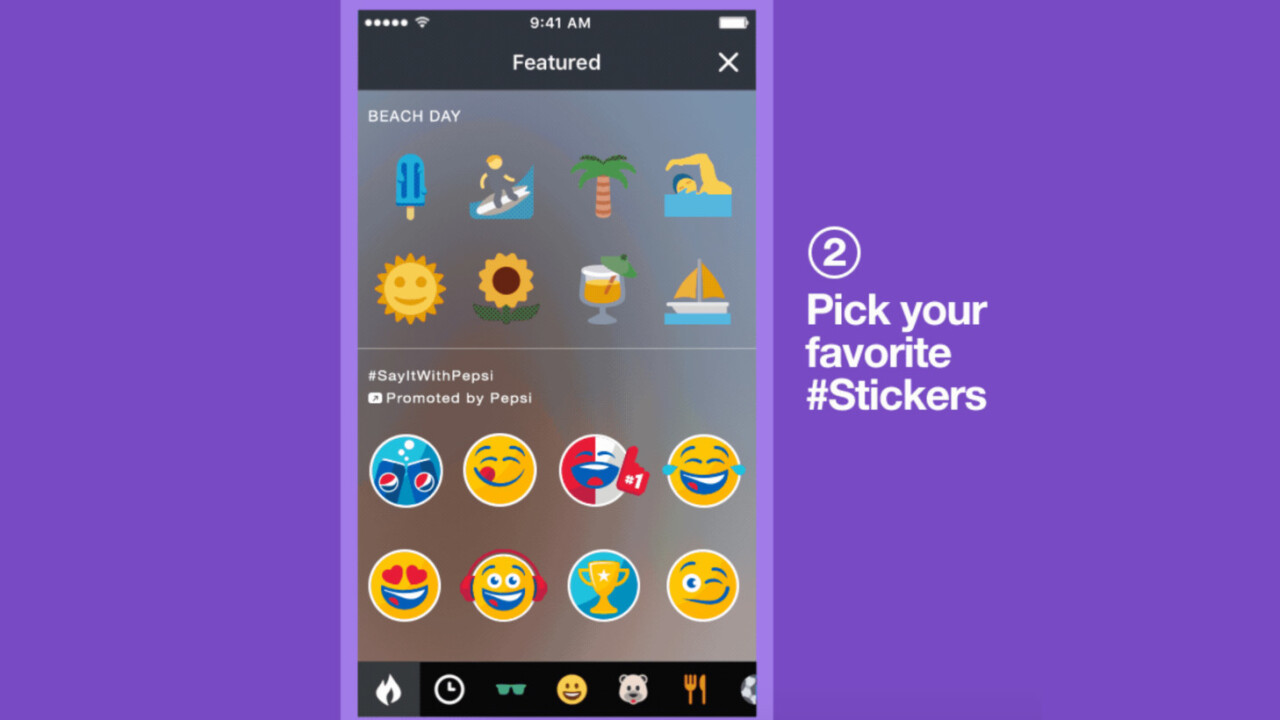 Story by
US Editor
Natt Garun is the former US Editor at The Next Web, managing the North American team on content, events, features and reviews coverage. She Natt Garun is the former US Editor at The Next Web, managing the North American team on content, events, features and reviews coverage. She previously wrote for Digital Trends, Business Insider, and Gizmodo. Facebook | Twitter | Google+
It seems everyone's taking some "inspiration" from Snapchat nowadays – with the recent launch of Twitter's Stickers, it comes as no surprise that the service will now work with brands to offer promoted stickers as a "visual hashtag."
The promoted stickers will work just like regular ones – when you post a photo to Twitter, you'll have to option of browsing through the current gallery to find stickers that, once posted, are clickable to see other images posted with the same sticker. Twitter's promoted stickers launch via a Pepsi partnership, with nearly 50 stickers across 10 markets on offer.
Introducing Promoted #Stickers A fun way to express your brand and engage with consumers! https://t.co/wIIDHAC0KK pic.twitter.com/usc4HRwrPU

— Twitter Marketing (@TwitterMktg) August 15, 2016
Not all of the promoted stickers appear to have blatant Pepsi advertising on them, but you can expect some textual hashtags to use alongside the stickers. Outside of Twitter, Pepsi has been running an emoji-based campaign as well, with custom emoji on its cans and bottles.
Get ready to see more of these as brands begin sharing their Snapchat assets with Twitter to run a sticker-based campaign in one fell swoop.
Get the TNW newsletter
Get the most important tech news in your inbox each week.
Also tagged with