Story by
Reporter
Napier Lopez is a writer based in New York City. He's interested in all things tech, science, and photography related, and likes to yo-yo in Napier Lopez is a writer based in New York City. He's interested in all things tech, science, and photography related, and likes to yo-yo in his free time. Follow him on Twitter.
The last year has been a good one for audiophiles, with high end audio becoming less expensive, and greater selection of quality products overall.
Of course, the audio market is too large for us to try out every single product, but here are some solid recommendations from the best we've used in the past year, in no particular order.
Classy quality: OPPO PM-3
Planar magnetic headphones, which use flat drivers instead of the usual cones to produce more detail, have had a surge this year. While Audeze impressed me with the withstand its Sine headphones, OPPO offers similar sound quality at a lower price with its excellent PM-3.
The headphones are a bit "smoother" sounding than most planar magnetics I've used, with a bit less emphasis on the treble and more on the midrange and some bass. That's not to say there isn't plenty of detail.
The headphones are also beautiful to look at and supremely comfortable. And at around $400, they're actually some of the cheaper planar magnetics you can get. Though yes, that's still very expensive, they will still blow away many similarly price products from the likes of Beats in terms of sound quality, while still being just as stylish.
Stylish on-ears: Moshi's Avanti
Moshi's Avanti are some of the best looking headphones I've used, a comfortable set of on-ears with quality sound to match. Though moshi is more known for their accessories than audio, the Avanti sound impressively big for such a small set of on-ears, with an expansive sound that manages to be bright without being too aggressive.
Add to that a comfortable fit and solid passive isolation, and the Avanti make for an excellent pair of on-ears.
Performance on a budget: Status Audio CB-1
Status Audio impressed me earlier this year with both its open-back OB-1 and closed CB-1, but the CB-1 is the one I end up gravitating to the most. It offers quality to match – perhaps even surpass – the venerable AudioTechnica ATH-M50, is extremely comfortable, and is slightly more portable due to a folding headband.
Though they only cost $79, you'll be hard pressed to find headphones that sound definitively better until you cross the $200 mark. Even then, it might be a bit of a tough job.
For the gamers: Razer Man O'War 7.1
Ridiculous name aside, Razer's newest 7.1 gaming headphones are surprisingly refined. The-semi open headphones feature large 50mm drivers that frankly sound great just as pure headphones.
However, they really come together when you factor in the 7.1 audio processing. It's one of the better approaches I've used; while it's not the most expansive positional audio I've heard, Razer's virtualization manages to avoid the echo-y sound of most surround headsets.
Add to that a comfortable fit, retractable microphone, and decent price, and Razer has a winner. The fact that the USB processing unit can be used with any headphones is a nice bonus. I just wish the design were a bit more pared down so I could take them out the house too.
High-end audio: Audeze EL-8
At the high end of the audio spectrum, the Audeze EL-8 (refreshed in 2016) are the best sounding headphones I've used this year (within a reasonable price range, anyway). While $700 is a lot for anyone to pay, it's worth noting that these audiophile headphones are meant to provide a cheaper alternative to Audeze's LCD series, and other top-of-the-line headphones which are in the $1,000 to $4000 range. The EL-8 are also one of relatively few planar magnetics to offer a closed-back variant.
Regarding sound quality, the EL-8 can kick out insane amounts of detail. While the sound signature is a little bright, the textured treble is their sonic highlight, and the headphone easily reach low when asked. Even in the closed back variant, they provide an ample soundstage, something planar magnetics tend to suffer with.
Just make sure to pair them with a powerful amplifier – preferably something with a warmer sound – as no smartphone I tried could really do their quality justice – unless you use Audeze's lightning-connector cable, which includes its own sound chip.
Bluetooth travel bliss: Sennheiser PXC 550
If the EL-8 were the best sounding headphones I used, Sennheiser's PXC 550 were my favorite overall, offering the best balance of sound quality, features, and convenience of any headphone I used this year.
The PXC 550 are Sennheiser's take on the Bose QC35. But while Bose isn't exactly renown in audiophile circles, Sennheiser is, and it shows. The PXC 550 are darn good headphones, before you factor in their extra features.
With excellent AptX Bluetooth sound, 24 hour battery life, and solid noise cancelling, the PXC 550 make for top notch travel headphones. To top it all off, Sennheiser has some of the most effective digital signal processing in the game, which can be controlled both on the headphone or more extensively through an app.
One of my favorite features is the ability to create a more expensive soundstage without affecting sound quality. It's the best of its kind I've heard; it makes the PXC550 sound better than many open-back headphones. That they can be used as wired headphones is an added bonus.
Their noise-cancelling, while not quite as effective as Bose or Sony's, works well, and more importantly, never seemed to degrade sound quality. And at $399 pricing is competitive with other high-end noise cancelling products.
Cheap Bluetooth IEMs: Optoma NuForce BE Sport3
I liked the BE Sport3 a lot in my review earlier this year. They sounded so good for $79 headphones, I forgot I was supposed to be listening to a "sports" product.
Though they're a little larger than average IEMs, good wireless performance, eight hours of battery life, and a solid, sweat resistant build make them easy to recommend – sports or not.
High-end IEMs: Audeze iSine 10
Another Audeze making the list is the iSine 10. They sound incredibly open for IEMs, perhaps because they're basically open-back headphones with funnels into your ears. They cost $400, but also sound unlike anything else I've heard.
They are also more comfortable and lightweight than they look. And the fact that they look like something Spiderman might wear, is just an added bonus in my book.
Portable pro microphone: Blue Raspberry
For podcasters on the go, Blue's Raspberry could be an invaluable tool. It sounds almost as good as its popular sibling, the Blue Yeti, but comes in a much smaller package – small enough to fit in a pocket.
Designed to work with smartphones as much as your PC, it's the perfect choice for traveling musicians and vloggers, though we think you'd be happy using it at home too. Plus it just looks real cute. At $200, it's a solid value.
At-home recording: Razer Seiren
Though the gaming brand gave me some pause, Razer's Seiren has been my main microphone choice for a while now. It offers sound quality that goes toe-to-toe with the Blue Yeti, but backs in a few neat extras.
My favorite is that the Seiren come with an impressively good digital-to-analog converter for your headphones, able to power even high end headphones like the EL-8. It's very much competitive with some dedicated DACs out there.
The Seiren comes in two variants, one with an XLR input ($249) and one without ($179).
Bonus: Sennheiser's $55,000 Orpheus HE-1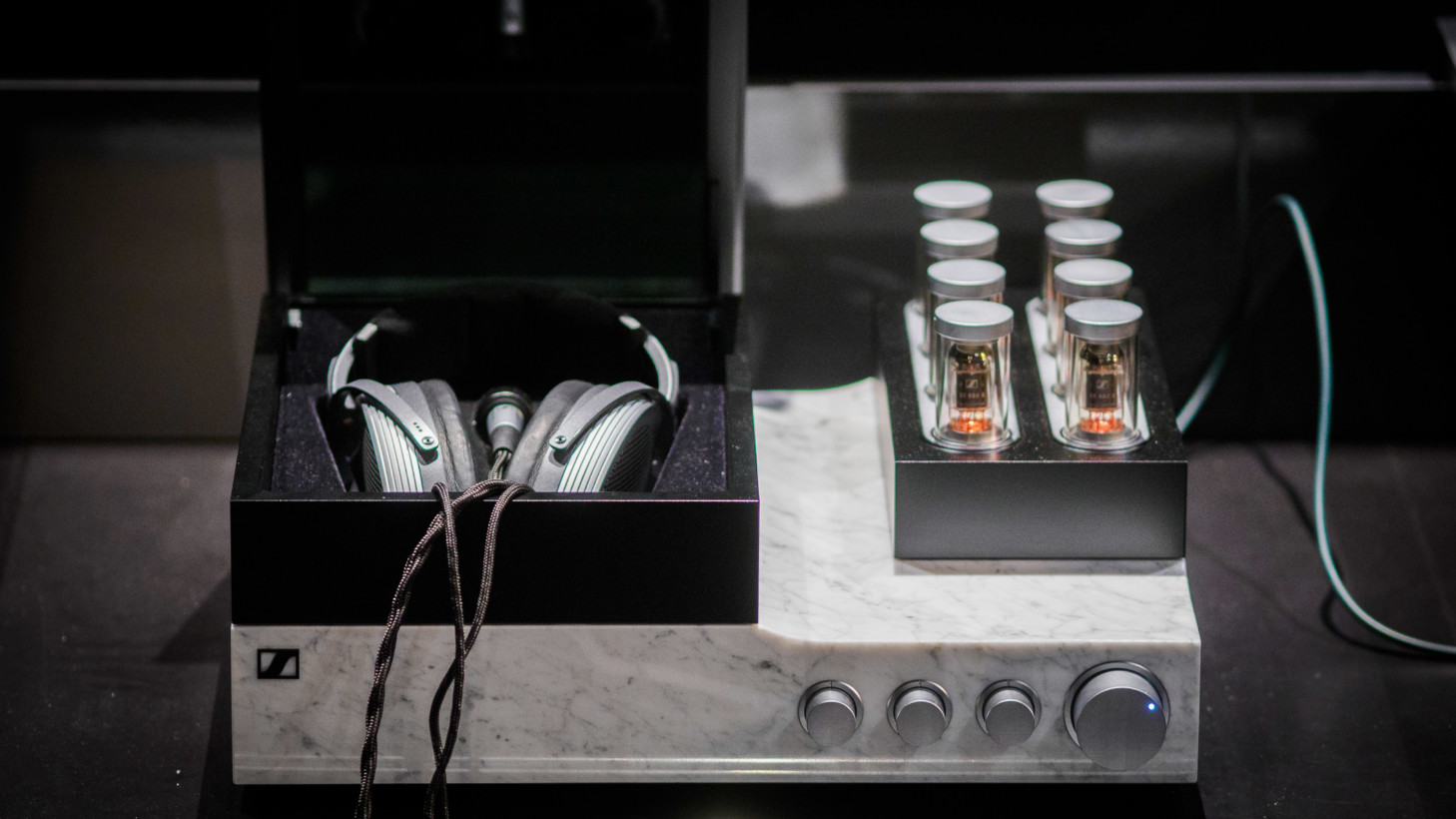 Sennheiser refreshed its legendary Orpheus headphones with the release of the Opheus HE-1. And yes, the headphones cost as much as a small luxury car. You won't be buying these, but listening to them is pure Nirvana. They're headphones seemingly without any acoustic flaws, and most transparent representation of music you can get from, well, headphones.
If you're in New York, be sure to stop by Sennheiser's pop-up store and set up an appointment to listen to them. Try out some binaural tracks if you can too. They'll blow you away.
---
We highlight products we like. And if you like them as well – so much so you buy something – we get a small share of the revenue. This isn't a sponsored post, but for the sake of transparency, you deserve to know what's up.
Get the TNW newsletter
Get the most important tech news in your inbox each week.
Also tagged with