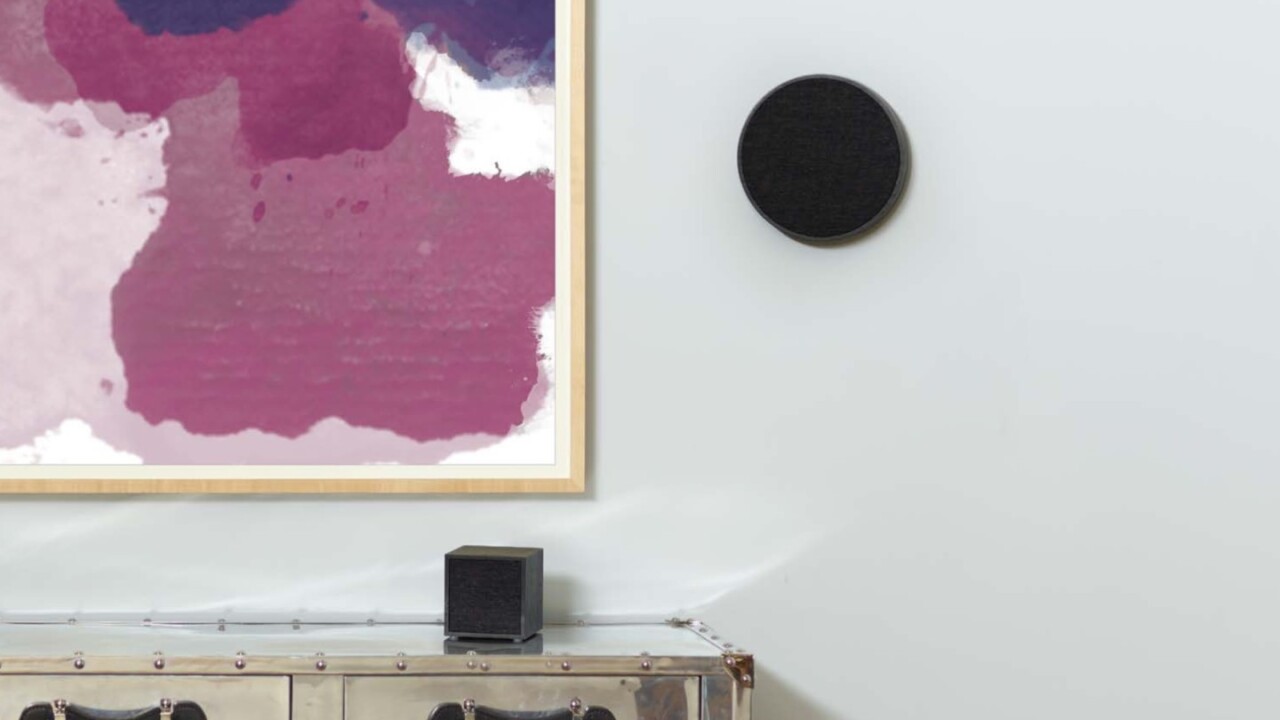 Story by
Reporter
Napier Lopez is a writer based in New York City. He's interested in all things tech, science, and photography related, and likes to yo-yo in Napier Lopez is a writer based in New York City. He's interested in all things tech, science, and photography related, and likes to yo-yo in his free time. Follow him on Twitter.
Tivoli Audio is mainly known for its Bluetooth and FM radios featuring an old-school aesthetic, but it's now shifting direction to take the fight to straight to Sonos.
The company today unveiled its new 'ART' line of audio products, which stands for the very cheesy 'Audio Reimagined Together.' The devices do stay true to their name though, meant to be as much minimalistic decoration as they are speakers.
There are two speakers in the line-up so far. The Cube, which is unsurprisingly shaped like a Cube, and the Orb, which is confusingly shaped like a disc. Both are made out varying wood finishes, with fancy Gabriel fabric covering the drivers. The Orb is particularly striking when hung up on a wall.
Unlike Tivoli's other products, there are pretty much no easily visible controls. A touch sensitive top lets you play or pause music, and buttons tucked away on the back or bottom allow you to control a few settings, but these are mainly meant for smartphone operation.
Both speakers feature the same 3-inch long-throw driver. That struck me as odd given the Orb is much larger, but it turns out that's partly because it has a front facing bass port to help round out the sound when hung against a wall because it's so flat. The orb does include a stand if you'd rather not hang it up though.
They both sounded good, but didn't immediately strike me as anything I hadn't heard from a good Bluetooth speaker. Although it was hard to do any discerning listening in the bustling showroom. I also only listened to single-speaker setups, but Tivoli said you can connect up to four speakers in a single room for a more hi-fi configuration.
Like Sonos, the speakers connect primarily via Wi-Fi so you can control music without having the bleeps and bloops of notifications screwing up your Katy Perry jam. So far, Tivoli supports Spotify (including Spotify Connect), Deezer, Tidal, QQ, and any music stored on your devices.
Unlike Sonos you can still connect to Bluetooth if you want to take take the speakers with you or want to stream from an unsupported app or service. Moreover, Tivoli will be selling battery packs so you can turn them into truly portable units, which is pretty neat.
The other part of the ART collection is a ConX module, which is a bit like a more powerful version of Chromecast Audio. It lets you wirelessly output music through any of your old 'dumb' speakers. But unlike Chromecast, it also has an input if you want to stream audio from an analog source (like an old Audio receiver or your TV) through the wireless system.
The best feature might be 'Party Mode' button on all the devices. It's an easy way to have music play through all your speakers without fiddling with the mobile apps and speakers groups. Just press it and whatever you're playing on that speaker will spread to all the other ones throughout your home.
All three products are available today. The Cube costs $199, the Orb $249, and ConX will set you back $59.
Get the TNW newsletter
Get the most important tech news in your inbox each week.
Follow @thenextweb