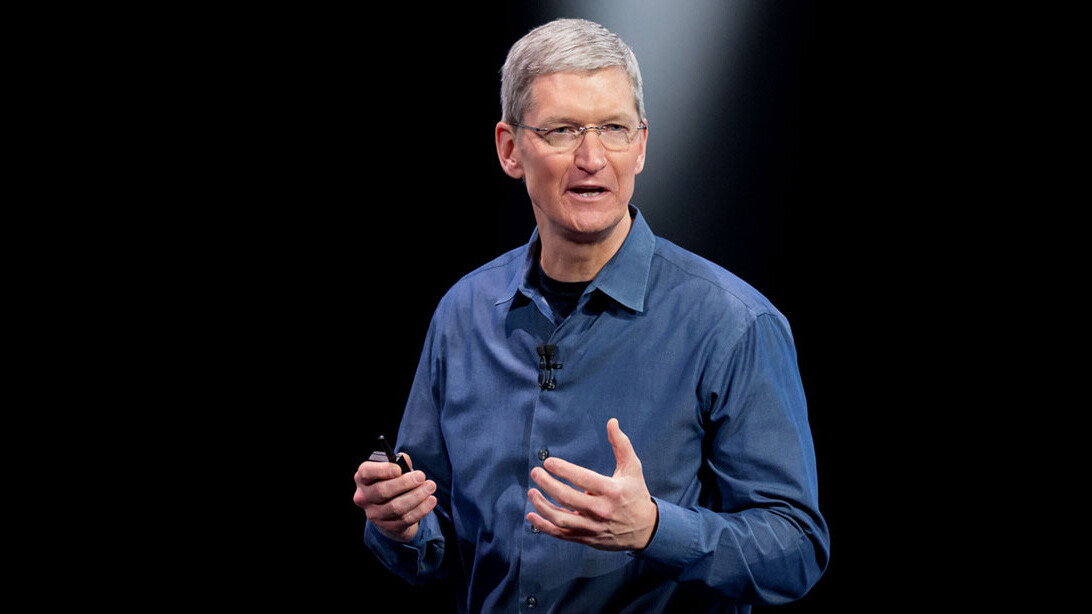 Story by
Commissioning Editor
Matt Hussey was the former Editor-in-Chief for The Next Web. Previously he worked on the launch of Wired UK, ShortList and Mr Porter. He's b Matt Hussey was the former Editor-in-Chief for The Next Web. Previously he worked on the launch of Wired UK, ShortList and Mr Porter. He's been an active contributor to GQ, FHM, Men's Health, Yahoo, The Daily Telegraph and maintains a blog on Huffington Post
Apple events are usually a beauty pageant for the latest bits of hardware and software we're all going to spend our money on over the next 12 months. Today was no exception.
But what is more surprising to the seasoned Apple observer is just how political the world's largest technology company has become under Tim Cook.
The first half of the presentation was dominated entirely by encryption, the environment and healthcare, issues which historically, Apple has stayed away from. But not under Tim Cook.
Apple has become a political juggernaut that is actively steering discourse in the United States. If every company lives under its CEO's shadow, Cook's is a politically charged one.
Immediately following Edward Snowden's revelations, the Apple CEO was among the most vocal. He met with members of Congress, he held meetings with the then newly appointed Attorney General Loretta Lynch, hell, he's even met the Pope. All of these things were unthinkable under Steve Jobs' leadership.
Jobs was an outsider, who liked to cast aspersions from afar. Not Cook. He has brought one of the world's most valuable companies to the forefront of some of America's biggest political debates.
On discrimination, he wrote an op-ed in The Washington Post opposing a slew of so-called "religious freedom" laws that allowed people to discriminate against others based on their beliefs.  
In today's presentation, he proved big business could lead the way when it comes to environmentalism. That's a long way to come from being labelled the world's least green tech company by Greenpeace in 2011.
He spoke of how touched he was by the support he has received as a result of standing up to the FBI over building backdoors into devices.
Cook plays a role in politics like no other CEO in Silicon Valley.
"Apple has a culture of finding the best way it can do things in compliance with whatever law happens to come its way," an anonymous source told Politico late last year.
"They'll say: 'Tell us what the law is, and we'll work out the best way to build the business model to comply with the law.' They won't say: 'Let's change the law so we can have this model.'"
When the European Commission took issue with Apple's iTunes U.K. pricing in 2007, it changed its practices. They also settled a case on e-book pricing after the Commission sent a charge sheet in 2011 to Apple and a group of publishers alleging they may have colluded to limit retail price competition for e-books.
While Facebook and Google have pushed – and failed – for universal Web access in far-flung corners with mixed results, Apple has focused on the environment both at home and internationally to massive success.
Cook has also hired politically, too. Lisa Jackson, Apple's environmental director, was hand picked by President Barack Obama to head the U.S. Environmental Protection Agency.
"When the CEO of Apple speaks, people listen. I think that it is the same for Google or Microsoft or GE. But you don't find those CEOs speaking out very much. He's got a sharper edge to him than I think we thought he had," said Michael Cusumano, co-author of Strategy Rules: Five Timeless Lessons From Bill Gates, Andy Grove, and Steve Jobs and professor at the Massachusetts Institute of Technology to Mic.
There are many that argue Apple's power and influence are a dangerous thing. Some have even argued that his public pleas are all part of an elaborate press stunt to give Apple customers the impression that the company is on their side.
Whatever your opinion on Tim Cook, there's one thing that's undeniable: Apple is a political force – and it's going to stay that way for quite some time.
Get the TNW newsletter
Get the most important tech news in your inbox each week.
Also tagged with