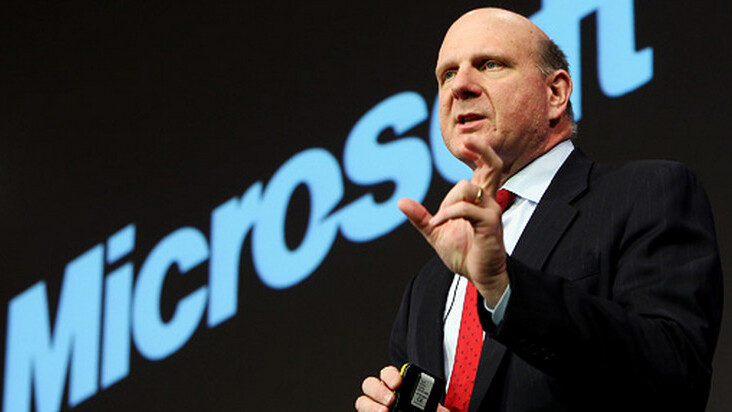 Story by
Alex Wilhelm is a San Francisco-based writer. You can find Alex on Twitter, and on Facebook. You can reach Alex via email at [email protected] Alex Wilhelm is a San Francisco-based writer. You can find Alex on Twitter, and on Facebook. You can reach Alex via email at [email protected]
It's almost incomprehensible, but another week has slipped us by, meaning that it is time for us to crank up the generator and take a look at the past seven days of Microsoft news.
It's been a somewhat odd week, with stories popping up from several corners of the Microsoft empire. This is not a bad thing, of course, as it means that we've had a more eventful septiday period than we usually enjoy.
For this week's question, let us know what sort of Windows 8 secrets you hope that Microsoft unveils at BUILD. Finally, follow TNW Microsoft on Twitter, and Facebook, and let's get into the news.
Analyst Downgrade
Microsoft's underperforming stock took a metaphysical beating this week as an analyst downgraded it from 'buy' to 'hold,' and cut his expectations for the company's fiscal 2012 earnings:
[T]he analyst cut his fiscal 2012 revenue forecast from $74.97 billion to $73.97 billion. The street anticipates revenues in the same timeframe of $74.86 billion.

Johnstone also lowered his expected earnings per share from above the street's estimates, to below, from $2.91 to $2.78. The street expects Microsoft's EPS in fiscal 2012 to be $2.87. It is worth noting that Microsoft's fiscal 2011 earnings per share were $2.69.
As we noted in the post, Microsoft's stock has been flat for almost a decade. There might be some hope on the horizon, however, as a new hedge fund has gone 'long' on MSFT:
[A] new, well-respected face, Seth Klarman of the Baupost Group, recently picked up $312 million in Microsoft stock over the past quarter. He joins investor David Einhorn in being bullish about Microsoft's market prospects. In a sea of discontent over Microsoft's inability (especially among Microsoft employees) to boost its market value, Klarman's name sticks out in a very important way: he is a noted value investor. That means that he sees Microsoft as intrinsically undervalued, even while other investors of his magnitude are not buying, but selling their holdings of MSFT.
That could mean that Microsoft is in for a better few years. Or it could be one colossal investment mistake. There is little we bystanders can do but wait, and watch.
PC Sales Stagnate
Continuing the 'not so good for Microsoft' theme, PC sales, as compared to Mac sales, are weak. Year over year sales for PCs only managed to rise 4%, according to the NPD group. Mac sales, on the other hand, rose 26% year over year.
What this shows is that Apple has manged to keep demand alive for high-end computers, even as the larger PC market slumps. Why that is, is a very interesting question to ask. It could be the sheer brand power that Apple can summon. Or it could be that the creative classes, dedicated Mac users, have been hit less by the poor economy.
Whatever the case, PC sales are slightly grim. Microsoft will probably look to Windows 8 to drive growth.
Hello, webOS
The week wasn't all bad, however, as Microsoft managed to drive up a storm of interest in Windows Phone among webOS developers who were fleeing that sinking ship. The company tweeted that it had free handsets, support, and training waiting for any published webOS developer who wanted it.
And they did, with over 500 signing up in the first day after the announcement. Microsoft can take this somewhat to heart as a positive, as it shows developer willingness to work with WP7, but as the offer included free hardware, not all the enthusiasm should be taken as 'pure.'
Still, WP7 needs more apps, even as it approaches 30,000 published applications, to be 'complete.' Perhaps the webOS developer invasion will provide it that boost.
Tango
On the subject of Windows Phone, more details about the Tango update to WP7 came out this week. This is roughly what happened: Tango was confirmed as a minor, specific update to the platform. It will likely come in two tranches, and will contain extra language support.
It is designed to help get Windows Phone into more markets. It will likely be designed to run on lesser hardware to lower the costs associated with selling handsets with the software, raising its potential sales numbers.
Also, Apollo seems all but set as Windows 8, coming in 2012.
That's it for this week folks, be sure to be tuned in so that you don't miss a tick. The TNW Microsoft crew wish you a happy, hurricane-free weekend.