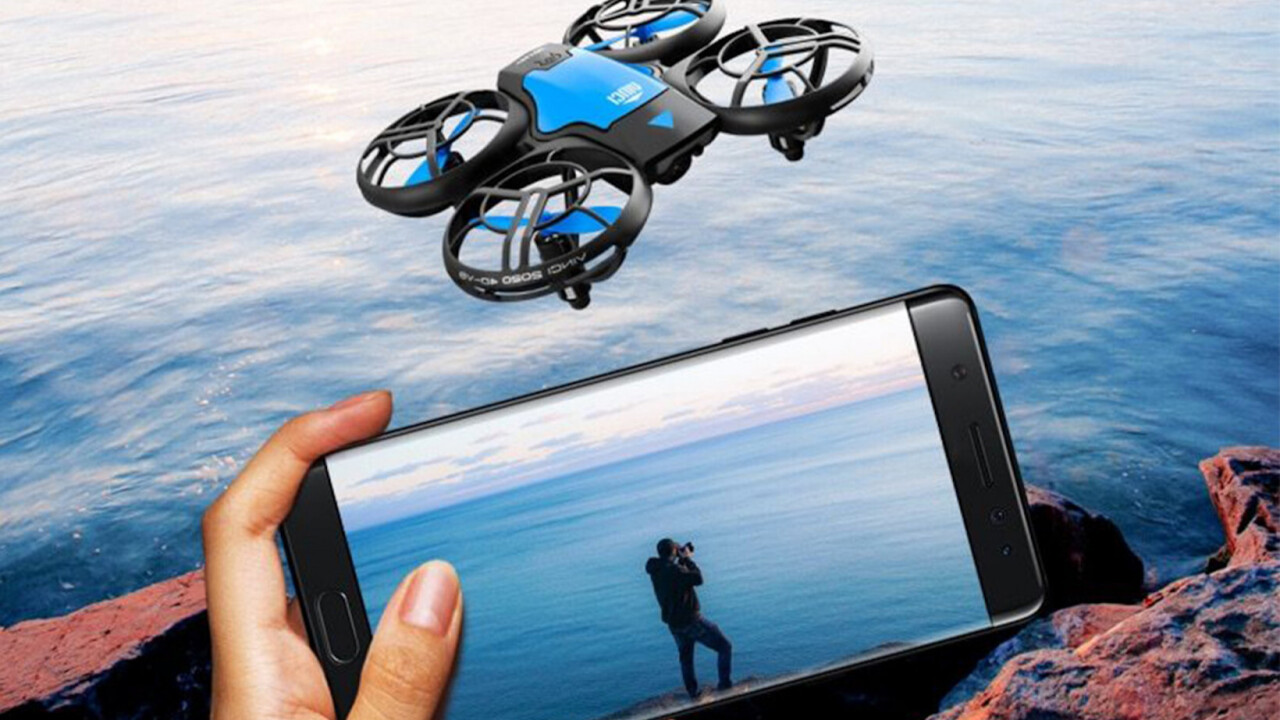 Story by
Hot deals courtesy of The Next Web. Hot deals courtesy of The Next Web.
TLDR: The Ninja Dragon Max Flip Headless HD Camera Gesture Control Drone combines serious flight capabilities with crisp HD quality video at a savings of up to 50 percent off.
Fun and function. Too often, most consumer drones fall into one category or the other…but not both. You can fly, flip and pull aerobatic maneuvers like you're piloting in an air circus. Or you can focus on taking beautiful, stately, fluid images and video. And unless you're willing to pay one of those elite aircraft prices, those two groups are often mutually exclusive.
Thankfully, the Ninja Dragon Max Flip Headless HD Camera Gesture Control Drone ($84.15 after code VIP15 from TNW Deals) glides effortlessly in both camps, offering precision flying abilities with a wide range of media capture tools for handling both…sometimes even at the same time.
Crafted with a headless design, a 4-channel control system, and a 6-axis gyroscope, this drone has all the features to satisfy experienced and novice flyers alike. Known for its smooth, stable flight, the Max Flip can get airborne with a flick of the wrist, will rise, lower, or move side-to-side synced to the pilot's hand gestures, and has an altitude hold mode that can lock the aircraft in mid-air awaiting further instructions. It'll even return to base with a push of the button.
As for records of your aerial adventure, the Max Flip is well covered on that front as well, packing a formidable 1080p HD camera for brilliant pictures and video.  The wide-angle lens ensures that crystal clear image returns fantastic views and since the drone is connected to your phone controller or tablet via WiFi, you can watch real time images from high in the air while you're recording.
This quadcopter brings all that practicality to your flying, but it's pretty aggressively stylish too, available in a soothing blue or ultra-visible orange color scheme, backed with an array of LED lights so the craft is fully illuminated for fun nighttime flights.
Right now, you can not only get the Ninja Dragon Max Flip Headless HD Camera Gesture Control Drone at more than 40 percent off its retail price, you can also take advantage of the current VIP sale. For a limited time, you can score an additional 15 percent off the price by using the code VIP15, dropping your total to just $84.15. Meanwhile, you can also score even more savings by picking up two of these drones, with pairs in blue, orange, or one of each for $143.65, a savings of 50 percent off.
Prices are subject to change