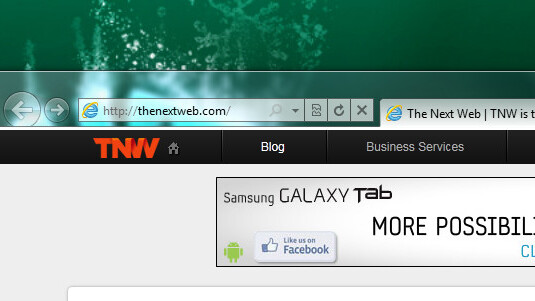 Story by
Alex Wilhelm is a San Francisco-based writer. You can find Alex on Twitter, and on Facebook. You can reach Alex via email at [email protected] Alex Wilhelm is a San Francisco-based writer. You can find Alex on Twitter, and on Facebook. You can reach Alex via email at [email protected]
One year ago the world was given its first dose of Internet Explorer 9. Over the past 365 days Microsoft has charted a new path in the browser space, to generally positive reviews, a journey that will end tonight when the company finally releases IE9 to the world.
In light of how busy the year was, Microsoft put together a video to both show off what IE9 can do, and also to remind consumers what has happened over the last 12 months. They have a point, when you compare Internet Explorer 8, a rather forgettable browser, to IE9, it is hard not to feel like Microsoft has managed to do something outstanding in the last year.
The TNWmicrosoft line has not changed, however; we still expect that IE9 will not manage to convert Firefox and Chrome fans, but might manage to help stem market share losses for the IE line. IE9 is the best version of IE ever, and will likely quickly become the world's most popular browser once its first golden RTM build is released tonight.
Watch the video, it's an interesting walk through a cramped development cycle, but keep something in perspective: even with IE9, Microsoft is still playing catch up. It has yet to match the extension library of Firefox, and the speed (no matter what their tests say, Chrome is still faster on every computer I use as a test) of Chrome. This is merely one step on a comeback, but it is a big one, and in the right direction.
TNW will be covering the launch of IE9 tonight live at 7:30 Central.
Get the TNW newsletter
Get the most important tech news in your inbox each week.