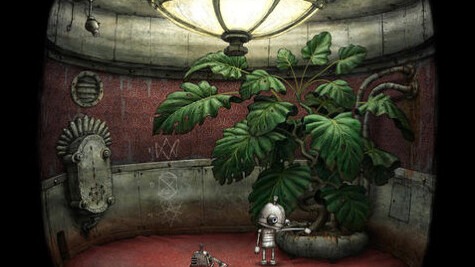 Story by
Matthew Panzarino was Managing Editor at TNW. He's no longer with the company, but you can follow him on Twitter. Matthew Panzarino was Managing Editor at TNW. He's no longer with the company, but you can follow him on Twitter.
Adobe's Flash product has become an easy target over the past several years because of its relatively poor performance on mobile devices, especially when it comes to interactive content. What many people forget is that Flash is also a very good and widely adopted tool used for creating cool things. Most of my favorite games played on the web have been made in Flash and there are some incredibly talented and creative people doing wonderful things with the platform on desktop computers.
One team of such people created the game Machinarium, an incredibly highly rated point-and-click adventure game that is built in Flash and shows off just how great it can look and act on a machine with the power for it. The game has been around for a while on the web, but the team behind Machinarium wanted to bring the atmospheric and engaging game to iOS, where Flash apps are persona non grata, so they turned to Adobe Air.
According to Adobe evangelist Lee Brimelow, Amanita Design published their flash game to iOS using Adobe Air and a tool called Flash Builder 4.5. This tool allows developers that are comfortable developing in Flash, or have an existing Flash game or app, to repackage their apps for Android, iOS and BlackBerry tablets.
The process, described here, is relatively involved, but it does beat having to learn a new programming language and reconstruct the app entirely. The app is massaged via Air to work on the iOS platform by converting click actions to tap and multitouch actions. Once that is completed, it is translated and packaged so that it is compatible with the iOS store guidelines. Interestingly, it appears as if the game requires performance above and beyond what the first iPad can deliver, as it is compatible only with the iPad 2.
Amanita seems to have done its job well, as the game's ratings are almost universally high, with many complimenting them on how well the game translated from Flash to iPad. And, of course, there are all of those sales that have rocketed Machinarium to the top of the paid iPad app chart on the App Store.
The takeaway from this is the fact that while Flash may not be the best performing platform on mobile, it still has a lot of validity when it comes to creating immersive interactive experiences on the web. And if tools like Adobe Air can help developers to bring those experiences to the iPad and iPhone without having to start over at square one, then everyone wins, Adobe, developers and iPad owners.
Get the TNW newsletter
Get the most important tech news in your inbox each week.
Also tagged with