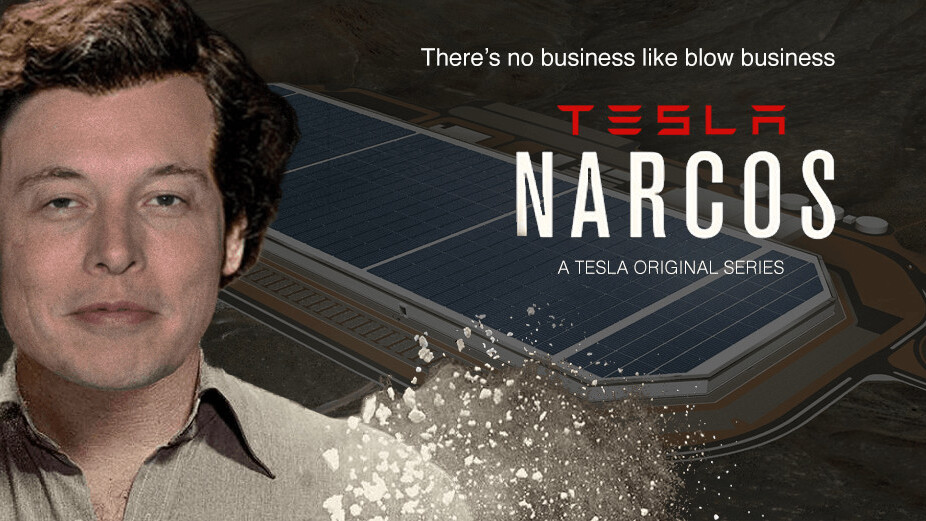 Story by
Former Managing Editor, TNW
Bryan is a freelance journalist. Bryan is a freelance journalist.
A former Tesla employee today filed a formal complaint with the Securities and Exchange Commission alleging the automaker failed to disclose to shareholders a drug trafficking operation run out of its Nevada Gigafactory.
Filed by Karl Hansen, a former member of Tesla's internal security and investigations division, the complaint levied accusations of at least one employee dealing "substantial" amounts of cocaine, and possibly methamphetamine.
Hansen claims Tesla was first told in May by the Drug Enforcement Administration (DEA) and the Storey County Sheriff's Office Task Force that "several Tesla employees may be participants in a narcotics trafficking ring involving the sale of significant quants of cocaine and possibly crystal methamphetamine at the Gigafactory on behalf of a Mexican drug cartel from Sonora Mexico."
The cartel he's referring to is the Sinaloa Cartel, a group the United States Intelligence Community considers "the most powerful drug trafficking agency in the world." Its leader, Joaquin "El Chapo" Guzman is currently on trial in a New York federal court after twice previously escaping maximum security detention facilities in Mexico.
On June 12, Hansen said, he had "corroborated connections between a certain Tesla employee at the time and various alleged members of the Mexican drug cartel."
Hansen's findings fell on deaf ears, including those of CEO Elon Musk, he alleges. Not only did Tesla fail to report its findings to the DEA or local authorities, the company apparently decided against terminating the individual during Hansen's time with the company. Tesla instead told Hansen they'd handle the issue internally, hiring a third-party to conduct an investigation — an investigation, its worth mentioning, that doesn't seem to have happened.
For investors, it gets worse from there. Tesla failed to disclose its findings to its own board of directors, or private shareholders. If true, this could constitute obstruction of justice, says Hansen's attorney, Stuart Meissner — who also represents a second Tesla whistleblower, ex-Gigafactory employee Martin Tripp. Meissner said:
It seems that the manner in which it was handled, in telling my client not to report it back to the authorities that requested it be investigated raises an issue of potential obstruction of justice, which is a serious crime. If senior people at Tesla were involved in that, well, I think that's very material for shareholders to know.
Hansen was terminated on July 16, just over a month over raising the issue with Tesla.
If you thought the oddities stopped there, you'd be mistaken.
Hansen also alleged that Tesla, after Tripp's departure — a whistleblower who accused Tesla of using scrap material and damaged batteries to build the Model 3, making it unsafe for consumers — Tesla "went so far as to install specialized router equipment within its Nevada Gigafactory designed to capture employee cell phone communications and/or retrieve employee cell phone data."
Before wrapping up the complain, Hansen made one final allegation against Tesla: that he had previously discovered some $37 million of copper and raw materials had been stolen from the Gigafactory between January and June of this year. He claims he was "instructed not to report the thefts to outside law enforcement" and "directed to cease his internal investigation into the issue."
This meshes with a Jalopnik report from May that an operations manager at Tesla's Fremont, California plant alleged that he was fired after telling supervisors about a colleague stealing company-owned materials and auto parts.
As for Musk, he told Gizmodo over Twitter DM that "This guy is super TKTK." (That's a peanut emoji, in case it doesn't display properly on your device — a statement about Musk's thoughts on Hansen's mental state, nuts.) "He is simultaneously saying that our security sucks (it's not great, but I'm pretty sure we aren't a branch of the Sinaloa cartel like he claims) and that we have amazing spying ability. Those can't both be true."
The claims do seem to border on the outrageous, so we're not necessarily disagreeing with Musk here. But it's worth noting that the security measures, according to Hansen, were implemented after Tripp's departure, in June.
Get the TNW newsletter
Get the most important tech news in your inbox each week.
Also tagged with