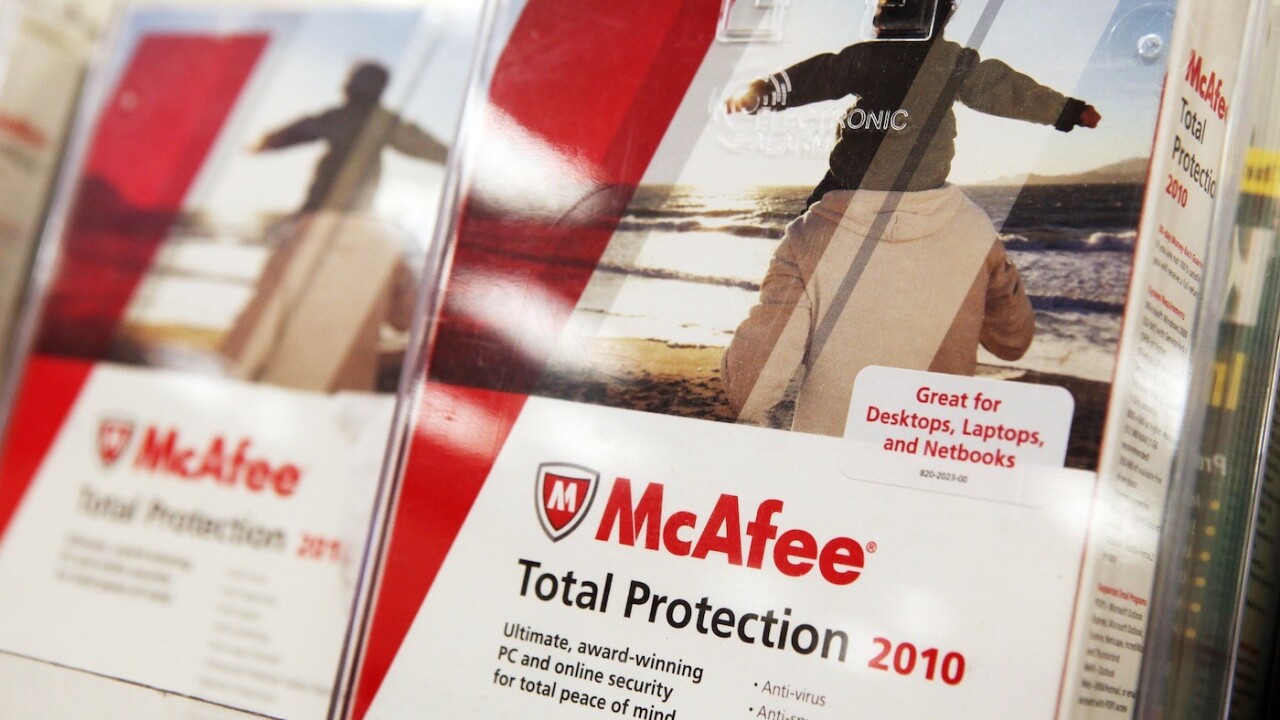 Story by
Robin Wauters is the European Editor of The Next Web. He describes himself as a hopeless cyberflâneur, a lover of startups, his family a Robin Wauters is the European Editor of The Next Web. He describes himself as a hopeless cyberflâneur, a lover of startups, his family and Belgian beer. If you'd like to know more about Robin, head on over to robinwauters.com or follow him on Twitter.
Intel-owned security software giant McAfee came close to acquiring enterprise mobility solutions firm Good Technology, a well-placed source from within one of the two American companies has informed us.
Apparently, the talks between both parties broke down over price – at least for the time being. That's all we know for now, but we'll continue to dig and try to nail down what kind of purchase price range we're talking here.
We contacted both companies, and both McAfee and Good Technology spokespersons told us that they "do not comment on rumours or speculation".
McAfee's spokeswoman went one step further, and added to that canned statement: "We also never discuss acquisitions until they are signed or closed."
Makes sense. :)
But, as alluded to earlier, our source is aware that acquisition talks were effectively held, and that the deal was wiped off the table very recently – although possibly temporarily as the synergies are still there.
Good Technology, which just announced the acquisition of enterprise app store solutions company AppCentral (and Copiun earlier this year), offers a range of solutions that allow enterprise customers and government agencies to offer secure mobile flexibility to their employees.
These solutions include the Good for Enterprise solution, which delivers secure email, collaboration, device, and application management across a wide range of devices, a secure mobile application development platform called Good Dynamics and Good for You, a white-label solution for carriers who want to offer social networking features on devices.
Good Technology has partnerships with industry giants like LG, HTC, Microsoft and Nokia, as well as many systems integrators. The company was established in 1996 and is headquartered in Sunnyvale, California.
They would fit in nicely with McAfee, which is increasingly targeting large enterprise customers and government agencies with its own security software products.
It's also worth noting the companies have partnered in the past.
McAfee is based in Santa Clara, California, and offers software and services to home users, businesses and the public sector. In August 2010, Intel agreed to purchase McAfee for $7.68 billion.
Which brings us to another sidenote: Ron Vaisbort, Good Technology's VP and General Counsel, previously worked at Intel.
We'll update if and when we learn more.
Image credit: Justin Sullivan / Getty Images
Get the TNW newsletter
Get the most important tech news in your inbox each week.