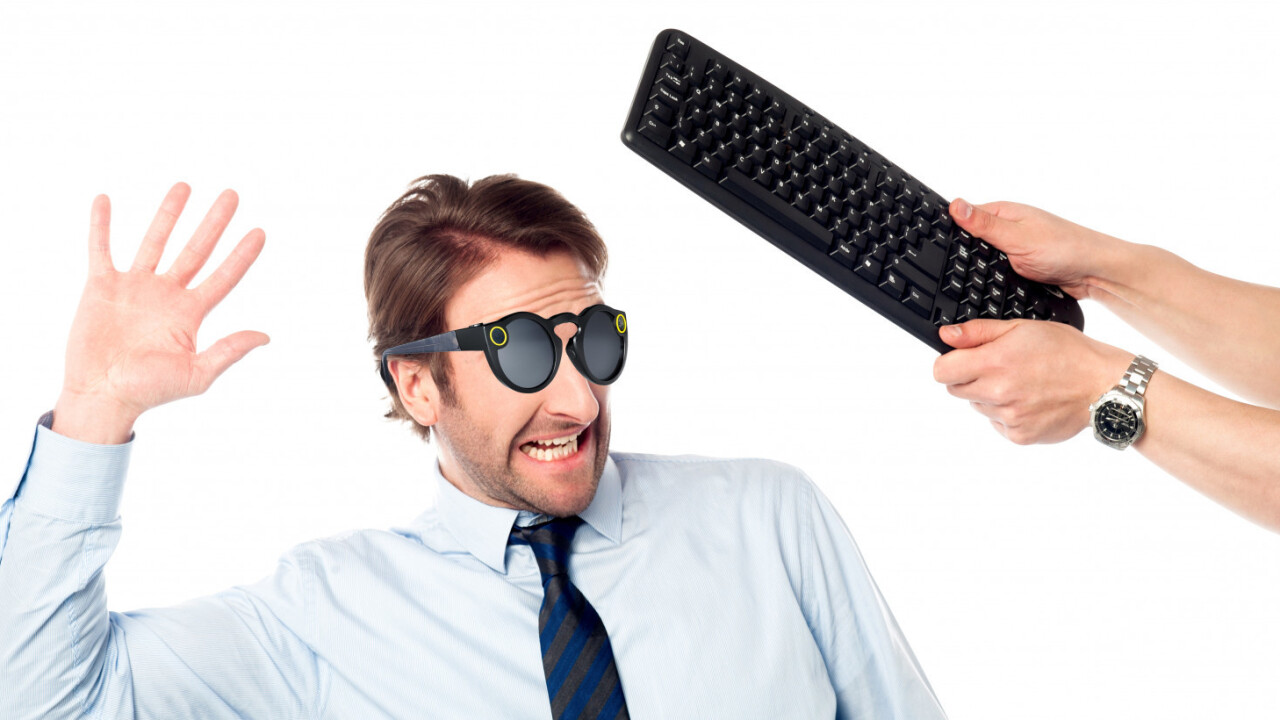 Story by
Managing Editor
Abhimanyu is TNW's Managing Editor, and is all about personal devices, Asia's tech ecosystem, as well as the intersection of technology and Abhimanyu is TNW's Managing Editor, and is all about personal devices, Asia's tech ecosystem, as well as the intersection of technology and culture. Hit him up on Twitter, or write in: [email protected].
Snap had high hopes for its Spectacles when they launched in September 2016. The company's fashionable eyeglasses with built-in front-facing cameras that beamed short videos straight to your phone to post on Snapchat were its first foray into hardware, and it was optimistic enough about selling tons of them that it made them available through quirky vending machines, its own site, and even on Amazon.
As it turns out, not too many folks cared for Snap's creepy glasses, which offered limited utility and whose novelty wore off all too quickly. By November last year, the company ended up losing some $40 million on unsold Spectacles.
It's strange that this hasn't deterred the company from working on a second version: Variety notes that Snap has filed an application with the Federal Communications Commission for what will almost certainly be an iteration over the original. Per a report from Cheddar last month, two new models are in the works, including a $300 one with a dual camera and GPS.
Has Snap learned nothing from its own failure, and from the recent trends in smart glasses? We already know that glasses with cameras are creepy (thanks, Google Glass), and companies working on connected wearables for your face have been steering away from that idea lately.
Both Intel and Vuzix, who are arguably closest to bringing their devices to market ahead of others in the space, are focusing on bringing contextual information to your field of view as discreetly as possible, and are trying to do so without drawing attention to your high-tech glasses with simple designs.
I get it, Snap: you're in the business of building cool toys for fun people. But with v2 of your Spectacles, it's not exactly fixing what's broken in a good product. It's attempting to polish a turd.
Snap has some good ideas; heck, Facebook thinks they're worth stealing in their entirety. So it's clear that the company has a handle on what people want when it comes to creating content for social networks. But I can't figure out why it wants to try making a device that people don't want to use, and that people don't want others around them to use, a second time.
Maybe I'm the idiot for not seeing sense, and for writing this – because if 40 million reasons aren't enough for Snap to avoid making Spectacles v2, I doubt a ranty post like this will convince it.
Yeah, it's probably me.
The Next Web's 2018 conference is just a few weeks away, and it'll be ??. Find out all about our tracks here.
Get the TNW newsletter
Get the most important tech news in your inbox each week.
Follow @thenextweb