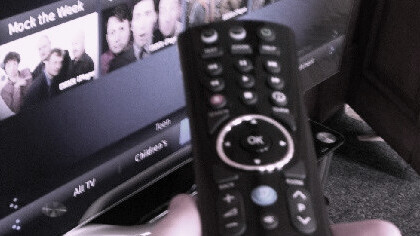 Story by
Paul Sawers was a reporter with The Next Web in various roles from May 2011 to November 2014. Follow Paul on Twitter: @psawers or check h Paul Sawers was a reporter with The Next Web in various roles from May 2011 to November 2014. Follow Paul on Twitter: @psawers or check him out on Google+.
We knew that BSkyB was launching its pay-as-you-go Internet TV service this summer, but the exact details around the launch, including the date, weren't known until now.
At a launch event in London today, Sky announced that Now TV will be going live from Tuesday July 17 (tomorrow), for Windows PCs, Macs and Android mobile devices. It will be arriving for iOS devices later in the month, followed by Xbox, PS3, Roku later in the year. Other devices will be receiving the service in due course.
BSkyB first announced Now TV at The Guardian Media Summit in March, having initially alluded to the launch of such a service back in January.
The announcement of a new brand was an interesting move, and was indicative that it sees two distinct customer-types, and isn't seeking to get everyone on a permanent, paid deal. "Having 2 brands will allow us to meet the needs of two distinct market segments," said BSkyB CEO Jeremy Darroch. "It will be a flexible, more spontaneous offering. It will be powered by Sky, offering the best, exclusive content all from a provider they can trust. Any notion that Sky is just a satellite broadcaster should be out the window now."
This launch of Now TV shouldn't be underestimated, as it could lead to a lot of people giving up their main subscription, in preference for an online offering that lets them simply watch the occasional movie or sporting event. At launch, the service will be limited to movies only, costing from between 99p and £3.99, with a £15 pay-monthly Sky Movies Pass also being made available.
At launch, 'now on DVD' titles will include recent releases such as We Bought a Zoo, The Woman in Black, The Best Exotic Marigold Hotel, This Means War and Ghost Rider: Spirit of Vengeance.
A blow to Netflix and LoveFilm?
If you hadn't noticed, this potentially deals a massive hammer-blow to the likes of LoveFilm and Netflix, which have often been criticized for their lack of extensive, quality movies. With Now TV, Sky is promising five new movies each Friday, available at least 12 months before other online subscription services, and it says that around 75% of the top 100 movies will be made available.
The Sky Movies Pass will offer unlimited access to the whole Sky Movies collection, covering 600 movies from the major players such as Disney, Fox, Paramount, Sony, Warner Bros., and Universal.
Here's the real kicker though, one that could potentially transform the TV sports market in the UK.
Now TV will be expanded to include sports, including the lucrative English Premier League, which it recently secured the rights to (alongside BT) through to 2016. Moreover, it will also cover the UEFA Champions League, England Test cricket, Heineken Cup rugby, ATP tennis, the Masters from Augusta and much more. After Sky Sports, Sky 1, Sky Atlantic, Sky Arts and Sky Living, will be added too.
It's also worth noting that, in addition to the previously mentioned services, Now TV will also be launching with YouView when it rolls out later this month. So if you're looking to use the service on a TV-optimized platform, then that could be one small thing working in YouView's favor when it launches for a chunky £299 later this month.
YouView is a joint venture between some of the UK's biggest TV and broadband brands, including the BBC, ITV, BT and TalkTalk, and it brings together catch-up TV services together on one platform. Its announcement last week was met with general derision, given the time it took to hit the market, the price and the fact that it was seemingly just souped-up Freeview. But with Now TV on board, and the potential for other content producers over time, YouView could gain traction if it can land on lower-priced set-top boxes.
Regardless, Now TV is a big deal. It marks Sky's move from a subcription-based TV model into the mass TV market, targeting the 13m members of the UK population who don't want to commit to a long-term package.