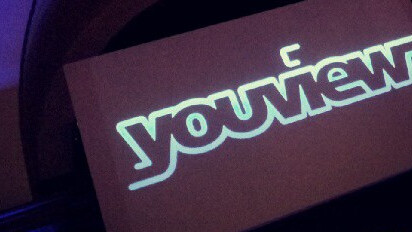 Story by
Paul Sawers was a reporter with The Next Web in various roles from May 2011 to November 2014. Follow Paul on Twitter: @psawers or check h Paul Sawers was a reporter with The Next Web in various roles from May 2011 to November 2014. Follow Paul on Twitter: @psawers or check him out on Google+.
Last week we gave you a sneak preview of what YouView looked like prior to its official launch earlier today. The Next Web was in attendance to see Lord Sugar, YouView Chairman, and CEO Richard Halton pitch their product to the assembled crowd.
Here's the full lowdown on what to expect, and our verdict.
Recap: YouView in a nutshell
A joint venture by some of the UK's biggest TV and broadband brands, including the BBC, ITV, BT and TalkTalk, YouView aims to bring together catch-up TV services together on one platform.
More than that, however, YouView provides a single platform to watch, pause and rewind live TV. Whilst it's largely focused on the standard Freeview channels for the time being, there's scope for more content producers to be integrated over time – evidenced by the fact that BSkyB's upcoming pay-as-you-go Now TV service will be arriving on the platform too (see more on this further down).
YouView: At what cost?
Hitting stores at a whopping £299 later this month, YouView is likely to raise a few eyebrows for a number of reasons – and it's worth noting that delays en-route to launch will continue to haunt the much-maligned project too.
The fact that it cost £70m to get to this point, £10m of which came directly from taxpayers' money via the TV license fee, will be be a big bone of contention. There's no getting away from that, irrespective of how good the product actually is. It's already fighting a losing battle in many respects.
Under the hood

That's the basics out of the way, here's what you can expect from YouView.
The service will launch on a single 500GB set-top box (STB), manufactured by Humax.
The initial specs won't blow you away – it doesn't come WiFi-enabled, meaning you will have to position it near your router, or carry out some powerline networking. And it doesn't double as a media player, meaning you can't upload other media files to the device.
That said, this is merely the launch device – YouView will be working with more manufacturers and giving them more-or-less free reign to integrate YouView in whatever way they wish, which does open things up a little. When asked whether YouView could be integrated into Smart TVs in the future, Lord Sugar answered in the affirmative. But that's further down the line.
Initially, YouView will offer 100 digital TV and radio channels, and it features an electronic programme guide (EPG) that allows users to scroll back seven days to catch-up on programmes they've missed.
You can watch in HD and with its built-in PVR, record, pause and rewind live TV. It also has a simple search feature that lets you find on-demand content by programme or even an actor's name, with suggestions thrown at you from the first letter you enter.
Each broadcaster's players are integrated into YouView too, meaning you can watch iPlayer, 4oD and such like from one centralized platform.
Here's a brief demo video of YouView in action during today's launch:
How to get your hands on YouView
YouView will be available in two ways – from retailers (by the end of July) with no TV subscription required, or from an ISP (BT or TalkTalk) as part of a phone and broadband package.
Retailers already signed up include John Lewis, Currys, Comet, Argos, Amazon, Richer Sounds and the Euronics group. BT and TalkTalk will announce their packages soon, and it's worth noting that subscribers will also receive additional content and services not available to other customers.
The verdict

Sir Alan Sugar today described the YouView launch as "a great moment in British television," with Halton adding that "YouView is easy to use and seamlessly combines the worlds of catch up and live TV, on the living room TV."
But is this buzzword-laden marketing hyperbole, or wise words from captains of industry?
We had a play around with YouView, and it is no doubt a great service. It has a nice interface, is designed well and it will fit neatly into many livingrooms. But the things is, much of what it offers is already available in some form, whether it be on Sony PlayStation 3, or through Sky or Virgin. Coupled with the £300 pricetag, this will undoubtedly lead to a lot of criticism over the coming weeks and months, but let's not forget the facts here.
The Humax is a launch model only – yes, £300 is steep, but we will start seeing more models hit the market. "Would I be surprised that in two years time if there are boxes in the retail channels for £99? Not really," says Sugar. "You know what it's like in the consumer electronics industry, as time goes by, prices will go down."
So, some will be cheaper, some will likely not have PVRs built in (on-demand is key), some will probably have WiFi AND some may even be free (or heavily subsidized), when you factor in the BT and TalkTalk partnerships.
YouView is being pitched as a long-term product that will evolve. We're told that YouView is looking to pull in content from many more providers (300 content partners, it seems), with one BIG announcement happening today…
Sky's Now TV comes to YouView
"Having 2 brands will allow us to meet the needs of two distinct market segments," said BSkyB's CEO Jeremy Darroch during the launch of its soon-to-launch pay-per-play TV service earlier this year. "It will be a flexible, more spontaneous offering. It will be powered by Sky, offering the best, exclusive content all from a provider they can trust. Any notion that Sky is just a satellite broadcaster should be out the window now."
Buzzwords and hyperbole perhaps, but there is no underestimating the impact that Now TV will have on the UK television market. Most of the country doesn't have a subscription TV package, but many will want to be able to access occasional content from Sky, such as movies and sport.
The fact that YouView has gotten in early with this partnership could prove to be its trump card, though other factors will affect this – as previously discussed, the cost of YouView with subsequent STB manufacturers and ISP partnerships.
"We know there's growing demand from UK consumers to access high-quality pay TV and internet-connected devices provide an innovative new way to help satisfy that demand," says Simon Creasey, Director of Now TV. "We will launch Now TV across a wide variety of platforms and devices to make it as easy and convenient for customers to access some of Sky's best content. We're excited about distributing our content on YouView and in giving current free-to-air homes a fresh new choice."
Now TV will, of course, be rolled out across many connected devices and not just YouView, so we'll need to wait and see what its alternative offerings are before we can hail the YouView hook-up too much.
Missed the boat?
YouView has taken its jolly old time to get to market. Only time will tell if it has missed the boat, but we only have to look at past events to know that if executed well enough, and it can (eventually) bring a much better offering to the table than what's already out there, you don't have to be first on the scene.
"When the BBC launched iPlayer, which was delayed for a couple of years – we wanted to make sure we got it absolutely right, people said we'd missed the boat," said Mark Thompson, the BBC's director general. "'Other broadcasters have got their on-demand services out, iPlayer won't make any difference'. Last year, we screened nearly two billion TV programmes (in total) to households across the UK via iPlayer. What I'd say about YouView, is the clarity, the simplicity, the stability of the technology and the enormous weight of content that's already available on day one, means we think this is another compelling platform."
YouView has a lot of weight behind it with all the main UK terrestrial broadcasters on board, so we can certainly expect a huge wave of marketing to hit the nation's airwaves over the coming weeks and months.
Whether YouView sinks, swims, or soars remains to be seen. The jury's very much out still, but here's hoping it can eventually find its feet in an increasingly crowded market. Despite what the naysayers are, erm, saying it can succeed. Just not as things currently stand – £300 for the STB will preclude many folk from getting on board. But with more options, and a broader content provision, who knows where this can go.
"Today, YouView is being enjoyed in over 2,000 homes and the feedback from the trial is very encouraging," added Halton. "It confirms that YouView is easy to set up and use and different to what has gone before. In many ways we've only just begun, YouView is set to evolve quickly and we look forward to working with new content partners and developing more functionality as boxes roll out into UK homes."
Get the TNW newsletter
Get the most important tech news in your inbox each week.