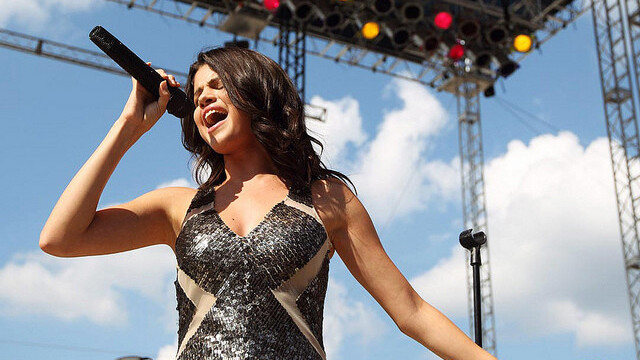 Story by
Drew Olanoff was The Next Web's West Coast Editor. He coined the phrase "Social Good" and invented the "donation by action" model for onlin Drew Olanoff was The Next Web's West Coast Editor. He coined the phrase "Social Good" and invented the "donation by action" model for online charitable movements. He founded #BlameDrewsCancer. You can follow him on Twitter, Google+, Facebook, or email [email protected]
Selena Gomez, 19, isn't just a Disney star and pop icon, she's now a startup investor and advisor to a company in one of the hottest app spaces.
I've written about apps that produce physical gifts for friends and family, and its a trend that is exploding right now. Even Apple launched its own "Card" app to produce beautiful greeting cards from digital creations made on your mobile device.
Gomez knew it was a hot space, and decided to invest along with a group who came up with $750,000 to invest in a company called Postcard on the Run, with an iOS and Android app of the same name. She's also a creative advisor for the company.
The app allows you to create a postcard using any picture on your iDevice, and for $1.99 creates and ships it to your recipient of choice. It's similar to apps like Sincerely's Postagram, who recently said it's not afraid of Apple's decision to get into the physical greeting card game. Postcard on the Run is a bit easier to use, and doesn't require an Instagram account to pull in photos.
Here's a really well produced video about the app from the company:
I spoke with Selena Gomez about why she decided to get involved as investor, and what she thinks about apps in general:
TNW: What is it about postcards that got you interested in postcards on the run?
Selena Gomez:
I discovered Postcard on the Run one day on my tour bus and just started playing around with it and now I'm obsessed. It makes it easy for me to keep in touch with my friends and family in a personal way, and share with them all that is going on in my life – no matter where or how busy I am.
TNW: What types of apps do you tend to use the most on your iPhone?
Selena Gomez: I actually have a lot of picture apps which is what makes Postcard on the Run so exciting. I also have a bunch of games as well.
TNW: Do you send physical greeting cards anymore or are you all digital.
Selena Gomez: I do like sending cards, my family and I just wrapped up sending all our UNICEF Christmas cards to family and friends.
TNW: What other types of technology makes you want to invest? – any interest in creating your own apps one day?
Selena Gomez: Maybe…but for now I don't want to take on too much. I want to stay focused on my current projects.
While it doesn't look like Gomez is seeking new investment opportunities, she definitely has jumped into the right market at the right time with Postcard on the Run. The app is currently featured as "New and Noteworthy" on Apple's App Store, and Ms. Gomez's 8,447,609 Twitter followers have something to do with the apps success, we're sure.
Get the TNW newsletter
Get the most important tech news in your inbox each week.
Also tagged with